Games
Published July 23, 2020
Entering Marvel Contest of Champions: Sasquatch
Welcome to the "Realm of Great Beasts."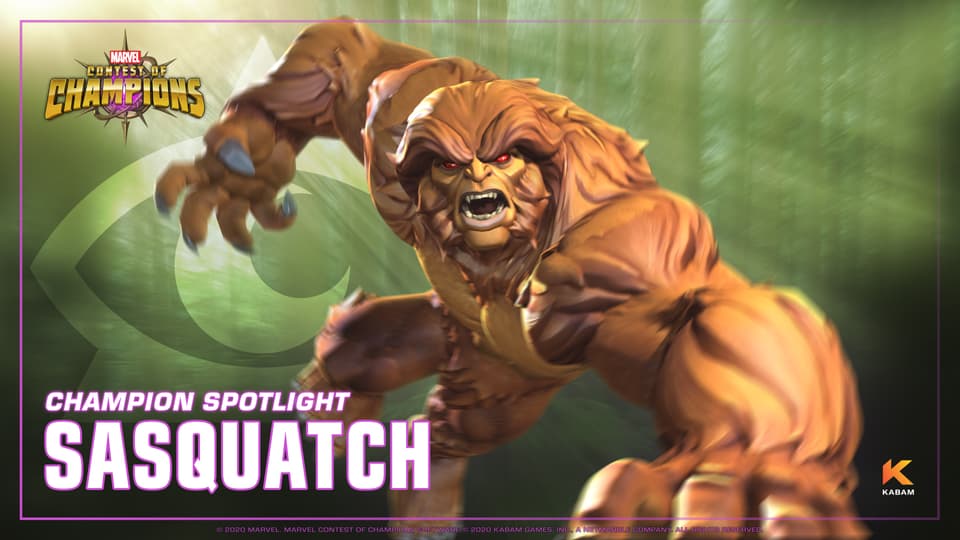 Dr. Walter Langkowski was a professor of both physics and biophysics at McGill University. Trying to achieve a "Hulk-like" transformation similar to colleague Bruce Banner, Langkowski subjected himself to self-experimentation with gamma radiation. 
Unknowingly opening a doorway between our world and the "Realm of Great Beasts." This allowed a mystical beast named "Tanaraq" to possess his body, granting him the ability to transform into a super-strong, orange-haired beast that resembled the legendary Sasquatch. Recruit him for your roster in Marvel Contest of Champions now!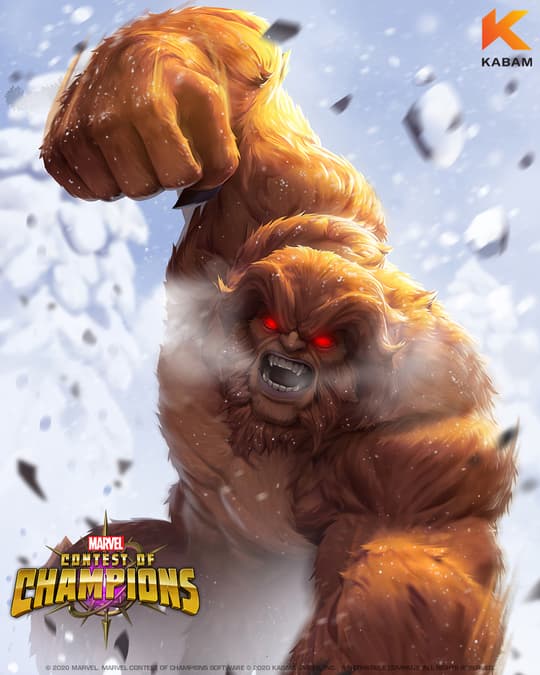 As a character class Mystic, Sasquatch's basic abilities include Rupture, Stagger, Stun, and Regeneration. 
Sasquatch's tool kit includes three special attacks and one signature attack. 
Using From the Bush, a thick fur coat provides 90% Coldsnap resistance along with immunity to Frostbite effects and Armor Break Debuffs. If Regeneration Rate is inverted, all Regen effects are removed. Gain +25% Combat Power Rate if the Opponent has a Buff or is suffering from a Stagger Debuff, this is increased to +50% if the Opponent has 4 or more of these effects.
Unleashing Spirit of Rage, Light Attacks have a 30% chance to build 1 Rage. Chance increased to 100% on the 3rd Light Attack in each combo. Build 1 Rage every 4.5 seconds that Sasquatch didn't land a hit. Each stack of Rage reduces incoming damage from all sources except Special 3 by 5% per stack.
Lastly, with Wrath of Tanaraq, if Sasquatch has 5 or more Rage, each stack gained above this threshold has a flat 10% chance to remove all stacks and trigger Wrath of Tanaraq. This lasts for 1.70 seconds per stack removed. During Wrath of Tanaraq, Sasquatch is Stun Immune.
With Sasquatch's signature ability, Old Beast of the North, when below 40% of max health getting struck by a Contact Attack has a 70% chance to activate Sasquatch's healing factor, Passively Regenerating 5% of missing health over 20 seconds. Max stacks 3.
Recommended masteries include Recovery, Mystic Dispersion, Despair & Inequity. 
Sasquatch's strengths include High Survivability, Lots of Special Attacks, and No worries about the Opponent's Special 3. 
Sasquatch is available for downloading now on Marvel Contest of Champions on iOS and Android devices!
Stay tuned to Marvel.com for Marvel Games news and interviews and follow Marvel Games on Twitter for more!
The Hype Box
Can't-miss news and updates from across the Marvel Universe!