Games
Published April 9, 2020
Entering Marvel Contest of Champions: Sorcerer Supreme
She's already conquered the mystic arts. What's next?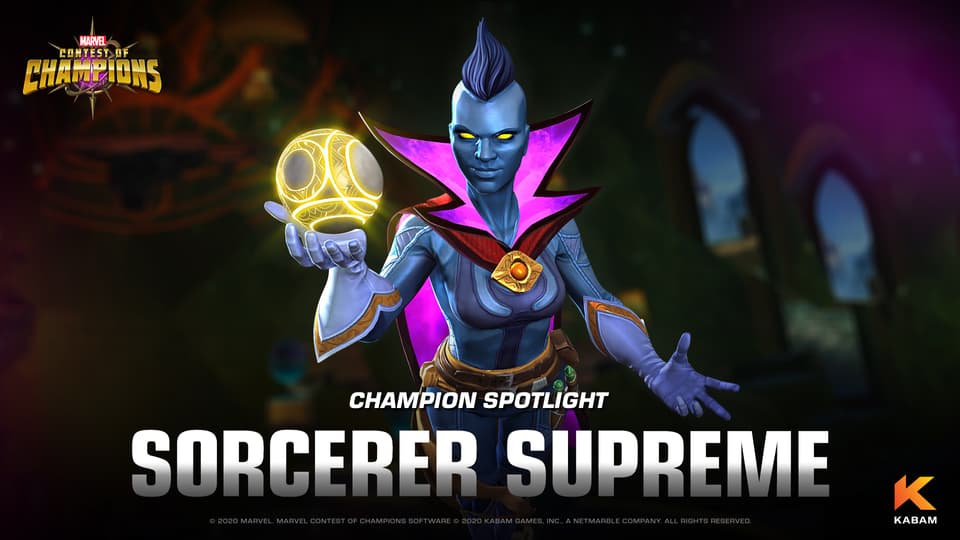 Hey Marvel Insiders – did you know reading this article could earn you 250 points? All you need to do is sign in or join now before you keep reading!
After collecting stray dreams on the outskirts of the Nightmare Realm, Sorcerer Supreme found her way to the Temple of Vishanti and realized her full potential in the mystic arts. Armed with her cunning, daring, and mastery over her Book Of Vishanti and Crimson Orbs Of The Cosmos, The Ancient One has called upon her to be a key player in a much larger, more dangerous game...Marvel Contest of Champions! 
As a character class Mystic, Sorcerer Supreme's basic abilities include Blessings of the Realm, Runic Spells, Slow, Nullify.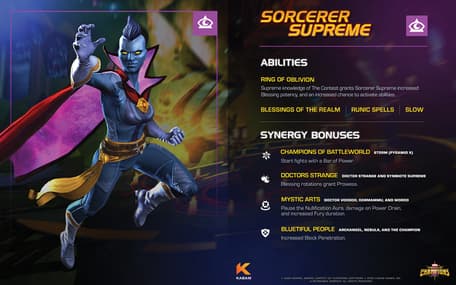 Sorcerer Supreme's tool kit includes three special attacks and a signature ability. Using AURA OF SILENCE, Sorcerer Supreme conjures the Crimson Orbs of the Cosmos to launch missiles of mystical energy at the Opponent. Store 2 Rune(s) of the current Blessing and the first hit has a 100% chance to Nullify 1 Buff off the Opponent. 
Using a seal of the Vishanti, with ASTRAL SLIDE Sorcerer Supreme enters the astral plane, charges at the Opponent, and detonates them with ethereal energy. Store 3 Rune(s) of the current Blessing and after consuming Runes, Pause all Rune effects until 5 second(s) after this attack ends.
Sorcerer Supreme enchants her Crimson Orbs of the Cosmos to hunt down her Opponent and sear their soul with arcane electricity with SUPREME VERDICT. The first time this is used in a fight, store a permanent Rune of the current Blessing. This Rune is never consumed. Subsequent uses store 2 non-permanent Runes instead.
Using Sorcerer Supreme's signature ability, RING OF OBLIVION, Sorcerer Supreme gains +50% Ability Accuracy. The Potency of Blessings is increased by 33%.
Recommended masteries include Mystic Dispersion and Despair. 
Sorcerer Supreme's strengths include Versatility and Nullification Aura. 
Sorcerer Supreme is available for downloading now on Marvel Contest of Champions on iOS and Android devices!
Stay tuned to Marvel.com for Marvel Games news and interviews and follow Marvel Games on Twitter for more!
The Hype Box
Can't-miss news and updates from across the Marvel Universe!