Games
Published July 6, 2017
Entering Marvel Contest of Champions: Spider-Man
The Wall-Crawler gets a Stark-sponsored upgrade to his fight game!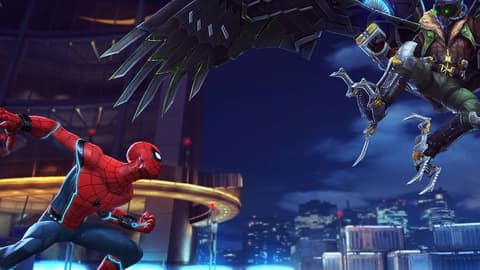 With the "Spider-Man: Homecoming" debut just around the corner at a theater near you, "Marvel Contest of Champions" finds itself with one more arachnid caught in the Collector's web with the Stark Enhanced Spider-Man swinging into Battlerealm. We talked with Kabam Art Director Gabriel Frizzera and Character Designer Simon Cameron about translating the Web-Slinger from the silver screen to the mobile game and how he's going to be dishing out damage to the bad guys.
Marvel.com: We've got an all-new Spider-Man joining The Contest, this time coming from the Marvel Cinematic Universe. He's fought other heroes in "Captain America: Civil War," but Battlerealm is a whole different beast. Can he hack it?
Gabriel Frizzera: Like we have seen in the MCU, this version of Spider-Man wants badly to be in the big leagues. He believes he's ready to fight with the best of them, and what better place than the Battlerealm to prove he's worth it? Of course, his brand-new Stark Enhanced spider-suit won't hurt when he faces the heavy-hitters in The Contest of Champions!
Marvel.com: I noticed he's sporting those slick white accents in his costume just like from "Spider-Man: Homecoming." Did the team make this costume movie perfect, or is there a little Kabam flair in there?
Gabriel Frizzera: The guys at Marvel Studios were kind enough to share very detailed reference from Spidey's movie costume ahead of time, and we made sure to stick to it as much as we could, down to the web count over his body—very important. But, since we wanted this Spider-Man to play and look different from the classic Spider-Man in the game, we decided to add some glowy tech details in specific areas to complement the movie design. That will allow players to recognize at a glance which Spider-Man they are fighting against.
Marvel.com: We already have a couple Spider-Men and Women in The Contest duking it out; what are the chances they've got some advice for our boy?
Gabriel Frizzera: More than likely. The Spider-People in The Contest have gained a lot of experience in the last couple of years, and they're very familiar with the unsavory types that would love to crush anyone wearing that familiar blue-and-red spider-suit. Since this version of Spider-Man hasn't met most of his future rogue's gallery, he'll need all the help he could get.
Marvel.com: Let's talk abilities: what are we trying to do with Spidey to make the most of him?
Simon Cameron: Stark Enhanced Spidey is good at getting in his opponent's head, and comes with a couple of new abilities to help him do this. He gains Poise by Evading, or triggering the Dexterity Mastery. Poise represents Spidey taking control of the fight, granting him extra attack as his confidence builds. He can then convert Poise into Taunts, by landing uninterrupted strings of attacks. Taunts lower the target's attack, and increases the chance that they'll trigger a Special Attack, as he goads them into doing something rash. His new suit also packs a Stack Tech AI, giving him a huge chance to avoid Special Attacks, but it can be disabled by landing Heavy Attacks, or by Cosmic Champions.
Marvel.com: What's his signature power, Hero's Mantra, all about?
Simon Cameron: Hero's Mantra is all about improving his Smack-Talk abilities, Poise and Taunt, and is broken into two basic conditions: Below 50% Health and above it. Above 50% Health, Spidey gets an offense boost, with his Poise Charges granting him additional Critical Rating and his Taunts lasting longer. Below 50% Health Spider-Man plays things a little more defensively, his base Evade chance increases, and his Poise Charges grant additional Block Proficiency instead of Critical Rating.
Marvel.com: Last but not least, we have a new event quest hitting the game. What's going on there and what awesome new stuff can players expect?

Gabriel Frizzera: The one-shot this month is called "Battlerealm: Homecoming, and it's about a young Spider-Man trying to prove himself in The Contest. His mentor Tony Stark tries his best to keep Peter out of trouble, but like all things in the Battlerealm, this proves to be exceedingly hard. Peter decides go after some bad guys and ends up uncovering a nefarious plan to harness a mysterious new power source, capable of shifting the balance of power in The Contest. We also have a new motion comic that hints at bigger adventures by the Web-Crawler, and the arrival of some classic villains!
Stay tuned to Marvel.com and follow us @MarvelGames on Twitter for more "Marvel Contest of Champions" news and interviews!
The Hype Box
Can't-miss news and updates from across the Marvel Universe!