Games
Published January 18, 2018
Entering Marvel Contest of Champions: The Void
Robert Reynolds' dark alter-ego leaps into Battlerealm!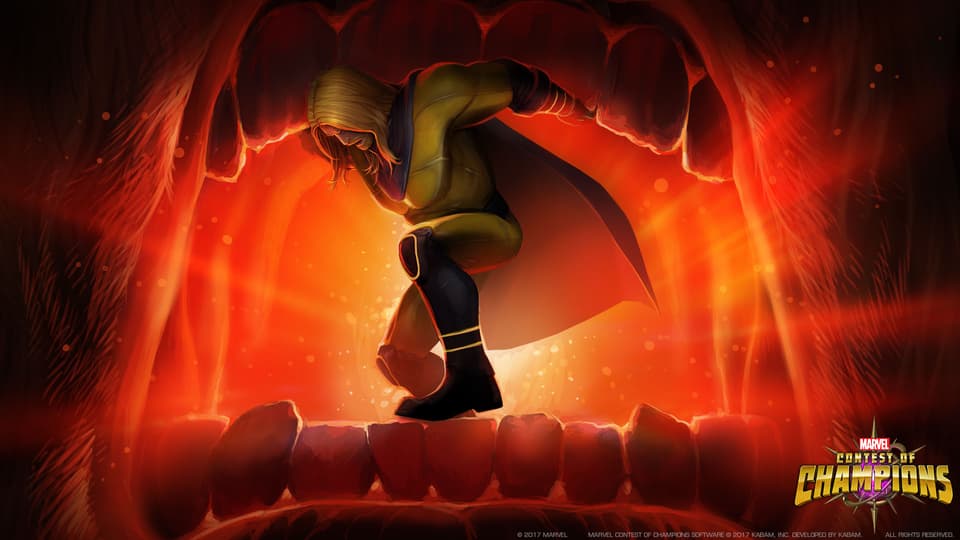 The Sentry revealed his awesome might in "Marvel Contest of Champions" a couple of weeks ago—and while it's been fun to harness the power of a million exploding suns, one must pay a price for that kind of ability.
This week, The Void comes to collect on that debt. Revealing himself in all his shadowed glory, the unrelenting alter-ego of The Sentry fights for the soul of Robert Reynolds—and will look to plunge all of Battlerealm into darkness.
We talked to Kabam Lead Character Artist Gene Campbell and Game Designer Piero Herrera about The Void and how he aims to tear the Contest apart.
Marvel.com: Uh oh…who let The Void out?
Gene Campbell: It was an accident, we swear! But seriously, The Collector has been waiting for his powerful compatriot, Sentry, to return to him for what feels like an eternity now. For what task exactly? We don't know…but as expected, the familiar dark force that accompanies him, The Void, still hides within, ready and waiting to reveal itself. Surely The Collector—in all of his ancient wisdom and foresight—expected this. Whatever he tasked Sentry with, he must have thought it worth the risk.
Marvel.com: How did the team decide just how The Void would manifest visually on Battlerealm?
Gene Campbell: We were considering the more monstrous form of Void early on. Early development of Sentry and Void had them switching back and forth during gameplay, but we found it very challenging and confusing to have a man morph into a big tentacle covered space creature like that. The final version also made sense with our storyline. The "Marvel Contest of Champions'" version of Sentry has been to the edge of the multiverse and back, all the while looking for something. He's older and wiser, and has a better grip on the darkness within. So when his concentration slips, he's able to contain it better and not let the whole monster out.
Marvel.com: Let's talk a little about the abilities that Bob Reynolds' evil alter-ego has…how does he differ from The Sentry?

Piero Herrera: Void's abilities were built around the concept of fear. All of the Champions are vulnerable to the Void's debuffs and they do direct damage over time—even if Void does not directly land an attack. Summoners have to remove those damaging effects by constantly fighting.
Marvel.com: It looks like his gameplay centers around his Intimidating Presence. What's going on there?
Piero Herrera: Exactly! After a delay, Void's Intimidating Presence becomes powerful enough to inflict a debuff onto the opponent. Those debuffs are capable of not only doing direct damage over time but also enable him to deal with the opponent's abilities—like Regeneration, Power Gain, and Evade.
Marvel.com: Dark Sting—have we seen that ability before? Or is it unique to The Void?
Piero Herrera: Dark Sting is unique to Void. After his Special 2 Attack, he will place two Dark Stings onto the opponent that can turn into Degeneration or a Weakness debuff whenever the opponent's activate their Special Attack. Try using Dark Sting to get Void's huge attack increase through his Special 3.
Marvel.com: Considering that The Void is already insanely powerful, who can we team him up with to make him even stronger?
Piero Herrera: Void is great with Sentry, Hulk, and Champions that are part of the Avengers team like Black Widow, Vision, Hawkeye, and Captain America. Pair him up with those Champions and Void will become even more powerful!
Marvel.com: And when does this guy get unleashed to threaten reality as we know it?
Piero Herrera: The Void will be available today—January 18! Make sure to check in-game messaging for more information.
Stay tuned to Marvel.com for more "Marvel Contest of Champions" news and interviews!
The Hype Box
Can't-miss news and updates from across the Marvel Universe!