Games
Published July 26, 2017
Entering Marvel Contest of Champions: Vulture
Spidey goes up against a classic super villain in the Battlerealm!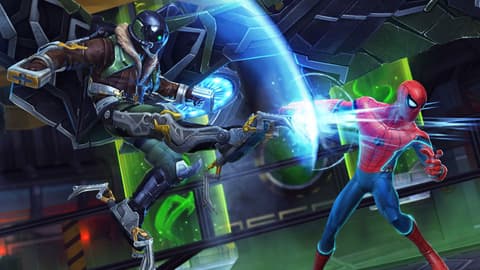 Soaring above Battlerealm the Vulture picks his targets with a bird of prey's ruthless precision, and with all that alien tech at his disposal, takes them out with brutal efficiency. Coming off the success of "Spider-Man: Homecoming", Vulture's found a place to roost in "Marvel Contest of Champions" and Kabam Art Director Gabriel Frizzera and Character Designer Simon Cameron chatted with us about all his in-game goodies.
Marvel.com: You know at first I was wondering what the Collector would want with a guy in a bird suit, but then I remembered all the people in spider suits he's wrangled in the past. He's building a regular menagerie isn't he?
Gabriel Frizzera: The Collector wants to catch them all! His favorite Champion is Spider-Man, and he wouldn't miss on having the web-head's awesome gallery of rogues. A complete set is much more valuable, and that includes the Vulture and his crazy mechanical wings. But he's just the beginning. More Super Villains are coming soon…
Marvel.com: I have to admit, the Vulture and his killer outfit were the highlight of "Spider-Man: Homecoming" for me, mostly because his getup was just so awesome! What was it like translating it for the contest?
Gabriel Frizzera: To be honest, we had our doubts in the beginning. Initially, all we could see from the trailers was this crazy-looking dude with wings much bigger than we could ever fit on screen! But then we got some very detailed reference material from our friends at Marvel Studios, and we saw great gameplay potential. We still had to reduce those wings a bit to make them fit our maximum size rig, but the rest is pretty close to the movie version. Once we saw the Vulture moving in game, we all became converts.
Marvel.com: And the team already had the wing tech from Archangel, so do we get to see the turbine wings on at all times?
Gabriel Frizzera: Flying is the Vulture's defining trait, so yes, he's in the air all the time. His wings are actually more complicated than Archangel's because the rotors are connected to a smaller second set of wings, and move independently from the main ones. And the wings also detach from his body, so we made sure to have them do that in one of the special attacks. Add to that those giant foot claws and the "ferry-cutter" gun, and his arsenal becomes even more fearsome.
Marvel.com: Appearance aside, when it comes to his kit, what does Vulture do best?
Simon Cameron: Vulture's Kit is best used to counter Champions with access to a lot of Power, or Champions who need power, he's also a hard counter to Incinerate. His Critical Hits build charge in the Chitauri Reactor which powers his suit. He will later spend this charge in several different ways, such as Power Drains, Incinerates, or a new Buff, Decoy. He also has a built in Dexterity effect, which can even spend his Chitauri Charge to Incinerate his Opponent as he dashes away.
Marvel.com: Can you go over his different abilities and how players should be looking to maximize his damage potential?
Simon Cameron: Vulture's new Buff, Decoy, causes the next attack against Vulture that would otherwise hit, to miss. He also has a couple of new Debuffs, Siphon Charge and Thermal Feedback. Both of these Debuffs cause him to immediately drain a portion off all Power that his opponent gains, great for slowing down a Power Gain Champion, or just allowing him to land more hits per Special his Opponent builds up.
Siphon Charge converts the drained Power into Vulture's Chitauri Charge making it great for utility and power control, whereas Thermal Feedback converts it into damage making it the way to go for err… damage. Finally his Signature Ability allows him to gain Power while his opponent is Incinerated, to help keep his Opponent suffering under these Debuffs as often as possible, and allows him to consume any Incinerate placed on using it to power his Chitauri Charge as well.
Marvel.com: And when do we get to take the Vulture out for a spin?
Simon Cameron: Vulture has entered The Contest; you can grab him up right now!
Stay tuned to Marvel.com and follow us @MarvelGames on Twitter for more "Marvel Contest of Champions" news and interviews!
The Hype Box
Can't-miss news and updates from across the Marvel Universe!