Games
Published February 7, 2018
Explore Wakanda in 'Marvel Future Fight'
Take the fight to Killmonger and Klaue in Black Panther's home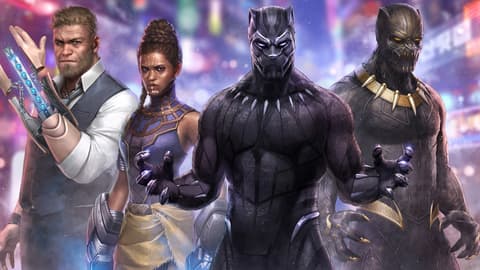 Hot on the heels of the release of Marvel Studios' "Black Panther," the world of "Marvel Future Fight" get a little more Wakandan. Erik Killmonger and Klaue feature as the threats in the game's new Legendary Battle, while Shuri comes to join the fight alongside her brother, T'Challa. Recruit Shuri, defeat and recruit Killmonger, and deck everyone out in their finest Wakandan regalia as the multi-dimensional battle rages on!
We spoke to several members of the Netmarble team to get the rundown of just how much of Wakanda we'll see in this update.
Marvel.com: "Black Panther" hits theaters soon, but Wakanda makes a big showing in Marvel Future Fight this week. What can you tell us about this new update?
Minkyun Kim (Lead Game Designer): In this update, we have prepared various characters and content based on the regal nation of Wakanda to coincide with the release of the movie. While Wakanda was previously featured in the "Marvel Future Fight" storyline, this update provides a more detailed look at Black Panther's home and his allies and enemies. Players will be able to experience the adventures of the sinister Erik Killmonger and Ulysses Klaue, as they plot against the throne, and the heroes that protect Wakanda, namely Black Panther and Shuri.
Marvel.com: Which characters will be sporting new threads as they take the fight to Killmonger and Klaue?
Youjung Kim (System Designer): We have prepared new uniforms for the heroes appearing in "Black Panther"; these uniforms were designed with the movie in mind. Black Panther gets a brand-new uniform, of course, his second movie-inspired costume to be included in the game. Princess Shuri has the Panther Blast Uniform, representing her unique appearance in the movie.  And finally, Erik Killmonger gets a golden Black Panther Uniform to face down his nemesis!
Marvel.com: What new heroes and villains are making their "Marvel Future Fight" premiere?
Jongho Park (Skill Designer): We have added the comic versions of Shuri and Killmonger to our game in this update. Players will see that we put great effort to keep Shuri and Killmonger closely aligned with their portrayals in the comics, including their appearances and innate skills. Players will also meet our other new character, Ulysses Klaue, in his movie form. We are excited for our players to experience how we integrated the characters from the film into the multiple layers of our game!
Marvel.com: The film and comic portrayals of Killmonger vary somewhat. Which Killmonger will we see here and how has his skillset been expressed in the game?
Jongho Park (Skill Designer): While Black Panther uses his Vibranium claws to defeat his foes, in the film, Erik Killmonger uses two swords as his weapons of choice. Players will see that this is reflected directly in the game, as his skills are based on his swordsmanship. Additionally, when Killmonger is fitted in his movie uniform, a Vibranium suit like Black Panther, he has greater defensive capability than his comic version.
Marvel.com: With this new update comes a new Legendary Battle. What will players fight their way through this time around?
Jungtae Pyo (Level Designer): This upcoming Legendary Battle is based on the conflict between Ulysses Klaue and Erik Killmonger, who vow to conquer Wakanda for their own reasons, and Shuri and Black Panther, who are sworn to protect it. The Battle is structured in 3 stages; Players will battle in Busan City, Wakanda, and the Vibranium Mine. T'Challa and Shuri must stand against this evil that threatens their home and their people, and the conflict leads them across the globe. We hope they are excited for the various bosses, stages, visuals, and other new elements that we have prepared!
Marvel.com: This update draws a lot from Black Panther and Wakanda as they are portrayed in the film. What fun new elements can you highlight for our players?
Minkyun Kim (Lead Game Designer): We have put tremendous effort in bringing the unique and compelling characters, settings, and other elements from the movie directly into the game, just as we did with the previous update inspired by Marvel's "Thor: Ragnorak." We hope that this gives players a chance to feel the same exhilaration playing the game as they get from watching the movie. Additionally, we made sure to focus much of our efforts on the backdrops and visual scenes for this update. Our ultimate goal is to have our players feel fun and excitement exploring the unknown lands of Wakanda and the adventures that unfold!
Marvel Future Fight is available worldwide on the App Store® and Google Play™. For all the latest on "Marvel Future Fight," stay tuned to Marvel.com and @MarvelGames on Twitter!
The Hype Box
Can't-miss news and updates from across the Marvel Universe!