Games
Published March 16, 2017
Marvel Future Fight: New Blood
Ghost Rider, Hellcat, and Kid Kaiju join the Marvel mobile game!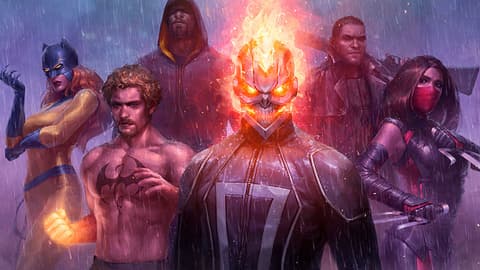 Alongside a trio of new characters, "Marvel Future Fight" introduces the Character Growth system this month. The new dynamic provides players with a stat called Combat Power, a score that represents the combined strength of a character's skills, gear, ISO-8, and custom gear. Each character will also receive a Ranking, which will compare that character to other players' versions of them.
"We believe it will be exciting to see how a particular character that a player has put so much effort into ranks among other players," says Minkyun Kim, Dev Director at "Marvel Future Fight" developer Netmarble.
The latest heroes jumping into the growing "Future Fight" roster come from across Marvel Television and Comics. After his acclaimed run on "Marvel's Agents of S.H.I.E.L.D.," the Robbie Reyes incarnation of Ghost Rider rides right into the game. Hellcat comes hot on his heels, sporting the look from her current solo series PATSY WALKER, A.K.A. HELLCAT! Last but certainly not least, the human face of MONSTERS UNLEASHED, Kid Kaiju, makes his first Marvel Games appearance.
"[Kid Kaiju] is one of the big projects prepared by Marvel this year, and we worked on it based off their work," Kim explains. "This Inhuman boy, new to the Marvel Universe, was also a challenge for our team. We weren't sure how to design his basic attacks or how to show that he summons monsters from his drawings. Everything related to him was a new venture. Just as he brought new adventures into the comics, we believe that he will bring a fresh appeal to 'Marvel Future Fight,'"
Timeline Battle also sees a few changes geared toward improving quality of life for players who use the game mode frequently. First, recommended and restricted characters will guide players toward using new and varied heroes even at higher ranks. Using recommended heroes will grant bonus points, while restricted heroes will be unavailable in Timeline Battle until the following week. The Friendly March feature allows players to test their teams against other players in their friends list or Alliance. While these matches won't yield rewards, they also won't affect rank.
Dive in to the interdimensional battle of "Marvel Future Fight," try out these new features, and recruit the latest and greatest heroes for your team.
The Hype Box
Can't-miss news and updates from across the Marvel Universe!