Games
Published July 1, 2020
Marvel Games Comic Connection: MODOK
Discover how Dr. George Tarleton became the Mental Organism Designed Only for Killing!
Hello, True Believers, and welcome back to the latest installment of Marvel Games Comic Connection, where we search through the House of Ideas' cavernous Comic Book Vault to spotlight the incredible issues that inspired the creation of the latest and greatest characters and events hitting our mobile, console, and VR games.
If you were wise enough to watch last week's Marvel's Avengers WAR TABLE Livestream (if you haven't yet stop now and go watch it!), you learned along with the rest of the world that the Big Bad you'll reassemble to battle on September 4 is indeed big, especially when it comes to his colossal cranium! That's right, none other than MODOK, the Mental Organism Designed Only for Killing, will rise into the spotlight to lead his deadly forces of AIM (aka Advanced Idea Mechanics) against Earth's Mightiest Heroes in a demented effort to wipe out all superhumans and control humanity through science and technology.
While MODOK may be new to some players, longtime readers know that he is one of Marvel's most devious and dangerous villains who has battled the Avengers both as a team and as individuals for over 50 years. So if you're interested in learning all you can about this infamous foe before facing him in Marvel's Avengers, here's some of MODOK's most memorable moments.
Before he was MODOK, he was MODOC, the Mental Organism Designed Only for Computing, and before that he was lowly AIM technician George Tarleton, who volunteered to undergo medical experimentation intended to augment his intelligence.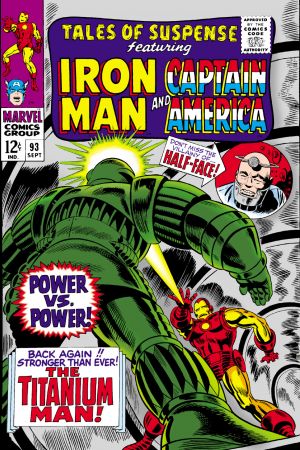 Tales of Suspense (1959) #93
published

added to marvel unlimited

writer

penciler

penciller (cover)

inker

letterer
What is Marvel Unlimited?
But the scientists of AIM got more than they bargained for when George replaced the C in his name with the more malevolent K and took control of the entire organization! His first costumed combatant was none other than Captain America, whose physical perfection enraged the mutated MODOK. Yes, the legendary team Stan Lee and Jack Kirby had delivered yet another classic creation, unleashing a modern day Frankenstein's monster and commenting on the potential dark side of mankind's tinkering with biology and technology.
What is it with huge headed villains and the green goliath? Like the Leader and the Gremlin, MODOK is a perfect foil for the jade giant in the classic clash of brains versus brawn.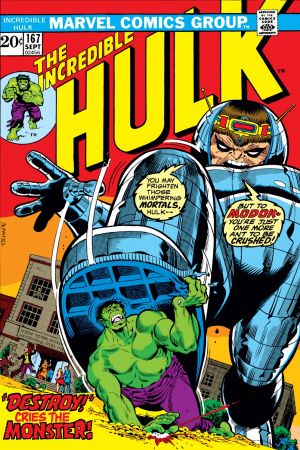 The secret son of George Tarleton returns to gain revenge on his neglectful father and enters the crosshairs of Carol Danvers in the three-part saga appropriately named "Ready, AIM, Fire!" Written by Brian Reed and illustrated by Aaron Lopresti, it also features appearances by SHIELD's Maria Hill, the actor Avenger Wonder Man, and edits by Yours Truly.
In a fun turn of events, now myself and the Marvel Games team are lucky enough to work with our friends at Crystal Dynamics and Square Enix on Marvel's Avengers which will reignite this fiery feud as the new Ms. Marvel — aka Kamala Khan, who inspired by the heroics of Carol Danvers, aka Captain Marvel — will take a stand against AIM and MODOK.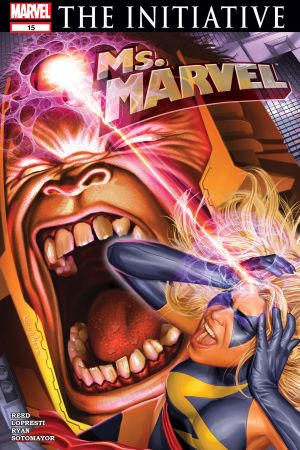 Ms. Marvel (2006) #15
published

added to marvel unlimited

rating

colorist

penciller

inker

writer

letterer

penciller (cover)
What is Marvel Unlimited?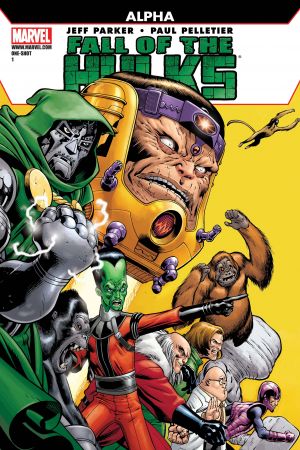 Fall of the Hulks Alpha (2009) #1
published

added to marvel unlimited

penciller

writer

letterer

inker

colorist
What is Marvel Unlimited?
Assembling his own team of eclectic adversaries, MODOK attempts to pull off a huge heist in this acclaimed mini-series by Fred Van Lente and Frances Portella.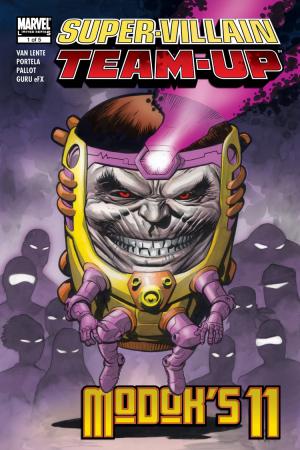 Super-Villain Team-Up/M.O.D.O.K.'s 11 (2007) #1
published

added to marvel unlimited

rating

penciller (cover)

writer

letterer
What is Marvel Unlimited?
So there you have it, a personally guided tour through the monstrous mind of MODOK! I hope you enjoy diving into these classic comics, check out all the pre-order options for Marvel's Avengers, and then join us here next time for another illuminating edition of Marvel Games Comic Connection. Have fun, Frantic Ones!
Get ready to Embrace Your Powers by learning everything revealed during the first Marvel's Avengers WAR TABLE Livestream!
Marvel's Avengers will release simultaneously for the PlayStation 4, Xbox One, Stadia, and PC on September 4!
For the most up-to-date information about Marvel's Avengers, keep an eye on PlayAvengers.com. And be sure to follow "Play Avengers" on Facebook, Twitter, and Instagram!
Fans will be able to escape into the Marvel Universe and revisit their favorite stories from a curated selection of complete story arcs – completely FREE – on Marvel Unlimited, Marvel's digital comics subscription service.
To find these stories and more of Marvel's greatest comic books in print, please reach out to your local comic book shop to ask about services they may offer, including holding or creating pull lists, curbside pick-ups, special deliveries and other options to accommodate. Find and support your local comic book shop at http://comicshoplocator.com.
The Hype Box
Can't-miss news and updates from across the Marvel Universe!