Games
Published January 9, 2018
Marvel Legacy Heads to 'Marvel Future Fight'
Welcome Marvel Legacy to the mobile gaming adventure!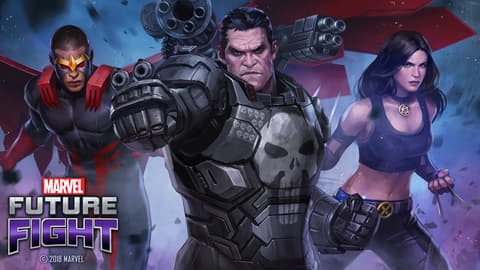 Don a suit of armor as Punisher. Soar the skies with Falcon's new wings. Incinerate your foes in style with Satana. Witness true power with the Savior of Worlds, Adam Warlock. Marvel Legacy has arrived in "Marvel Future Fight" as of today!
To get the full rundown on all things Marvel Legacy brings to "Marvel Future Fight" this month, we grabbed a few minutes with Netmarble Monster's lead game designer Minkyun Kim, content designer Hyunseok Kim, skill designer Jongho Park, and system designer Youjung Kim.
Marvel.com: Can you tell us about the latest Marvel Legacy update? What can fans expect?
Minkyun Kim: For the first update of 2018, we wanted to continue with what makes "Marvel Future Fight" great, while making things feel fresh. Marvel Legacy, the current event that is reenergizing Marvel's comic book line with new costumes and stories, seemed to correspond well with the direction that we wanted to take. Existing characters return with new directions and new costumes as well. We hope that players will enjoy these new characters and the brand-new event stage we've cooked up for this update.
Marvel.com: Will our heroes sport new uniforms?
Hyunseok Kim: We selected heroes from the Marvel Legacy event whose looks change drastically and impactfully. Falcon is one of the key characters, because he has re-embraced his classic identity as he now fights alongside the Avengers. We decided to release his new uniform first. The same goes for the Punisher. You can find the all-new War Machine armor clad Punisher in this update! Don't forget to thank Nick Fury while you're at it since he helped spruce the Punisher up a bit. Lastly, you can also find a striking uniform for Satana, featuring her new look from the SPIRIT OF VENGEANCE series.
Marvel.com: X-23 and Adam Warlock finally make their debut in 'Marvel Future Fight.' What role will they play?
Jongho Park: X-23 and Adam Warlock are characters that the Dev team have been itching to add to the world of Future Fight. For X-23, we thought a lot about how to best portray her in a similar way to Wolverine while keeping her unique. In Adam Warlock's case, we thought long and hard about how to express his powerful energy attacks. As these two characters are very important, we cut down the number of new characters in the update and we spent a lot of time and effort to create them. You'll be able to meet these characters and glimpse their powerful and showy skills.
Marvel.com: Can you share any fun moments or something you were proud of while preparing for this Marvel Legacy event?
Jongho Park: What comes to mind are the things we talked about while developing the character of Adam Warlock. Inspired by his "battle mage" era from the Guardians of the Galaxy comic book series, we talked a lot of about what kind of magical energy attacks we would create for him, as well as what color his bursts should take on. In the process of discussion, we even talked about the shape of his fingers! The hand and fingers take on a variety of shapes when someone uses magic. As we talked very seriously about which stance looked stronger and better suited to a wizard, we realized that everyone was standing with their hands and fingers in different positions.
Marvel.com: What improvements have been made for the players?
Youjung Kim: We improved the elements that prevented players from playing with ease. We made sure to improve the way to check if Comic Cards are registered in a collection, and added a function where you can check the current Rank of all the characters a player possesses. We've also added a refresh function that makes it possible for you to check for newly-created Dimension Rifts.
Marvel.com: What can players look forward to and expect?
Minkyun Kim: We are always striving to have differently themed updates to give players a fresh experience. Since this update is themed in celebration of the newest event from Marvel's comic books, MARVEL LEGACY, we hope that players will enjoy the refreshed characters. This year, a lot of updates will focus around not only the comics, but the new movies as well. Stay tuned!
Marvel Future Fight is available worldwide on the App Store® and Google Play™. For all the latest on "Marvel Future Fight," stay tuned to Marvel.com and @MarvelGames on Twitter!
The Hype Box
Can't-miss news and updates from across the Marvel Universe!