Games
Published March 17, 2017
Marvel's Iron Fist: The Netflix Hero Comes to Marvel Games
Bring the action from the small screen to your gaming experience!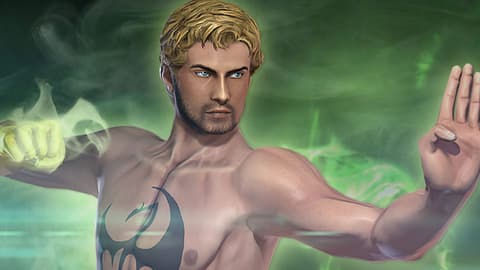 Last week, we introduced you to the various versions of Iron Fist across the world of Marvel Games. Today, as "Marvel's Iron Fist" hits Netflix, we take a look at how this new iteration of the character has inspired additions to several of those games.
Suit up as this new Iron Fist and battle the villainous Hand ninjas!
MARVEL PUZZLE QUEST
"Iron Fist (Danny Rand) has been designed to utilize his ability to knock out characters in style. Each power builds up like the character's chi to unleash more damage later in the match and he even has a power that deals more damage when there is only one more enemy left, allowing the player to finish off their prey with a devastating punch!" – Josh Austin, Senior Producer on "Marvel Puzzle Quest" at D3 Go!
MARVEL HEROES 2016
"A master of mystical martial arts, Iron Fist lives up to the title 'Immortal Weapon of K'un-L'un' and channels his chi to achieve states of near invulnerability while pummeling foes with a flurry of unrelenting attacks. There's never been a better time to revisit this fan favorite Hero and we can't wait to see what's in store for Danny Rand in the [show] on Netflix!" – Ben Gilbert, Lead Game Designer on "Marvel Heroes 2016" at Gazillion Entertainment
MARVEL FUTURE FIGHT
"Our top priority [in this week's update] was the release of the new 'Iron First' show. Like we did when 'Daredevil' was first released, we wanted to be able to bring the excitement from the TV show into the game. It's appealing even for us as the developers to bring the skills from the show into the game. To go along with this, we have introduced a Marvel TV related uniform bundle." – Minkyun Kim, Dev Director on "Marvel Future Fight" at Netmarble
Catch the adventures of Danny Rand in "Marvel's Iron Fist" out now on Netflix!
The Hype Box
Can't-miss news and updates from across the Marvel Universe!