Games
Published September 27, 2018
Marvel's Spider-Man on PS4 | Bringing Mister Negative to Life
The makers behind the blockbuster hit on what went into designing one of Spidey's baddies.
Editor's Note: If you haven't played/completed the game, this article contains spoilers.
Martin Li and Mister Negative not only play a significant role in Peter Parker's life, but in "Marvel's Spider-Man" as a whole.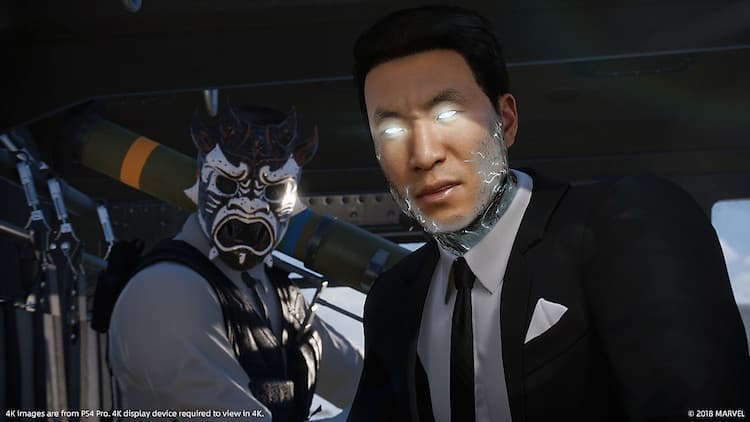 Spider-Man takes on a handful of villains in the PS4 game, as covered in Marvel's official villains guide here. Mister Negative is a man torn by the duality living inside him. When he's Martin Li, he's changing the lives of many worse-off individuals in New York City in hopes that they don't experience what he did in childhood. His philanthropic cause, F.E.A.S.T., provides a number of facilities across the city providing shelter and aid to New York's homeless. Not only that, he's generous, kind and thoughtful; and a friend to Peter Parker. He holds Aunt May, who runs a F.E.A.S.T. shelter, in high-esteem and hands over operations to her.
However, on the other end of the spectrum, Mister Negative is a ruthless and violent crime-lord with the ability to manipulate dark energy with a legion of Inner Demons, one of the most powerful gangs in NYC. In addition to his heightened physical strength and durability, Mister Negative is able to corrupt and control those he touches.  His resources know no bounds and he's a man with a singular mission—make Mayor Norman Osborn pay for his crimes against him and his long-deceased parents.  
Mister Negative is the perfect foil to Spider-Man, and Marvel.com was lucky enough to talk to the creative minds behind the game about the choices they made regarding this particular antagonist—Bill Rosemann, Marvel Games executive creative director; Tim Tsang, Marvel Games art director; and Jacinda Chew, Insomniac Games studio art director.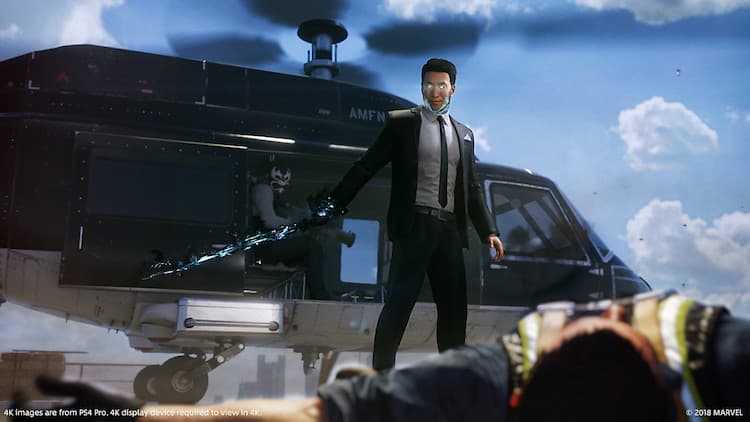 Marvel.com: Mister Negative is a relatively new character only debuting on the pages in 2008. What was critical for players to understand about Martin Li? How was it playing with the duality of Martin Li vs Mister Negative?
Bill Rosemann: Mister Negative provided three great opportunities. First, as the TV team did with Killgrave (AKA The Purple Man) in "Netflix's Jessica Jones," it was our chance to spotlight and elevate a villain that we felt deserved a wider audience. Also, along with Silver Sable, Screwball and Tombstone, he provided the chance to mix some "New School" flavor amidst the classic foes that were invented back in the '60s.
Secondly, his unique background and powers allowed for a different visual to contrast both with Kingpin's and Silver Sable's minions. Finally, because Martin Li is Aunt May's boss and Mister Negative is Spider-Man's foe, he is both a dark reflection of Peter's own duality and he also crystallizes our theme of "worlds colliding" as Peter's cast of characters from his civilian and superhuman lives come crashing together.
Jacinda Chew: It was really important that players clearly saw the two worlds of Martin Li. This is why we made sure both sides of his life were fully fleshed out. For example, we put a lot of detail and life into F.E.A.S.T. to show Li's compassionate side. You can see how much he loves F.E.A.S.T. and appreciates Aunt May during her surprise party, and when he hands F.E.A.S.T. over to her.
Tim Tsang: Mister Negative was a great opportunity for us to take a modern and compelling villain from recent comics and introduce him to a newer and bigger audience. The team had a lot of fun early on experimenting with his design. But ultimately, since this was his first big appearance outside of comics and because of how his character was developed in the story, it made more story sense for his design to be distilled down to the key elements that reflected more closely to his original comic book look.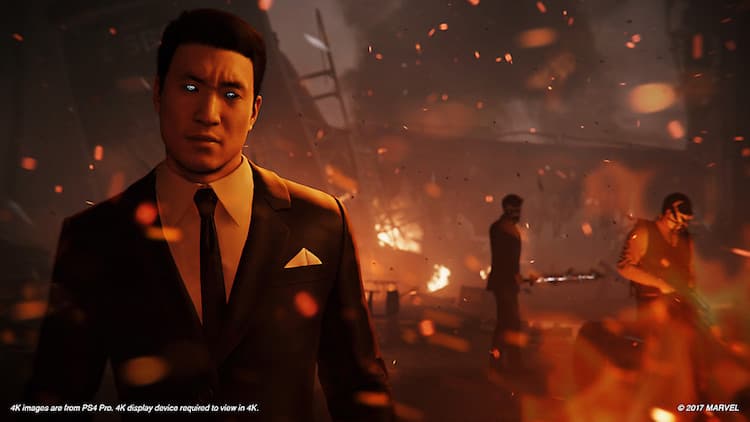 Marvel.com: What Mister Negative element was the most fun bringing to life?
Jacinda Chew: His world. Originally, his corrupted world was not part of the initial design. Once one of our designers dreamed it up, we kept expanding and adding to it until we had a giant demon show up at the end. Since Mister Negative is not as well known, it was a lot of fun to imagine what his powers and world would be like.
Marvel.com: With Mister Negative's story and visual representations, how did they expand and contribute to the games mechanics and world building?
Tim Tsang: Because Mister Negative's power and abilities are so tied to who he is narratively and visually, it was important for the team to clearly design and communicate who Martin Li is and what he is about in order to successfully introduce this character to the world. We had to build a strong and consistent visual language for his powers and how it affects him and the people around him. What does his power look like? How does it move? How does he corrupt others? What does the corrupted look like? These were the types of questions we asked ourselves as the VFX visual language for Mister Negative and his Inner Demons were being developed.
Jacinda Chew: Mister Negative's corrupted world showed the demons that he battled with. It's a dark shadowy world that stands in contrast to the warmth of F.E.A.S.T. There, his own inner demon takes the form of an actual demon. We experimented with several iterations of his design and ultimately kept his classic design to better illustrate the contrast between dark and light using a simple color. There was one point where he was much younger and had a more rock'n'roll aesthetic, but it didn't feel true to his character.
Be sure to snag Marvel's Spider-Man now and witness Mister Negative's intense might now.  Keep it on Marvel.com for all the latest and greatest on Marvel's Spider-Man and the rest of the Marvel Games roster. Stay tuned for further analysis of building the world of Marvel's Spider-Man in the coming weeks. And follow Marvel Games on Twitter for more!
The Hype Box
Can't-miss news and updates from across the Marvel Universe!