Comics
Published October 20, 2023
The Comics to Read Before Playing 'Marvel's Spider-Man 2'
Ahead of the highly anticipated video game, dig into these exclusive vertical Infinity Comics on Marvel Unlimited!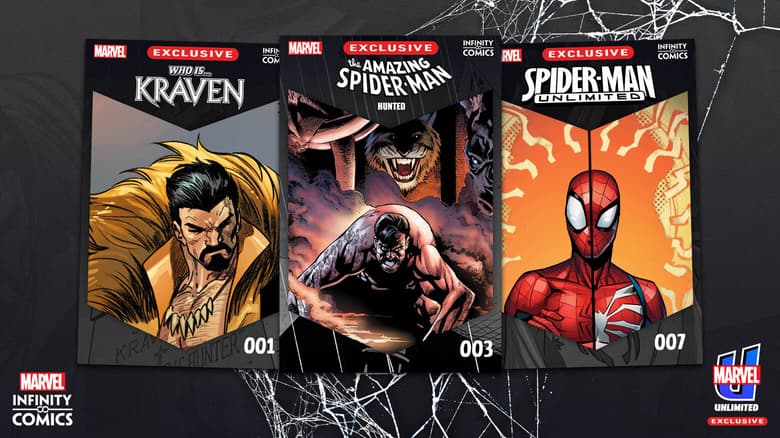 The Great Hunt Begins in Marvel's Spider-Man 2, the all-new video game exclusively for PS5 that's dropped in stores today. 
In anticipation of its release, Marvel Unlimited, home to Marvel digital comics and our premier subscription service offering 30,000+ issues, has dropped a lineup of tie-in content from Marvel's Infinity Comics. Infinity Comics are vertical series exclusively available to Marvel Unlimited subscribers; they are a slate of series that are perfect for mobile reading, while offering ongoing runs and entry points into the Marvel Universe.
Now, Marvel Unlimited subscribers can read a handful of new titles designed to set you up for Marvel's Spider-Man 2! From a Marvel Comics crossover with the Spider-Man from the Marvel's Spider-Man game franchise to a ground-floor explainer on Kraven the Hunter, here's all you need to read before picking up Marvel's Spider-Man 2 today!
SPIDER-MAN UNLIMITED is an ongoing series set in the current continuity of Spider-Man comics. Following Spider-Man: Peter Parker in weekly adventures across the Spider-Verse, the series drops new chapters each Tuesday only on Marvel Unlimited.
In its opening twelve-part arc from creators Christos Gage, Simone Buonfantino, and Fer Sifuentes-Sujo, witness one of the most thrilling crossovers in Marvel Comics history to date: The first ever face-to-face meeting between Peter Parker of Earth-616 and Spider-Man from the Marvel's Spider-Man video game franchise!
"It was awesome getting to [write this crossover] because I've often thought about the similarities and differences between the two Peters," said Gage in an exclusive interview for Marvel.com. "Obviously, they have a lot in common, but what are the little differences?"
"I also have to say it's a great honor that the folks at both Marvel Comics and Insomniac Games, including my game co-writers Jon Paquette and Ben Arfmann, our Creative Director Bryan Intihar, Marvel Games VP of Creative Bill Rosemann, and Marvel editors Ellie Pyle, Nick Lowe and the rest of the team, all trust me to do right by this character who is so close to all our hearts."
Read the rest of Gage's interview, then dive into the ongoing first arc of SPIDER-MAN UNLIMITED, unfolding now on Marvel Unlimited!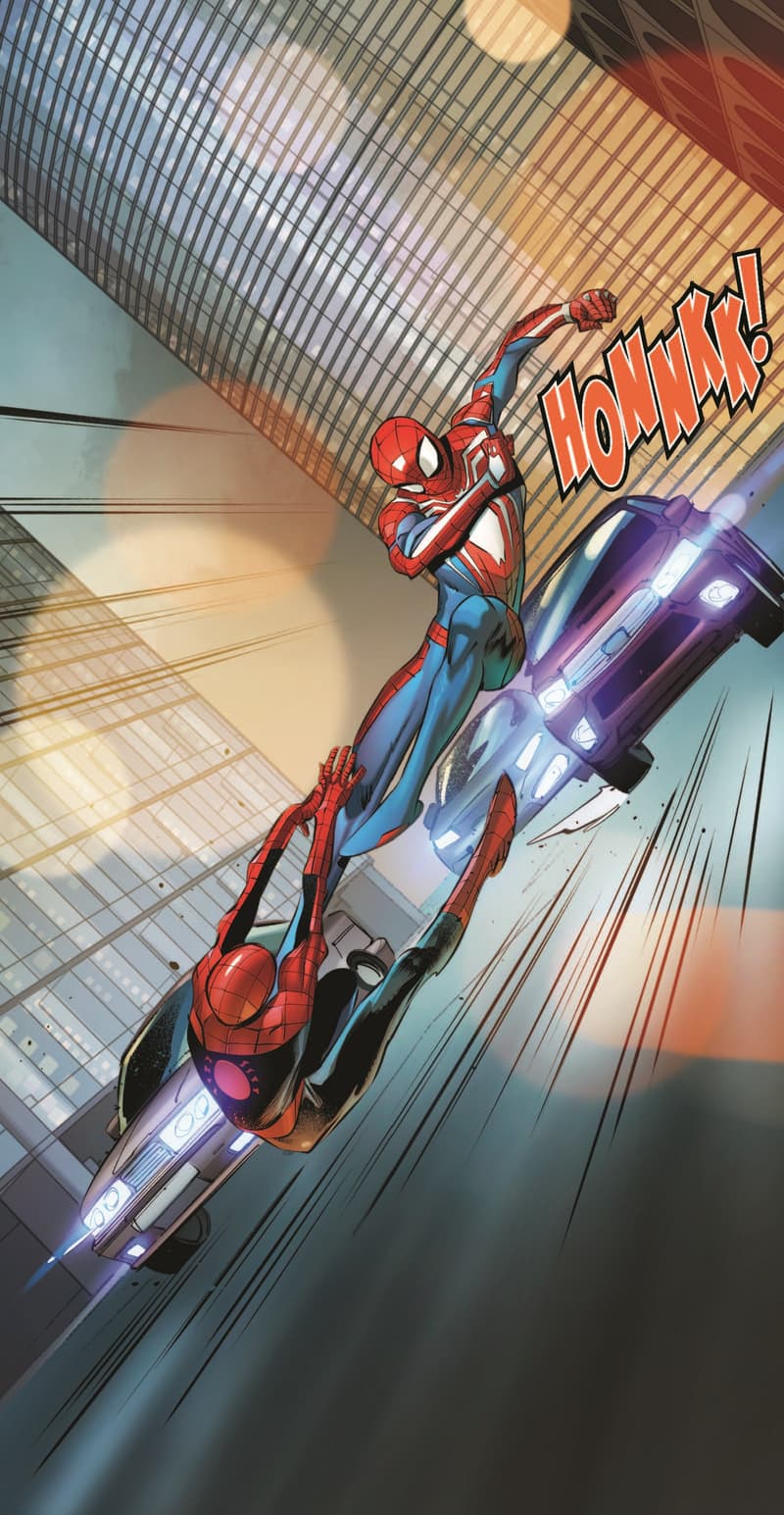 The Hunter. An Agent of Revenge. Kraven, AKA Sergei Kravinoff, is a world-famous explorer and brutal game hunter who can never resist a challenge, especially one that involves taking down Spider-Man. Revisit his greatest preys—and complete comics history—in this perfect-for-new-readers origin special by J.M. DeMatteis, Andrea Di Vito, and Arif Prianto.

The vertical Infinity Comics adaptation of the "Hunted" story arc from the pages of THE AMAZING SPIDER-MAN (2018)! Who lives and who dies when the hunters become the prey? 
Told across 12 issues, AMAZING SPIDER-MAN: HUNTED revisits one of the tensest and most brutally animalistic chapters in Spider-Man canon. Sergei Kravinoff—AKA Kraven the Hunter—and his minions have been kidnapping animal-themed superhumans for months. And they need one more to complete the collection: the Spider. But what does Kraven want with all of his catches? In Central Park, the prey's let loose and the hunt begins—but Kraven isn't the one in pursuit. Who has Spidey in the crosshairs? Trust us: When you get to the big showdown, you'll have no idea how it'll go down! 
Read the run in full, adapting THE AMAZING SPIDER-MAN (2018) #16-23.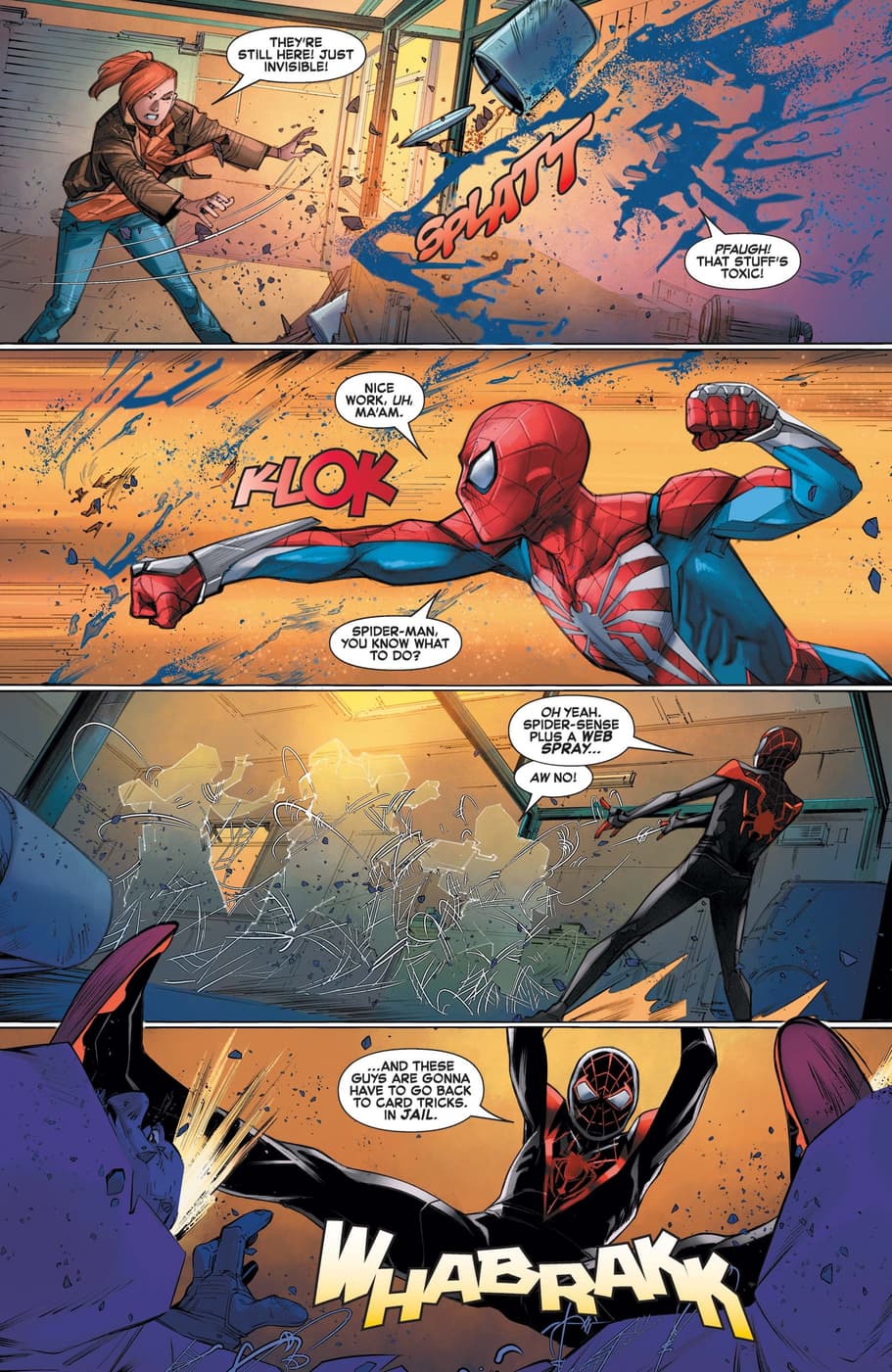 Want to read Marvel's Infinity Comics? Join Marvel Unlimited for instant access to this exclusive lineup of vertical series on the Marvel Unlimited app or on the web, plus gain 30,000+ digital issues spanning Marvel Comics classics to ongoing series.
The Hype Box
Can't-miss news and updates from across the Marvel Universe!