Games
Published October 24, 2018
Marvel's Spider-Man on PS4 | Get to Know Felicia Hardy AKA Black Cat
The makers behind the blockbuster hit on what went into designing one of the most influential people in Spidey's life.
It's time to let the cat out of the bag.
Today, Felicia Hardy AKA Black Cat makes her way back to town and throwing Spidey's life in a bit of a tizzy with the release of Marvel's Spider-Man: The Heist—the first chapter of the new DLC trilogy, "Marvel's Spider-Man: The City That Never Sleeps."
Who is Black Cat? Longtime Marvel fans know Spidey has always had a complicated history with his former lover, Felicia Hardy—a fun, flirtatious and formidable expert thief. After encountering Spider-Man, things started to change for Black Cat with Peter Parker mentoring her on the hero's path. The two enjoyed a romantic relationship before Peter and Mary Jane Watson got together. However, the partnership was shattered when Peter discovered Felicia was pocketing the loot during their crime fighting. She fled the city, but now she's back and gunning for a big score, all the while luring Spidey into her own web.
MJ, an investigative journalist for The Daily Bugle, discovers the emerging power vacuum in the City following Kingpin's arrest. She tips off Spidey of a robbery connected to the Maggia Crime family in progress at the Museum of Contemporary Art. While on the scene, he discovers Black Cat has returned and another crime family in the mix.
Marvel.com had the opportunity to talk about the creative minds and talent behind the hit blockbuster about Black Cat's arrival—Bill Rosemann, Marvel Games executive creative director; Ryan Smith, Insomniac Games game director; Jacinda Chew, Insomniac Games studio art director; and Gavin Goulden, Insomniac Games lead character artist.
Marvel.com: Why Black Cat?
Ryan Smith: Black Cat and Spider-Man have such a history together that we absolutely wanted the chance to tell a new story with them. We knew Black Cat would provide some great opportunities for cool new gameplay where they can team up during combat. What's even better, though, is that their story also extends beyond the battlefield; there's a level of intimacy between the two you just don't see from the other member of his rogues' gallery. Their relationship is complicated to say the least.
Bill Rosemann: Black Cat continues our mission of showing the world what longtime comic book fans have known for years, that Spider-Man's rogues gallery is packed with awesome characters. Walking that tightrope between hero and villain, Felicia Hardy playfully manipulates the motivation of Robin Hood, usually stealing from those who have gotten rich by hurting others...but instead of giving to the poor, she keeps her ill-gotten gains to fund her own posh lifestyle. Layered on her anti-hero charm is the complicated romantic past she and Spider-Man share, but unlike Mary Jane, Felicia — who refers to our hero as only "Spider" — doesn't want to know who he is under his mask, preferring to avoid the mundanities of civilian life and only enjoy the elicit thrills of their costumed adventures. She's that ex-girlfriend Peter knows isn't good for him, but one he can't quite keep away from when she slinks back into the city that never sleeps.
Gavin Goulden: Throughout the core game of Spider-Man, we lead players into a storyline with the classic character, Black Cat.  Knowing the significant role she plays in the life of not only Spider-Man, but Peter Parker as well, we knew we needed an entire chapter dedicated to her in order to fully explore the impact her presence can have on Pete's life, and to do her character justice.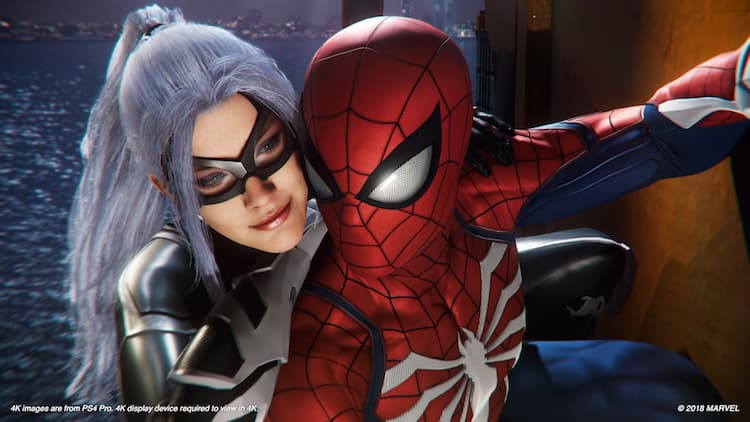 Marvel.com: How does this Black Cat differentiate story-wise from previous iterations?
Bill Rosemann: Our goal was to showcase everything that fans love (or love to hate) about Felicia, so we didn't stray too far from her comic book persona. We may have given her suit a modern upgrade — and she may shock Peter with a revelation he wasn't expecting — but she's still the fiercely independent and headstrong loner that fans can't forget, and who Spider-Man can't quite get out of his system.
Ryan Smith: Our philosophy has been to respect the traditions of the franchise, but at the same time don't be afraid to mix things up. We really wanted to create a Black Cat storyline that fit within the world we'd created for the game – what kind of trouble would Black Cat cause for our Peter Parker? While the classic characteristics of Felicia hold true here, anyone who plays "The Heist" are in for some unexpected surprises when it comes to her past with Spider-Man.
Marvel.com: What makes Black Cat a great foil for Spidey?
Ryan Smit: Felicia is such a strong counter to Spider-Man because he's always trying and hoping that she'll leave her criminal ways and be "one of the good guys." More often than not… just about when she shows signs of going straight, that'll be the moment of her biggest betrayal, leaving Spidey heartbroken. 
Bill Rosemann: Black Cat is one of those classic frenemies that our hero thinks he can redeem and bring over to the side of the angels, but who is devilishly elusive. She steals from those who probably deserve it, but she's still breaking the law, and Spider-Man often wonders if she really has a heart of gold or if she's toying with his like a ball of yarn. To Felicia, it's all a fun game — and she's the frisky feline who always lands on her feet — but you know what they say about who many lives a cat has, and one day her luck is sure to run out.
Jacinda Chew: Spider-Man always tries to do the right thing even when it's hard.  Black Cat does what she wants and inevitably turns Spider-Man's world upside down.  She's the perfect foil for Spidey because she is his exact opposite so we get to see her draw him into situations that he would normally avoid.  Black Cat is also affected by Spider-Man as his belief in her goodness makes her almost want to go straight.  Almost!
Gavin Goulden: Personally, my impression of Black Cat is that she represents temptation in Pete's life and the idea of letting go of his struggle between his civilian life and being Spider-Man.  That things would be easier if he could keep his two worlds separate.  However, being the moral compass, Pete will always try to balance the two, or feel the guilt of his actions if he doesn't.  He is often falling for Black Cat's tricks in an attempt to do the right thing. Creating a great conflict between his two worlds and a complicated adversary turned ally. 
Marvel.com: As for the design, what classic elements did you want to keep, and what areas did you have room to play around with and upgrade?
Bill Rosemann: When the teams at Insomniac and Marvel Games approach a character redesign, our goal is to create a look that is authentic and instantly recognizable but also distinct and ownable. First we make a list of the items from head to foot that visually define them. We ask ourselves questions like "What are their classic colors and how are those colors blocked out on their costume?" and "What are the really smart elements that have made them compelling for decades?" In Black Cat's case we talked about the sleekness of her "cat thief" suit...it's alluring but also functional, reflecting that fact that Felicia owns and intentionally uses her attractiveness...she's a pro who is always in control. We also reinterpreted the "white fur" elements of her suit, shifting them into a more practical material. Continuing Insomniac's vision of respecting core elements while also giving them a modern twist, Jacinda Chew, Gavin Goulden and their design team have once again delivered a fresh version of a classic character you can only experience in "Marvel's Spider-Man."
Ryan Smith: Jacinda and Gavin are the best people to answer questions about her design, but on the creative side it was really important that her VO reflected the personality fans have come to expect from someone like Felicia. Our writers did an amazing job, while actor Erica Lindbeck brought this character to life perfectly!
Jacinda Chew: Black Cat's cat suit, long white hair, mask, and color scheme are iconic and I wanted to preserve those in our design.  Even though we're in a comic book universe, I try to ground everything as much as possible so I decided not to keep the less practical parts of her past costumes.  I wanted her to look cool, sleek, and cat-like.  You'll see that she has cat claw gloves and pointy cat ear corners on her mask.  Since Black Cat is masked so you can't see her eyes clearly, her mouth has to carry a lot of her emotions.  This is why she always has a half-smile to show her personality.
A lot of Black Cat's personality is also conveyed through her animation.  She doesn't walk; she flips, rappels, leaps, and kicks her way through missions to show off her athleticism and grace.  Black Cat is incredibly charming and charismatic and it's obvious why Spider-man can't help but be drawn to her.  She is the ultimate cool girl that everyone wants to be friends with.
Gavin Goulden: We were given a ton of freedom to give our own take on this iconic character, but we still wanted key landmarks to read as what fans would recognize as Black Cat.  We wanted to create an outfit for her that spoke to her in game actions, a believable suit she could wear while traversing the city, and being a thief.  In addition to this, we kept the shocks of white from her original design by replacing them with an armored set – rather than fur on the gloves and boots, she now has functioning shin guards and gauntlets.  This also helps place her in our world, makes her a visually relatable character, and reinforces her role in our game.   
Marvel.com: What do you hope fans take away from this Black Cat iteration/story?
Bill Rosemann: We are continually blown away by the fans' outpouring of praise for the game and deeply appreciate the boost they give us everyday through their supportive tweets. With our "The City That Never Sleeps" DLC chapters we hope to keep that positive momentum swinging forward by delivering another compelling story filled with all the drama, surprises, humor, action, thrills and high quality that Spider-Man and his fans deserve.
Gavin Goulden: Like any hero or villain we are given the honor of reimagining in our world, my hope is that fans get to experience something familiar in a totally new way.  Being able to surprise fans of the character and bringing new life to something they thought they knew is a great opportunity, and something I really enjoy seeing in the reactions from people who play.  Specifically, I really think we have put our own spin on the character, giving fans a new perspective on the classic character, and a new way to appreciate Felicia's role in Pete's life, and the impact of Black Cat in Spidey's.
Jacinda Chew: I hope fans walk away wanting to see more of Black Cat.
Ryan Smith: We have three rounds of DLC coming and after playing "The Heist", I hope players feel that there was no better person in Spidey's villain lineup to start things off other than Black Cat!
Marvel.com: Any fun anecdotes about the development of Black Cat's story/design/mechanics you can share?
Ryan Smith: Spoiler alert – there's a mission where you chase Black Cat through the city and into the subway. Working with the team to create the chase mission was really awesome because they were always coming up with some new interaction they could add. Whether it was getting the timing and pacing right on the trip through the subway, adding traversal hazards and grenades thrown by Black Cat, or even the custom audio support for the rush of an oncoming train, the team was really focused on making a memorable experience. It was pretty great meeting up for a review and discovering a new cinematic interaction that the team had gotten in the game – getting to experience those things hands-on for the first time will stick with me, and hopefully they'll surprise everyone who plays "The Heist" as well.
Jacinda Chew: Black Cat's ponytail animation was a lot of work.  It was so long that our physics system had a hard time figuring out how it should behave, which resulted in hair that danced around with a mind of its own.  Because of this, the animators had to hand animate her ponytail in many of her appearances in cinematics. 
Be sure to snag Marvel's Spider-Man and the DLC Marvel's Spider-Man: The Heist now and witness Black Cat's cat and mouse game with Spidey. Keep it on Marvel.com for all the latest and greatest on Marvel's Spider-Man and the rest of the Marvel Games roster. Be sure to follow Marvel Games on Twitter for more!
The Hype Box
Can't-miss news and updates from across the Marvel Universe!