Games
Published June 13, 2017
'Marvel's Spider-Man' Swings into E3 2017
Marvel Games Executive Creative Director Bill Rosemann provides a web slinging update!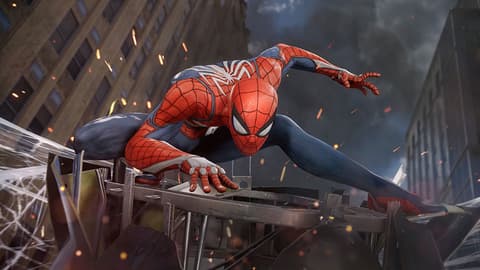 True story: There was once a young boy who sat cross-legged on the floor of his family room, staring up wide-eyed and slack-jawed as Spider-Man swung across his TV screen during a rerun of his classic '60s cartoon. Decades later, that same boy – who was now improbably working for the House of Ideas – sat in the historic Shrine Auditorium, staring up wide-eyed and slack-jawed as Spider-Man swung across the massive theater screen during the world-premiere gameplay at the PlayStation Media Showcase.
You win a No-Prize if you guessed that young boy grew up to be me. After years of faithfully reciting "with great power there must also come great responsibility", I am humbled and hyped to be working with my friends at Insomniac Games and Sony Interactive Entertainment on "Marvel's Spider-Man," which will hit PlayStation 4 in 2018.
Okay, let's see that sweet gameplay!
We hope that gave you a taste of the amazing abilities of our 23 year-old Spider-Man. After battling for eight years to keep the city safe, Peter Parker is an experienced and confident hero who combines wall-crawling, dodges, aerial combat, parkour moves, self-made tech, and his world-famous webs – oh, and also his whip-smart wise cracks – in an acrobatic, intelligent and improvisational combat style. And did I mention our obsession with bringing you the ultimate expression of web-swinging?
In addition to celebrating Spider-Man's spectacular powers, we're also showcasing his awesome rogues gallery and supporting cast, which – if you connected the dots in the gameplay – includes the fearsome Mr. Negative, whose alter ego just so happens to be Martin Li, the philanthropist that Peter's Aunt May works for! If there's one thing everyone working on the game has learned after reading, watching and playing everything Spidey, his best stories focus on the sparks that fly when his civilian and costumed worlds collide.
Speaking of worlds colliding, while we're exploring the classic themes of power and responsibility, we're also combining familiar faces with newer characters that you may not have yet encountered, all swirling together in an unpredictable and changing Manhattan.
On behalf of the entire team behind "Marvel's Spider-Man," we thank you for joining us on this journey, and we hope the E3 gameplay revealed the type of combat, traversal, story and cinematics that will allow you experience the rollercoaster ride that is the life of Peter Parker as never before…and will also leave you, just like that young boy many years ago, wide-eyed and slack-jawed.
Your Man @ Marvel,
Bill Rosemann
P.S. Please check out the latest blog by my fellow Spidey fanatic at Insomniac, Bryan Intihar. And for the latest buzz, follow us on Twitter (@MarvelGames, @Marvel, @InsomniacGames @PlayStation), Instagram (Marvel, Insomniac Games, PlayStation) and Facebook (Marvel, Insomniac Games, PlayStation). Thwip!
The Hype Box
Can't-miss news and updates from across the Marvel Universe!