Games
Published December 10, 2021
'Marvel's Guardians of the Galaxy' Brings Home Best Narrative at The Game Awards
Beginning on October 26 of this year, Marvel's Guardians of the Galaxy took us to the stars. And since then, we've read the comments, we've seen the photo mode screenshots (especially those of Cosmo and his puppies), and we've been overwhelmed by the ecstatic reception from fans and critics alike.
Yesterday, at The Game Awards our brilliant collaborators at Eidos-Montréal were awarded for their hard work and cosmic rock n' roll efforts... We're delighted that the first The Game Awards win in Marvel Games history is for Best Narrative—and it belongs to Marvel's Guardians of the Galaxy!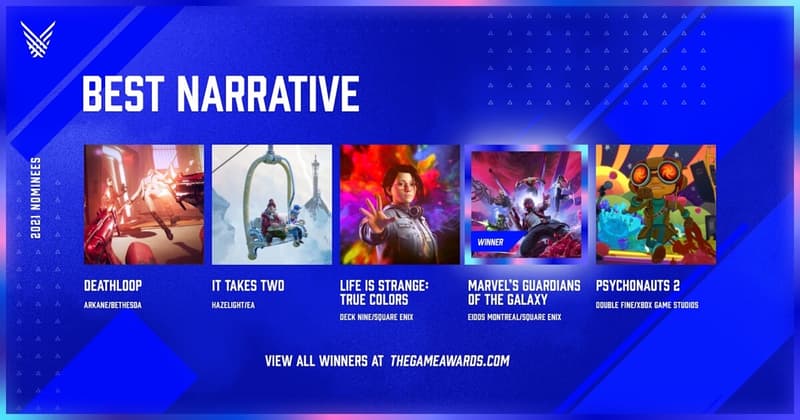 "Storytelling is at the heart of everything Marvel, a core value that our awesome friends at Eidos-Montréal have also embraced throughout their history," said Marvel Games VP & Creative Director Bill Rosemann. "The entire Marvel family congratulates and thanks the Eidos-Montréal narrative team, led by the phenomenally talented Mary DeMarle, for not only delivering the hilarious and charismatic character voices, but also taking players on an emotional journey filled with profound commentary on trauma, grief, loss, and—through the power of found families—redemptive healing, which is something the entire galaxy needs right now."
We'll have more in-depth looks at this stellar narrative in the coming months, but in case you missed it, check out the Story Trailer for a glimpse at what our beloved band of misfits have to deal with...
Follow #GotGGame, @GOTGTheGame, @MarvelGames, and @Marvel for the latest information about this epic adventure! Marvel's Guardians of the Galaxy is available now on PlayStation, Xbox, PC, and Nintendo platforms.
The Hype Box
Can't-miss news and updates from across the Marvel Universe!