Games
Published October 7, 2021
Get a Closeup of Cosmo the Space Dog in the Latest Cutscene for 'Marvel's Guardians of the Galaxy'
Plus, get a behind-the-scenes look at the making of the game from WeRateDogs!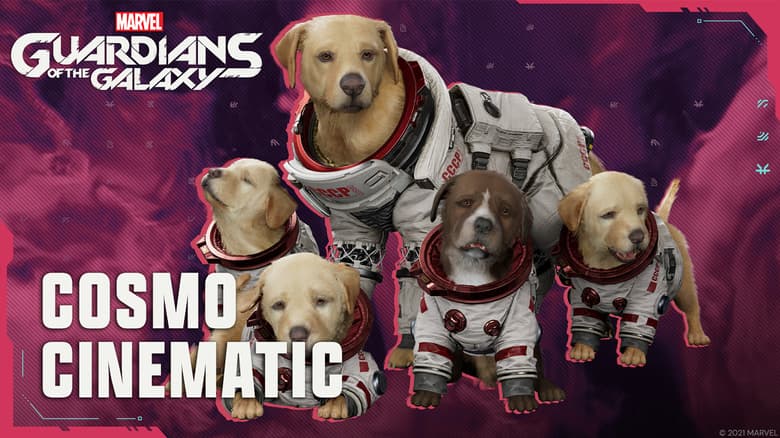 PUPPIES. Wait, what was that? Today, Eidos-Montréal released a brand-new cinematic cutscene for Marvel's Guardians of the Galaxy, which features an interaction between Cosmo the space dog, the Guardians and a lot of adorable puppies. You got that right...space puppies. And there's more to them than meets the eye.
Check out the newest cutscene, which takes place within Cosmo's base on Knowhere, but don't be fooled by his charming accent or dapper spacesuit. This pup means serious business.
Cosmo is a former Soviet space dog currently serving as both Knowhere's Chief of Security and father to a litter of Russian space puppies. Utilizing a combination of psionic and telepathic abilities that allow him to communicate with humans, raccoons and trees, Cosmo will prove an invaluable ally to the Guardians throughout their travels to the deepest, darkest corners of space.
Yes, it's been proven that Cosmo is one of the goodest of the good boys: he'll chase his tail and play fetch (and growl menacingly at Rocket), but all while deep in negotiations with Star-Lord, with whom he has a shared interest in getting to the bottom of the latest galactic mysteries.
And if that's not enough pup action for the day, beloved Twitter account WeRateDogs® unveiled a behind-the-scenes look at the making of the game right here!
Marvel's Guardians of the Galaxy will be available on PlayStation®5 console, PlayStation®4 console, Xbox Series X|S and Xbox One consoles, PC, and streaming via GeForce NOW on October 26, 2021. Marvel's Guardians of the Galaxy: Cloud Version for Nintendo Switch will also be coming to select regions October 26.
For the most up-to-date information about Marvel's Guardians of the Galaxy, tune in to Marvel.com and follow Marvel Games on Twitter for the latest announcements!
The Hype Box
Can't-miss news and updates from across the Marvel Universe!