Games
Published February 15, 2017
New Inhumans and More Join 'Marvel Future Fight'
Play as Moon Girl, Dormammu, and more in the hit mobile game!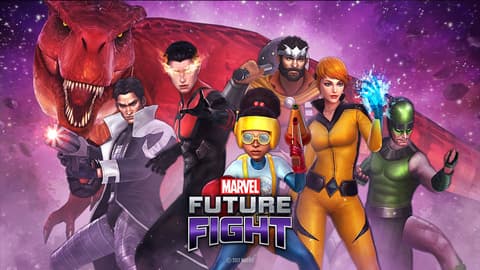 More of the Inhuman family—alongside a brilliant young girl and a powerful Faltine sorcerer—prepare to join the interdimensional battle of "Marvel Future Fight"! Recruit the likes of Moon Girl, Crystal, Gorgon, and more to aid your team in a new set of set of stages and try the new Reward Pack system.
Maximus the Mad has gathered a number of followers and plots to destroy all humankind to pave the way for Inhuman rule. Eager to quash Maximus's scheme, Moon Girl, Gorgon, Karnak, Inferno, and Crystal all become members of your team. Take on his sergeants across five stages to put an end to his nefarious plot and, eventually, bring the Inhuman prince to your side as well.
These new stages provide players an opportunity to try out the new Reward Pack system in "Marvel Future Fight." By completing special challenges in these stages, you can earn rewards of your choice! Pick your challenge and your reward, and then unlock the bonus at the end of the mission.
While the Inhumans take center stage, a certain powerful being also joins the fight—much to the chagrin of Stephen Strange. However, Dormammu certainly proves to be a valuable addition to any team.
So they don't feel left out in the cold, a few Inhumans already on the roster receive new uniforms as their brethren come aboard. Black Bolt dons his INHUMANS: ATTILAN RISING outfit, while Ms. Marvel suits up in her Karachi costume. And the Monsters Unleashed armors continue to drop, as Elsa Bloodstone earns her set.
Unlock these new heroes and uniforms now in "Marvel Future Fight" and stay tuned for the latest news on the game!
The Hype Box
Can't-miss news and updates from across the Marvel Universe!