Games
Published October 3, 2019
NYCC 2019: Become Your Own Marvel Super Hero and Conquer the Battleworld With All-New 'MARVEL Realm of Champions' Game
New real-time action role-playing Super Hero game revealed at New York Comic-Con!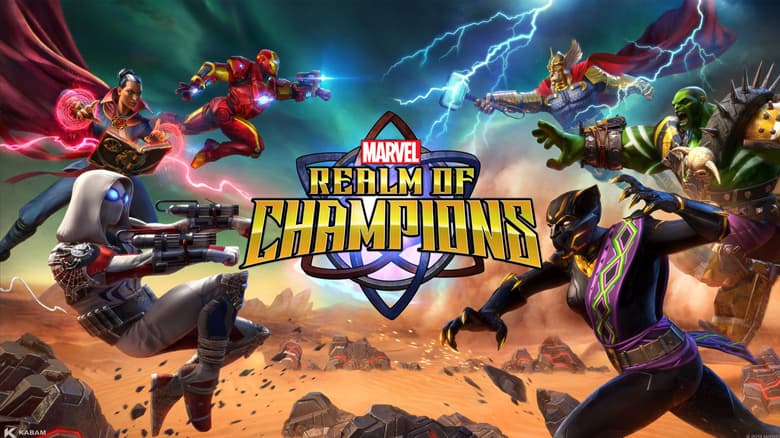 It's time to choose a side — and who are you going to align with for control of Battleworld? Kabam, creators of MARVEL Contest of Champions, and Marvel Games have teamed up to bring us an all new MARVEL Realm of Champions which will allow players to align with Marvel-inspired factions and team up with friends (or play solo) for real-time action arena combat against in order to win control over this brand new location.
New York Comic-Con attendees: Pledge loyalty to your favorite House and learn more by visiting the booth (#556) from October 3-6.
Players will be transported to Battleworld, a forbidden planet behind the Space-Time Barrier, where its uneasy peace is disrupted by the death of Maestro, the God-King. This leads to shattered relationships between the Super Hero houses here, including House of Iron (Iron Man), Spider-Guild (Spider-Man), Patriot Garrison (Captain America), Pyramid X (X-Men). By aligning with one of the houses, Champions will work together (or all-alone) to gather resources for their factions across the war-torn Battleworld in an effort to sway control one way or another.
The Champions, with Super Hero-inspired gear, will be able to ally with their friends to explore the Marvel-inspired landscapes which include high-tech cities relying heavily on Stark Technology and fantasy-inspired Asgardian battlefields and more. On the map, players can battle it out in localized battle arenas across a variety of Player vs. Environment (PvE) and Player vs. Player (PvP) modes, with each battle contributing to the larger conflict between Houses.
By strategically using characters, their abilities, and forming alliances, players can not only live out their fantasy of becoming their own Marvel Super Hero and lead their house to victory on the Battleworld.
"Working with Marvel on Contest of Champions is a dream for Kabam, and we could not be more proud of the experiences we built together," said Gabriel Frizzera, Art / Creative Director of MARVEL Contest of Champions and MARVEL Realm of Champions. "While MARVEL Contest of Champions continues to grow with years of content down the pipeline, MARVEL Realm of Champions will take players from the Battlerealm's one-on-one duels to the Battleworld's global skirmishes for complete territorial control in the name of their House."
"With MARVEL Contest of Champions celebrating its fifth huge year, it's thrilling to see Kabam expand their ongoing story and invite players to become their own Marvel Super Hero to vie for the fate of Battleworld," said Bill Rosemann, Marvel Games VP of Creative. "From the gleaming skyscrapers of the House of Iron to the webbed alleyways of the Spider-Guild, both dedicated players and casual fans alike have an entire planet waiting for them to explore and conquer. Whose House will you choose?"
Attendees at New York Comic-Con Align can learn more about MARVEL Realm of Champions by visiting Booth #556 and heading to the Marvel Games panel on Friday, October 4, at 3:00 PM ET at Madison Square Garden.
For more information on MARVEL Realm of Champions, visit PLAYMROC.COM or Facebook and stay tuned to Marvel.com and Marvel Games on Twitter for all the exciting news coming out of NYCC this weekend!
The Hype Box
Can't-miss news and updates from across the Marvel Universe!