Games
Published December 20, 2017
Piecing Together Marvel Puzzle Quest: America
Ms. Chavez prepares to bust a star-shaped hole in the hit mobile game!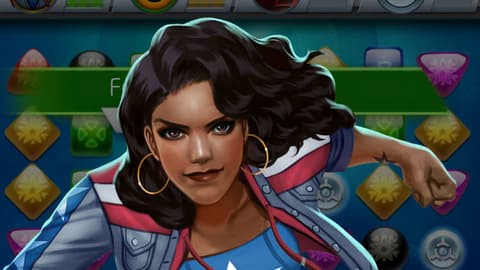 America Chavez makes her way to "Marvel Puzzle Quest" soon, fists flying and sass on point. Curious about the reality-hopping hero and her powers in "MPQ"? Well we had a little chat with D3 Go! Senior Producer Josh Austin to figure out just what America's capable of, and it turns out she's crazy unique! Read on for the breakdown folks.
Marvel.com: America's been kicking bad guy butt for a while in the comics, but why is now the right time for her to join the "Marvel Puzzle Quest" crew?
Josh Austin: America Chavez is a strong Super Hero, and makes an excellent [choice] as the newest 4-star character in "Marvel Puzzle Quest." Her kick butt abilities are a good fit in the roster and it was fun to create a character that focuses on collecting/storing AP to deal damage rather than the usual collecting and spending AP.
Marvel.com: America has a bunch of abilities, from super strength and speed to creating portals to different realities. What did the team want to focus on when designing her in-game powers?
Josh Austin: The designers wanted to incorporate her unique abilities and did so in an interesting, all passive, way. She's a character that the player won't have to activate her powers, as they automatically trigger based on certain conditions.
Marvel.com: And what can she do in the game?
Josh Austin: Her first ability is called Punch Everyone and it's a Red Passive. For this ability America's match damage is increased for each AP she has in that color.
Her second ability, Ticket to the Multiverse, is a Yellow Passive. Every time the player matches four or greater, trap tiles are created in that color. If the player has three different colored trap tiles, they are removed, deal damage and generate AP in that color.
Her last ability is called Fear Not, Mi Gente! and it's a Green Passive. At the start of the turn, she creates a Critical tile if the player has more AP than the enemy in at least four colors. If the player has more AP in at least five colors she does damage as well.
Marvel.com: Am I reading that right, she has three passives? What was the thinking behind that?
Josh Austin: We are doing something different, making a character that the player can utilize, while focusing on a different character's abilities. She's going to be pretty tough with that ability to do extra damage for stored AP. I can't wait to see what the players will do with that! Since she's mostly focused on collecting AP, it makes sense to have her abilities not focus on spending AP.
Marvel.com: Because she won't be spending any AP, who exactly do we want her teaming up with? People who create critical tiles maybe?
Josh Austin: She's strong with characters that gain AP, so Gambit's Stacked Deck, Vulture's Circling Prey, and Miles Morales' Power & Responsibility help gather AP for her abilities. Picking characters that do not overlap with her powers also helps so she can collect AP in colors she uses. Characters like Kate Bishop and Mordo will work, as their colors do not overlap with America, but Kate Bishop can use the Critical tiles from Fear Not, Mi Gente! with her 4.5x damage multiplier from Critical Tiles. Characters with low AP costs also help like Hawkeye (Clint Barton) to be used cheaply and effectively provide support without taking too much AP away from America.
Marvel.com: And when do we get to try her out for ourselves?
Josh Austin: America Chavez will be available on December 24. She will be featured in a S.H.I.E.L.D. Training event running between December 24 and 31. America & Friends is a Vault that will run between December 28 and January 6 with a chance to get her. America Chavez's release debut will be in the Venom Bomb event running between December 24 and 31.
America will also be featured in the Enemy of the State event running between December 28 and January 5. Her Versus Tournament will be Stars and Strikes that runs from December 28 through January 1. S.H.I.E.L.D. Training, Enemy of the State, and Stars and Strikes will all have Reward Tokens for the America & Friends Vault.
Lastly, we would like to announce Snowball Fight, which is a fun Versus Tournament that starts tomorrow on December 21, where the player joins forces with Star Lord (Peter Quill), Captain America (Steve Rogers) and Cyclops (Uncanny) as they fling snow in the toughest fight of the year! The player has three missions where they must choose a specific character from a family. There is a Snowball hazard tile that destroys a block of tiles to add to the fun and it features some of my favorite art for an event so far. Happy Holidays everyone!
Have fun with "MPQ" holiday shenanigans here and stay tuned to Marvel.com and @MarvelGames on Twitter for more "Marvel Puzzle Quest" news and interviews.
The Hype Box
Can't-miss news and updates from across the Marvel Universe!