Games
Published September 26, 2017
'Pinball FX3' Expands the Marvel Pinball Experience
Why now is the perfect time to jump into Marvel Pinball.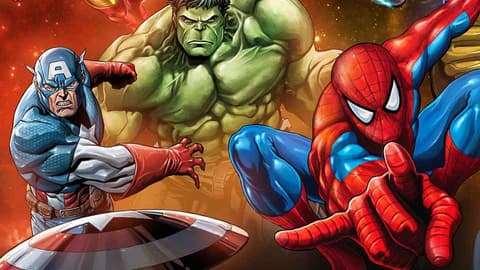 Marvel Pinball fans, it's time to get excited, as "Pinball FX3" hits today for PlayStation 4, Xbox One, Windows 10, and Steam! Our friends over at Zen Studios worked hard to port all your favorite Marvel tables to this latest and greatest entry in the series. With new game modes offering new challenges, and the chance to reach new heights on the leaderboards, everyone has something to look forward to in "Pinball FX3".
We grabbed a few minutes with Mel Kirk, Vice President of Publishing at Zen Studios, to get a look at everything you'll be able to do with your Marvel tables in "Pinball FX3".
Marvel.com: "Pinball FX3" is out today! What can Marvel Pinball experts expect from Zen Studios' latest?
Mel Kirk: "Pinball FX3" is revolutionizing the console and PC pinball experience, offering exciting multiplayer matchup modes, non-stop tournament action, league play, and new single player challenge modes. All of your Marvel Pinball tables can be played in these new modes, and we've updated all the tables with new dynamic-lighting and shadows, textures so they look better than ever.
Finally, if you purchased Marvel Pinball in "Pinball FX2" or "Zen Pinball 2", you can import your collection to "Pinball FX3" for free! Just download "Pinball FX3", go into the game and select 'import' when prompted on screen.
Marvel.com: On which platforms will they be able to dive into these new features?
Mel Kirk: "Pinball FX3" is now available on PlayStation 4, Xbox One, Windows 10 and Steam. We will be announcing additional platforms in the near future.
Marvel.com: And players will be able to use all their favorite Marvel tables in the new single-player and multiplayer game modes?
Mel Kirk: Yes! Our aim was to provide unlimited ways to enjoy Marvel Pinball. Between single-player challenges, multiplayer matchups and tournament play, there is always something new to do or accomplish with your Marvel Pinball tables.
Marvel.com: Will the leaderboard battle start fresh, or will players' Pinball FX2 scores carry over?
Mel Kirk: You will be starting fresh in "Pinball FX3", all scores are being reset. Dan Slott is going to need to set a new all-time Spider-Man score!
Marvel.com: For fans new to the Pinball FX family, what's the best way for them to add all these amazing and astonishing Marvel tables to their collection in "Pinball FX3"?
Mel Kirk: If you have never played Pinball FX, now is the perfect time to jump in. The game is a free download and comes with a free table, allowing you to check out all the new features and modes. The Marvel Pinball collection can be unlocked in game via in-app purchase. There are several different packs to choose from, and we've also added larger Marvel Pinball bundles which offer a bit of a discount.
Marvel.com: One beloved feature in Pinball FX2 was cabinet support, will that continue with "Pinball FX3"?
Mel Kirk: Cabinet support is most definitely included here. We love supporting the pincab community and have an exciting roadmap of features for players in the future.
The Hype Box
Can't-miss news and updates from across the Marvel Universe!