Games
Published June 24, 2019
Spider-Man Swings Into Marvel Games with a 'Spider-Man: Far From Home'-Inspired Event
Web up as the wondrous wall-crawler across Marvel mobile gaming!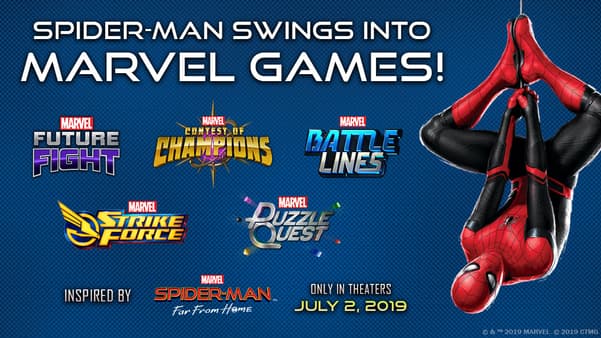 The Spidey takeover kicked off last week with the release of the charming, crafty and slick Black Cat (Master Thief) made it into the game.
Next week, the Spider-Man "Stealth Suit" costume will make it into the mobile game on July 2, while Mysterio enters the fray on July 4 as the newest character.
Between June 24 to June 28, receive a free token from the Far From Home Vault.
On June 30, all events this week are double iso-8 events, and then on July 1, the new Spider-Man themed Boss Event, Battle at the Basilica, kicks off!
All Spider-Man PVP tournament begins on July 2, the Mysterio PVP tournament, on July 7, the Spider-Gwen PVP tournament on July 9, and the Miles Morales PVP tournament on July 11.
The strategic card battle game has a slew of Spidey-related cards coming your way!
This week, we'll get cards based on Spider-Man: Homecoming, with a new Spider-Man card and Vulture card.
Then, in July, you'll be able to collect Far From Home-inspired cards including Mysterio, Spider-Man (Hybrid suit), and various Elementals including Molten Man, Hydro-Man, and more!
Marvel Future Fight is dropping new Suits for Spider-Man with a Hybrid Suit and Stealth Suit, while Mysterio will be snagging a Movie Suit.
In addition, the hit mobile game will see the debut of Hydro-Man and Molten Man.
In celebration of Spider-Man: Far From Home, the strategy RPG Strike Force brings Mysterio, Shocker, Rhino, and Vulture into the fray beginning this week!
Lastly, kick the Contest up a notch with the addition of Spider-Man (Stealth Suit) on July 11 and Mysterio on July 25!
Spider-Man: Far From Home arrives in theaters July 2. Get tickets now! http://bit.ly/FarFromHomeTix
Stay tuned to Marvel.com for Marvel Games news and interviews and follow Marvel Games on Twitter for more!
The Hype Box
Can't-miss news and updates from across the Marvel Universe!