Games
Published October 17, 2018
This Week in Marvel Games: Black Cat, Mystique, Cable, Daredevil and More
Everything you need to know about Marvel Games, this week!
True Believers, every week, make your way over to Marvel.com for a rundown of all this week's Marvel Games news, from console game releases to character drops to mobile event updates, and more!
We're less than a week out from the first chapter of the "Marvel's Spider-Man: The City That Never Sleeps" DLC series. Yesterday, we discussed the missions as well as the three new Spidey suits dropping in 'Marvel's Spider-Man: The Heist.' Get the details here.
To get you pumped, watch Hendoart become Black Cat from the blockbuster game, and debut her costume at New York Comic Con in a new episode of Marvel Becoming, below!
Entering the fray this week is 5-star Cable (Nathan Summers). Recruit him to your roster in the hit mobile game starting this Thursday here!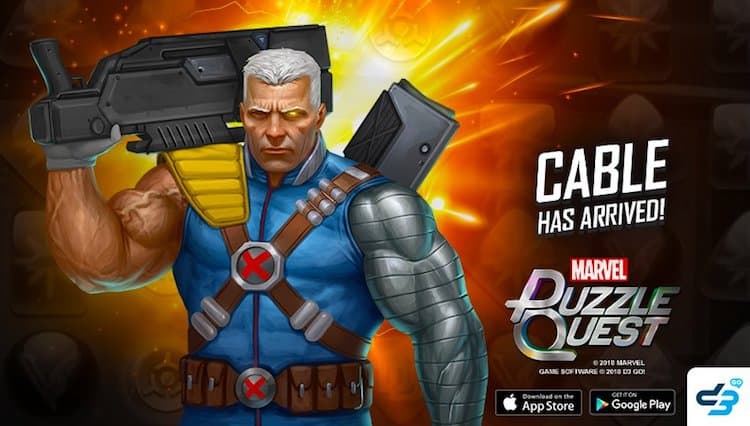 Cable traveled across millennia to lead the X-Men in the fight for peace. Born to Cyclops and a clone of Jean Grey, the young, techno-virus-infected mutant was sent far into the future and raised as a 39th-century boy. His life in the war-torn future hardened him into a peerless soldier and tactician, and when he finally returned to the present, he lent these talents to the X-Men. Along with guns. So, so many guns.
The 5-star rarity showcases three powered abilities. As a Cyborg Strategist, a medium cost blue power, Cable uses his cybernetics and future tech to get the drop on his enemy. Choose a basic tile to become a 5-turn Blue Countdown tile. Whenever you make a Green match while one of these tiles is on the board, stun the enemy for 2 turns and create up to 5 Green Charged tiles.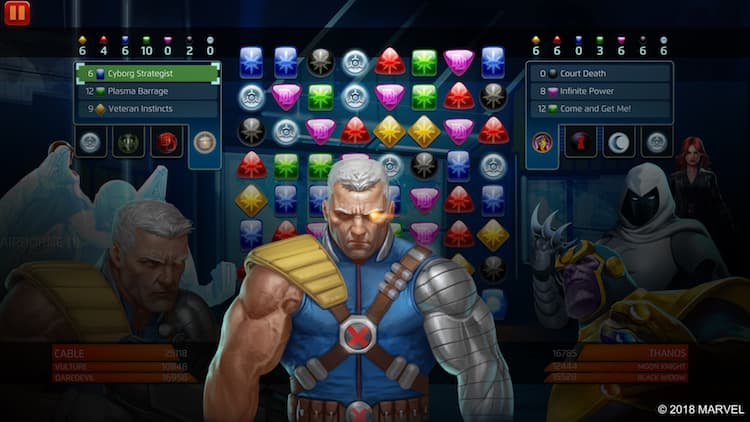 With Plasma Barrage, a medium cost green power, Cable lets loose a blast from his massive future-tech plasma rifle. Deals 21766 damage to the target. Any damage beyond the target's remaining health is dealt to each of their allies.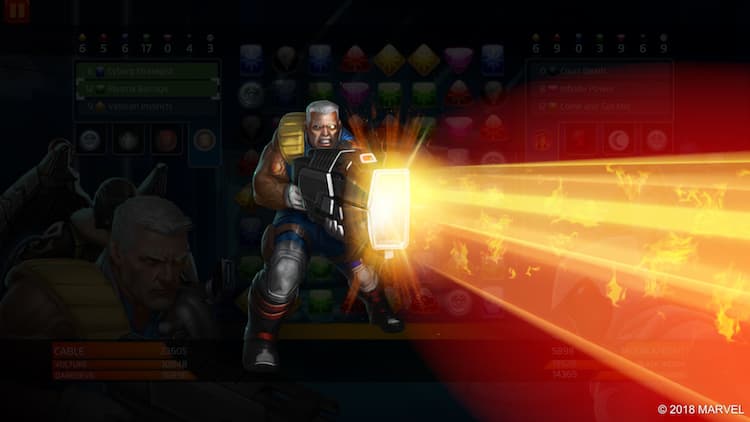 Lastly, with Veteran Instincts, a medium cost yellow power, years of battle-hardened experience allow Cable to make his team into true soldiers. Create 3 strength 507 Yellow Strike tiles, plus 1 additional Strike tile for each of Cable's allies still in the fight.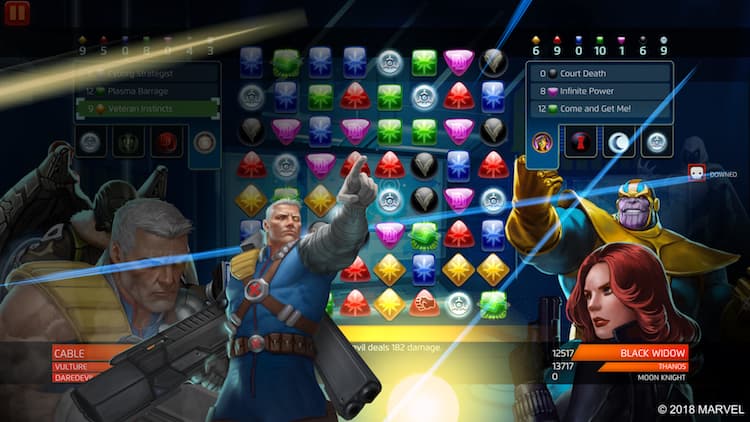 Recruit Nathan Summers in the special limited vault or the Mutant Mavericks, the special legendary store, starting Thursday, October 18. Don't miss the Come and Get Me alliance boss event kicking off tomorrow as well!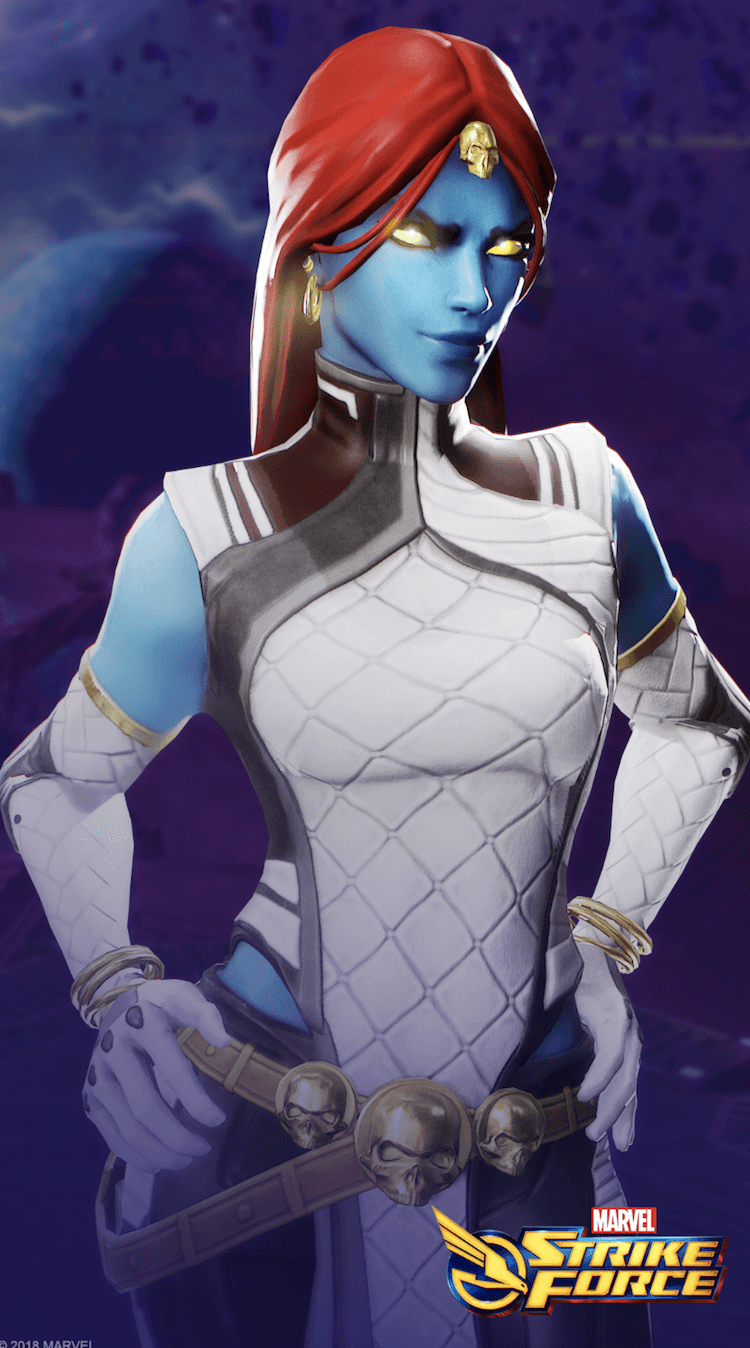 If seeing is believing, you won't believe a thing while Mystique is around. A crafty and clever Mutant, Mystique can alter her appearance and voice to mimic anyone or anything. A member of the Brotherhood of Mutants, Mystique has joined S.T.R.I.K.E. to fight Ultimus. Use Mystique's shapeshifting abilities to fool her enemies, and morph battles into a more appealing outcome.
Mystique's abilities include: 
Mimic Strike

No trickery here, just a simple kick to the chops. And if Mystique is feeling extra crafty, she'll copy a positive effect for her own personal use.

Infiltrate

Stealth enemies beware: you can't hide! After attacking her primary target, Mystique clobbers everyone "hidden" behind stealth. If no one has stealth, then Mystique goes stealth herself.

Shapeshifter

Trust no one, especially around Mystique. Mystique lays down a cloud of smoke and emerges looking just like her target, who is then promptly attacked by her teammates.

Subterfuge

Crafty, cunning, and clever, Mystique is too good to pin down. Negative effects can't touch her, and at the start of the fight, Mystique gains Evade. If the Master of Magnetism, Magneto, is present, positive effects continue until they're cleared. Whoa.
In celebration of the third season release of "Marvel's Daredevil," a limited-time Daredevil event kicks off tomorrow, Thursday, October 18! 
The Kingpin has learned Daredevil's secret identity, and now there's a price on Matt Murdock's head. The Avengers and Defenders team up with prolific mercenaries to evade the long reach of the Hand, employing cunning disguises to protect the Man Without Fear. Get ready for the spookiest time of the year!
Fight Kingpin and the Hand, and unlock White Tiger, Madame Masque and Bullseye. To kick things up a notch, dress your heroes in new Halloween costumes.
Stay tuned to Marvel.com for Marvel Games news and interviews and follow Marvel Games on Twitter for more!
The Hype Box
Can't-miss news and updates from across the Marvel Universe!