Games
Published April 25, 2018
This Week in Marvel Games: Iron Spider, Thanos, The Black Order, and More
Everything you need to know about Marvel Games, this week!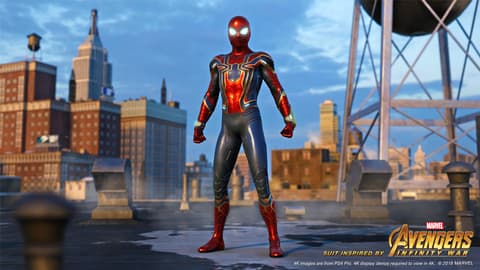 True Believers, every week, make your way over to Marvel.com for a rundown of all this week's Marvel Games news, from console game releases to character drops to mobile event updates, and more! 
We're all waiting with bated breath to see if our Avengers and allies are any match for Thanos in this Friday's release of Marvel Studios' Avengers: Infinity War! The Mad Titan's reach extends beyond the big screen as our heroes present a united front across Marvel Games' portfolio of games! Let's dive right in and see what's happening in every corner of our games universe.
Inspired by Peter Parker's upgraded suit in Avengers: Infinity War, pre-order Marvel's Spider-Man to unlock the Iron Spider suit when the game launches September 7, only on PS4!
Can you wield the power of the Infinity Stones? LEGO Marvel Super Heroes 2 can help you find out as they're giving you the chance to play as Thanos with its Avengers: Infinity War-inspired Level and Character Pack, available now on Nintendo Switch, PlayStation 4, Windows PC and Xbox One!
In true villainous fashion, Thanos and the Black Order (Corvus Glaive, Cull Obsidian, Proxima Midnight, Ebony Maw) arrive at Attilan to cause trouble in an all-new original game level. Working as a team, the menacing crew must work their way through the various levels of Attilan before they are given the opportunity to break through to Black Bolt's throne. The DLC also includes a couple of new Avengers: Infinity War-inspired playable heroes: Hulkbuster 2.0 and young Groot. The Marvel's Avengers: Infinity War Character and Level Pack costs $2.99 and is included as part of the game's $14.99 season pass.
Corvus Glaive, Thanos' right-hand man, makes his way to the Battlerealm on Thursday, April 26. The only thing deadlier than this sly, cunning lieutenant's tactical mind is the halberd he yields to swiftly slice his enemies. His abilities include Glaive of Immortality, Persistent Cruelty, Glaive's Immunity, and Armor Break.
Earn the title of "Infinity Warrior" when you take on Chadwick Boseman and Tom Holland's Champion Challenge.
Don't miss out on the "Trials of the Mad Titan," which kicks off today and runs through June 6! The powers of the Battlerealm's Infinity Stones have spread throughout the Contest, leaving pockets of their condensed energies ripe for the picking. Cut your teeth on foes infused with the power of the Stones each day, and then collect Boosts that will temporarily give you access to the unique powers offered by each Stone! Combine these boosts on the final day each week to take on power enemies in the Trial of Omniscience, where the greatest rewards and most dangerous enemies lie.
We gave you a taste of Supports early this month, you can expect plenty of Infinity War tie-in items and bonuses to help your heroes throughout the Event, which just kicked off!
The @Avengers #InfinityWar rages its way through @Marvel_FFightUS! Assemble to protect reality itself by downloading the latest #MarvelFutureFight update now, and see the film on April 27th! https://t.co/RrFaGevyk0 pic.twitter.com/rct58gCeY7

— Marvel: Future Fight (@Marvel_FFightUS) April 25, 2018
Thanos heads to Earth, troops in tow, to find the Infinity Stones. The Avengers assemble and are joined by some new faces in their stand against Thanos.
This latest update adds three film-inspired Legendary Battles. Corvus Glaive and Proxima Midnight invade the Sanctum Sanctorum to take Vision's Mind Stone. Meanwhile our heroes Captain America and Black Widow form a line of defense to defeat incoming Outriders in Wakanda. Lastly, the Final Battle takes place on Titan when Thanos has gained the power of the Infinity Stones–the fate of the world begins.
Grab Avengers: Infinity War-inspired costumes for Thanos, Captain America, Iron Man, Spider-Man, Black Widow, Thor, Corvus Glaive, Winter Soldier, Proxima Midnight and Groot!
The latest game update also adds new ways for players to grow and level up their characters. Certain characters have a Potential function added where players can search and open the Potential by clearing the World Boss content. Enhancing this Potential allows players to increase the character's maximum level along with the gear enhancement level. Once the character reaches the maximum level and maximum gear level, it can be advanced to Tier-3 where additional stats and new skills can be earned.
Furthermore, a "Raid Level" system has been newly added to the World Boss content where players can increase the Raid Level by clearing World Boss stages to earn extra boost effects in the World Boss content. The World Boss Ultimate content has also been renewed with a new stage with Proxima Midnight (Marvel Studios' Avengers: Infinity War) added as a boss.
What if Thanos was your ally? His arrival in Marvel Strike Force opens up a series of missions where he and your team are exiled to another dimension by Ultimus. Add the Mad Titan to your squad early in the campaign and work with him to recover the reality stone!
Our good ole friendly neighborhood Spider-Man never slows down! In a special event, you'll be pit against Thanos, who's combing New York for Infinity Stones. Play as the Iron Spider, and see if you can spot a cameo from Iron Man!
In the special Avengers: Infinity War event, live on Thursday, April 26, Thanos and his army invade Marvel Avengers Academy! Heroes and villains from across the universe have to team up to stop him.
Now's your chance to unlock five new characters–Thanos, Scarlet Witch, Teen Groot, Killmonger, and Thane! See returning characters Spider-Man, Doctor Strange, Star-Lord, Captain Marvel, Punisher and Nebula. As well as snag new outfits for Spider-Man, Captain America, Iron Man, Scarlet Witch, and Punisher. Pssst, this is the first game appearance of the Cosmic Ghost Rider Punisher!
Stay tuned to Marvel.com for more Marvel Games news and interviews.
The Hype Box
Can't-miss news and updates from across the Marvel Universe!