Games
Published April 3, 2018
This Week in Marvel Games: Marvel's Spider-Man, Jubilee, and More
Everything you need to know about Marvel Games, this week!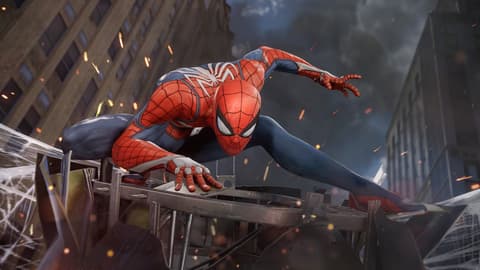 True Believers, every Tuesday, make your way over to Marvel.com for a rundown of all this week's Marvel Games news, from console game releases to character drops to mobile event updates, and more! 
To kick off our inaugural This Week in Marvel Games feature, what's better than delighting your Spidey senses with everything we can share about Marvel's Spider-Man (so far)!
Insomniac Games and Marvel Games are kicking off a whole month of "Marvel's Spider-Man" coverage with Game Informer!
Today, they revealed "Marvel's Spider-Man" is the May cover, featuring art from the famed Alex Ross:
Be sure to head to pick up the physical Game Informer issue this coming Friday, featuring exclusive info, art and more, from their Insomniac Games visit. And all month long, check-in on Game Informer Spider-Man Hub for additional looks and details!
There is no shortage of mutants rolling out across your favorite mobile games, and the folks over at D3 Go! aren't skimping! The young, effervescent Jubilee makes her way into Marvel Puzzle Quest this Thursday, dealing damage while changing the state of the board by unleashing Heart of the Team, Light Show, and Roman Candle.
Team her up with other characters that create Charged titles like Thor, Goddess of Thunder; Lockjaw; and Blackbolt. Pick up Jubilee here and test her out during the her Release debuts "The X-Men vs. Apocalypse" this April 5 to 8, and "S.H.I.E.L.D. Training" between April 5 to 12. Her stores, "S.H.I.E.L.D. Training Heroes for Hire," will be available April 5 to 12, and "Jubilee & Friends," April 8 to 14. Her featured event "Unstable Iso-8" runs April 8 to 13, and finally, her Versus Tournament "Here to Chew Bubblegum" starts on April 8 and ends April 11.
IN CASE YOU MISSED IT
MARVEL Strike Force, available on iOS and Android, is now recruiting heroes to help Fury assemble a squad to take on Ultimus and his Kree army. Read our exclusive interview with the team, watch the exclusive gameplay trailer, and learn some handy tips and tricks as you embark on the latest S.T.R.I.K.E. mission here.
Spider-Man Unlimited: Venom Inc. wreaks havoc across "Spider-Man Unlimited" in the latest symbiote update. Pick up the mobile game on Google Play and iTunes.
Marvel Contest of Champions: Logan's fiercest foe, Sabretooth, finds his way into Battlerealm!
LEGO Marvel Super Heroes 2: truTV's Chris Gethard stops by Marvel Let's Play to challenge Ryan aka AgentM!
The Hype Box
Can't-miss news and updates from across the Marvel Universe!