Games
Published June 6, 2018
This Week in Marvel Games: Test Your Luck with Domino and Witness the Forces of Darkness and Light Converge 
Everything you need to know about Marvel Games, this week!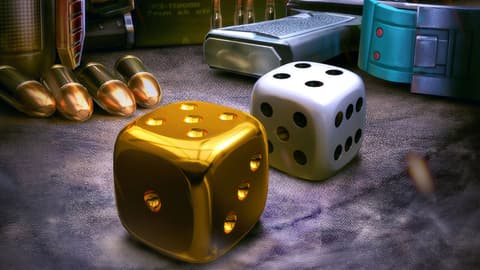 True Believers, every week, make your way over to Marvel.com for a rundown of all this week's Marvel Games news, from console game releases to character drops to mobile event updates, and more!
Between today's surprise release of brand new limited digital series CLOAK AND DAGGER from Dennis Hopeless and David Messina and tomorrow's premiere of the brand new coming-of-age television series Marvel's Cloak & Dagger exclusively on Freeform, there is no shortage of awesomeness for fans of Tandy and Tyrone, Light and Darkness incarnate. Fret not, Marvel Games fans! You won't be left out of all the fun!
Note: Marvel Puzzle Quest and Marvel Avengers Academy players will receive a free preview comic for the new CLOAK AND DAGGER series!
The "Day and Night" quest has kicked off in the hit mobile game! The three episodes will run until Monday, June 25.
Count Nefaria has HYDRA's most dangerous super villains' super powers after the fall of Von Strucker, and now he has his monocled sights set on Cloak's Darkforce Dimension. Count Nefaria has been on Cloak and Dagger's tails ever since the Academy defeated Thanos. The fate of the galaxy depends on keeping Thanos imprisoned, and the Darkforce Dimension is the only place that can hold him. With the help of Avengers Academy student-body, Cloak and Dagger must put a stop to Count Nefaria's new HYDRA order before it comes to fruition.
The Cloak and Dagger special event features Cloak, Dagger, Daredevil, Moon Knight, Firebird and Blade. New outfits include Armored Daredevil and S.H.I.E.L.D. Daredevil.
Get a Cloak and Dagger trophy by earning Stars on the event battle maps. You will receive the highest trophy you achieved at the end of the event.
In the world of D3GO, Marvel Puzzle Quest will be running a Cloak and Dagger-themed versus PVP event for a chance to play as Cloak and Dagger! Beginning June 7, in celebration of Freeform's "Marvel's Cloak & Dagger" series, all users who login to MPQ will receive a free Cloak and Dagger Purple cover.
Cloak and Dagger fight as one within Marvel Puzzle Quest, but for this duo, players can flip between the two heroes in battle. Their kit includes Light-Knives, Child of Darkness, Child of Light, The Darkness Hungers, and Pocket Dimension.
The Cloak and Dagger PVP event "Double Jeopardy" also kicks off this Thursday, June 7!
In case you missed it, earlier this year, LEGO Marvel Super Heroes 2 dropped the "Cloak & Dagger" DLC pack. Learn all about the new unlockable characters and level here.
Watch the stars of "Marvel's Cloak & Dagger" Olivia Holt (Tandy Bowen) and Aubrey Joseph (Tyrone Johnson) play as their LEGO characters as Marvel's Let's Play host Ryan Penagos grills them below:
Luck be a lady as Domino enters the Contest this Thursday, June 7!
Neena Thurman AKA Domino is the lucky result of an unlucky government weapons program designed to breed the perfect weapon. After escaping a top-secret facility with her mother, she honed her Mutant ability to manipulate probabilities and joined the mercenary group known as X-Force. Get a glimpse of Domino in action above!
Domino's basic abilities include Luck, Critical Bleed, and Critical Damage. She's great when Bleed is present. Whether attacking or defending, if the enemy triggers Bleed, she'll be in a good place. Conveniently, a lot of notorious Skill Champions rely on stacking Bleeds. Opponents that trigger abilities frequently, such as on every hit, will have a chance to fail on each of those events, and therefore trigger her Signature Critical Failure Ability often. Tech opponents that don't Bleed, don't inflict Bleed, or possess few abilities like Vision can walk all over Domino.
This assassin has EIGHT Synergy bonuses — Six Pack with Deadpool, which gives her +10% damage against Champions that aren't female or robots; X-Force with Deadpool, where each time she performs a well-timed Block, the chance for her to be Lucky increases by +10% the next time she fills a Bar of Power. Weapon X Strike Team with Old Man Logan or Sabretooth allows hers to avoid an attack by Dashing Back. Mercs for Money with Masacre allows Domino to Debuff for a second longer. Code Red Revelations with Red Hulk lets Domino's Heavy Attacks inflict an Incinerate that deals damage equal to that Heavy Attack's damage over 2 seconds. Better Luck Next Time with M.O.D.O.K. or Taskmaster gives her a +20% chance to activate them during her next fight if she's never hit with a Special Attack while both Lucky and Unlucky were active. It's Complicated with Cable sees Domino starting the fight with either Lucky or Unlucky active for 7 seconds. And lastly, Romance with Colossus or Wolverine gives all Teammates a +4% Power Gain.
That's not all!
The Battlerealm is in disarray as Thanos has been defeated and the Grandmaster MIA after being stripped of his power. Champions, prepare for Assassin Assignments as Domino doles out assignments 2-3 times a day for all you mercenaries in hopes of locking down the most lucrative scores. Impress her enough, you'll unlock rewards and you may trigger a bigger contract with Merc Missions for your Alliance! While Assassin Assignments are short quests; Merc Missions are Bounty Missions (short, 2 fight quests that each consist of 4 difficulties). This event will run until July 2!
Stay tuned to Marvel.com for Marvel Games news and interviews and follow Marvel Games on Twitter for more!
The Hype Box
Can't-miss news and updates from across the Marvel Universe!