Games
Published April 22, 2020
Yelena Belova and Red Guardian Arrive in 'MARVEL Future Fight'
The characters from Marvel Studios' 'Black Widow' also have brand new uniforms!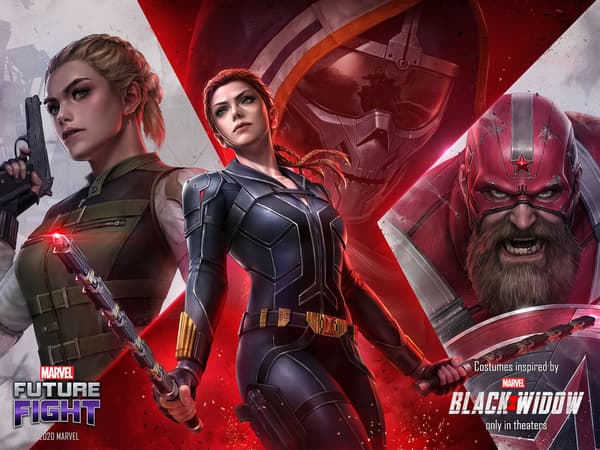 Hey Marvel Insiders – did you know reading this article could earn you 250 points? All you need to do is sign in or join now before you keep reading!
Two new heroes from Marvel Studios' Black Widow have arrived in MARVEL Future Fight! 
Red Guardian and Yelena Belova have arrived in the game, and potentials have unlocked for 5 Characters and Red Guardian has received an Awakened Skill. Additionally, the stars of the April update v600 have received new looks with the 4 New Uniforms and deadly agent Black Widow can now reach Tier-3
Red Guardian, a combat character with the ability strong agility, has skills that include National Allegiance (Leader Skill), The Red Shield (Passive Skill), Guardians Roar (Tier-2 Skill), and five active skills.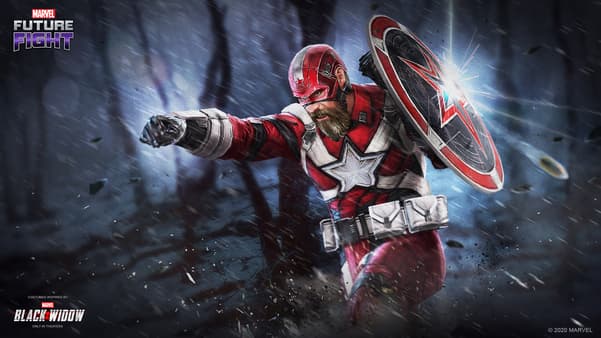 Yelena Belova, a speed character with the ability agility agent, has skills that include Perfect Tactics (Leader Skill), Sealth Technology (Passive Skill), Target Removal (Tier-2 Skill), and five active skills. 
Along with these two new characters, Black Widow, Yelena Belova, Red Guardian, and Taskmaster have brand new uniforms inspired by Black Widow.
A new Black Widow-themed Legendary Battle is also available. The new battle adds three new stages consisting of backgrounds and characters that appear in Black Widow. Future Pass, a new system that lets players earn pass points by progressing through existing content during the season for rewards at each pass point, has also been added to the game. By purchasing a Pass product, you can upgrade the Future Pass to get better rewards.
Additionally, Yelena Belova, Red Guardian, Daredevil, Mockingbird, and Agent 13 have had their Potentials unlocked and will be able to reach level 70 after the April Update. Black Widow will soon be able to reach level 70, and she will also be able to awaken new abilities through a Tier-3 upgrade.
MARVEL Future Fight celebrated its fourth anniversary with over 100 million players across the world. The game is currently available worldwide in the App Store® and Google Play™.
For more information, please visit http://marvelfuturefight.netmarble.com.
The Hype Box
Can't-miss news and updates from across the Marvel Universe!