Gear
Published August 13, 2021
Captain America Reports For Duty in the First Series of Marvel Mightys Digital Collectibles
The world of digital collectibles gets a stars and stripes makeover with VeVe's newest drop!
Last Saturday, Marvel Entertainment's first officially licensed NFT digital collectible based on the web-slinging Super Hero Spider-Man was released on the VeVe Digital Collectibles App. Within 24 hours, all 60,500 digital statues sold out, showcasing the strong interest and desire for these digital collectibles.
This Saturday, August 14, at 8AM PST, it's time for fans of the Sentinel of Liberty to report for duty! VeVe will be launching the inaugural Marvel Mighty series featuring some of Marvel's most iconic Heroes that have donned the stars and stripes.
Become part of history with this next round of Marvel digital collectibles. The first Marvel Mightys collectibles will be a Captain America series featuring Steve Rogers, Sam Wilson, Bucky Barnes, and John F. Walker — and their most deadly nemesis, the Red Skull. Available globally, each digital figure will have a different level of rarity, and with this Marvel Mightys drop, will only be sold in a Blind Box format for US $13.00. 
The Marvel Mightys — Season 1 — Captain America series will feature:
COMMON – Steve Rogers 
COMMON – Sam Wilson
UNCOMMON – John F. Walker
RARE – Bucky Barnes
ULTRA-RARE – Red Skull

Steve Rogers (COMMON)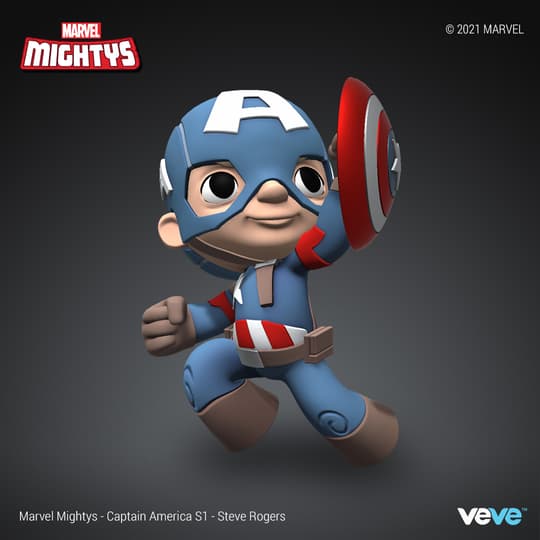 Price: $13.00
Quantity: 28,888
Rarity: Common
Since his introduction in 1941, Steve Rogers has stood tall as the Sentinel of Liberty. 
Sam Wilson (COMMON)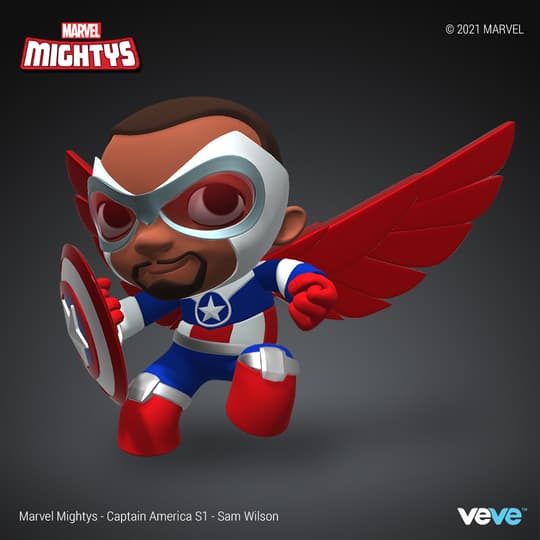 Price: $13.00
Quantity: 28,888
Rarity: Common
After many years as the high-flying Falcon, Sam Wilson has deservedly taken on the mantle of Captain America!
John F. Walker (UNCOMMON)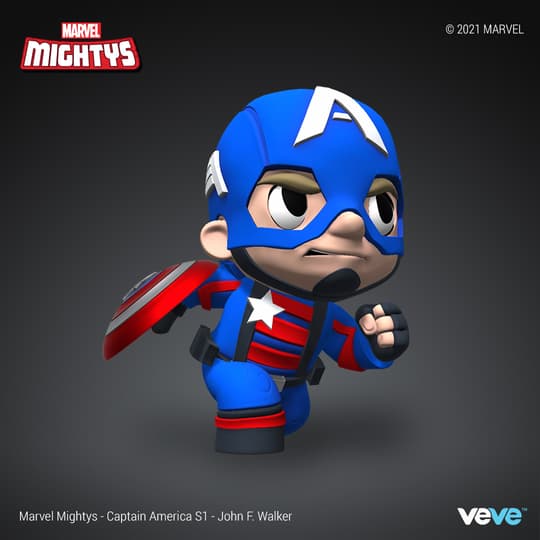 Price: $13.00
Quantity: 18,888
Rarity: Uncommon
A decorated U.S. Army hero and patriot, John F. Walker proudly defended the United States as Captain America. 
Bucky Barnes (RARE)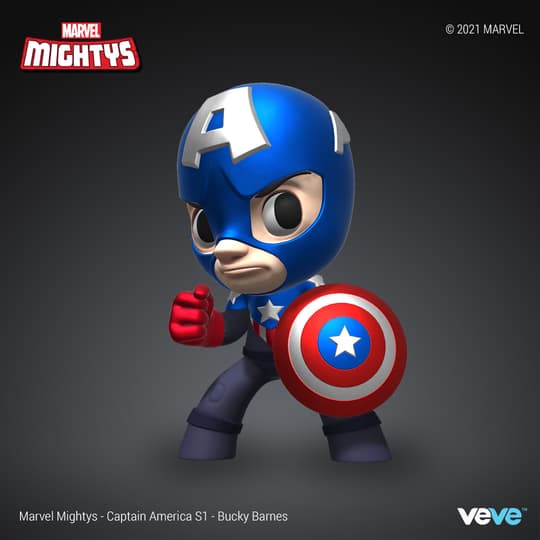 Price: $13.00
Quantity: 11,888
Rarity: Rare
Steve's right-hand man, Bucky Barnes, dutifully took on the role of Captain America after the demise of his best friend.
Red Skull (ULTRA-RARE)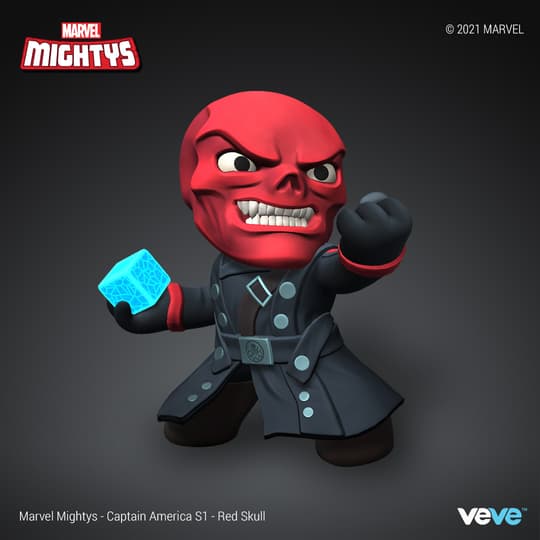 Price: $13.00
Quantity: 4,888
Rarity: Ultra-Rare
A German scientist driven by his desire for world domination, the Red Skull is, and will always be, Captain America's arch-nemesis. 
The first two Marvel NFT digital collectibles series — this Marvel Mightys (Season 1 - Captain America) release and last week's Spider-Man release — are part of a larger initiative to celebrate 'Marvel Month' on the VeVe App. Collectors can look forward to the release of other Marvel digital products such as digital statues, digital comic books and other digital collectibles on the VeVe App later in August, including MARVEL COMICS #1, the first Marvel comic book released in 1939. Fans will have the opportunity to collect five different variant versions of the highly sought-after issue. Each version will have a different cover and level of rarity and will be offered in a 'blind box' format for US $6.99.
The VeVe Digital Collectibles App is available on iOS and Android devices. Fans can buy and collect a variety of Marvel NFTs; trade and hunt for rare (and even secret-rare) NFT comic books and collectibles; and display their hard-earned collection through fully customizable virtual showrooms. Learn more: VeVe.me
The Hype Box
Can't-miss news and updates from across the Marvel Universe!