Gear
Published April 3, 2018
Creating Section 9's 'Spider-Man: Homecoming' Life-Size Statue
Whether crouching or hanging, these two new Spidey statues are spectacular to behold!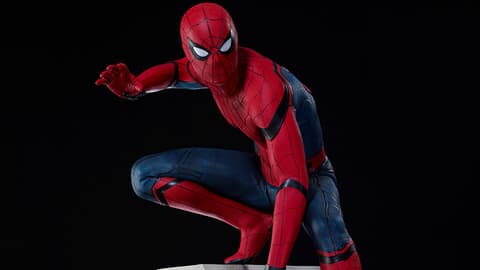 Section 9 has made many life-size Marvel statues before among their high-end collectibles, but the new release of the title character from Marvel Studios' "Spider-Man: Homecoming" is easily one of the the most notable releases yet.
For the statue, which is available now, the famous character is seen in a dynamic pose, crouched and ready for action in his Tony Stark-provided costume. On top of that, there's also a second version on the way as well, depicting Spider-Man hanging upside down from his web in the classic manner Spidey fans are familiar with. The Spider-Man statues join other current Section 9 Marvel life-size statues, including versions of Captain America, Iron Man, and War Machine from "Captain America: Civil War," the film that introduced Tom Holland as Spider-Man.
Marvel.com spoke with Section 9 CEO Stephan Lokotsch to discuss the creation of the "Spider-Man: Homecoming" life-size statue and the unique design challenges it provided.
Marvel.com: Is it especially exciting to get to work on a life-size statue of Spider-Man, given just how beloved he is? This is one of the most popular and iconic comic book characters ever!
Stephan Lokotsch: Considering that Spider-Man was my favorite Super Hero during my childhood, I can't help but feel somewhat nostalgic "reconnecting" with him throughout adulthood. So yes, he has been a very exciting statue to be involved with, especially with the new developments in character portrayal on screen. Both "Civil War" and "Spider-Man: Homecoming" have portrayed the character in ways we simply hadn't seen on screen before – but were all hoping for – as it feels to be the closest to what the character felt like in his comic-book iteration.
Marvel.com: The "Homecoming" costume has a lot of specific new details we've never seen on a Spider-Man suit before. Was it cool to get to recreate it all, knowing people would be able to examine it so closely?
Stephan Lokotsch: When it comes to high-end collectibles, I am of the "the more, the merrier" sentiment. So, the long and short of it is: yes, absolutely. That being said, there are, of course, certain limitations to that when you are dealing with a suit that, on screen, benefits from heavy post-production and visual effects, such as the U.I. (user interface) motion graphics, etc. So, while not all of the Tony Stark-created gizmos, as seen on film, can be incorporated, we felt very satisfied with what ultimately was accomplished here.
Marvel.com: Spider-Man is known for his unique poses. How much thought went into how the statue would be posed and how did you decide on the final version? And what he would be posing on, given the possibilities?
Stephan Lokotsch: When choosing a pose for a character who has been around for this long, you want to consider two things: a representation of the way he appears in the movie you're basing the statue on, and, equally important, the iconography that has been established over decades in the realm of the underlying source material, i.e. the comic books. As you mentioned, highly unique poses are inherently connected to this character, so I think the goal is to find a fair balance between the two mediums and their respective visual presentations.
Marvel.com: Speaking of poses, you also have a second version of Spider-Man who is hanging upside down. This one really blew me away as far as seeing the character in such a classic Spider-Man stance – but I imagine it was also pretty tricky to bring to life?
Stephan Lokotsch: The hanging version certainly required a lot of back and forth regarding its engineering to ensure Spidey would hold in place just the right way and not tilt back, forth or sideways. Most statues come with their own set of challenges – be it their intricate texture patterns in the costume or the high level of likeness detail. This one was more challenging in the technical department. That said, it was worth it, as we finally have a Spidey in his potentially most iconic state and we're quite proud of that.
Marvel.com: I feel like people will give the hanging version especially quite a double take. I imagine in general though it must be really fun to see the reaction people have when they see these statues for the first time?
Stephan Lokotsch: As you can imagine, everyone has their own personal favorite Super Hero and sometimes just the sheer size of a Hulk, or Hulkbuster or our upcoming 9 foot+ Thanos is stopping people in their tracks. But even the largest characters sometimes lose their prime spot in terms of audience attention – and subsequent "selfie time", with characters so immensely adored by fans all over the world, such as Spider-Man, who is often credited as one of the most popular Marvel characters of all time.
Marvel.com: You've done several other Marvel statues before, but coming on the heels of the "Civil War" versions of Captain America, Iron Man, and War Machine, is it particularly gratifying to have this new Spider-Man statue, given he made his debut in that film?
Stephan Lokotsch: Given my aforementioned childhood for Spidey, it is indeed a gratifying "full-circle" experience, though I will add that seeing any of these characters put together in 3 dimensions and at life-size, no less, puts a smile on the entire team that is behind the making of these collectibles. The first time, I stood next to one of our Hulks, I thought "this is it; this is as big as it's going to get", only to have that dwarfed by a life-size Hulkbuster years later. And that is the beauty of doing all of this; today it's Spidey, tomorrow it's Black Panther and then we're moving into the highly anticipated Infinity War. It just never ends, and while, yes, we all have our favorites, it is an ongoing thrill to stay involved in the making of this ever-growing line of collectibles.
The two different style Section 9 "Spider-Man: Homecoming" Spider-Man statues can be ordered now at the following links, as can the "Captain America: Civil War" Captain America, Iron Man and War Machine statues.
Those ordering either (or both!) of the Spider-Man statues can receive a 10% discount using the following promo code when completing their order: MARVEL.COM_PROMO_SPIDEY
The Hype Box
Can't-miss news and updates from across the Marvel Universe!