Culture & Lifestyle
Published August 20, 2021
Tom Holland Reflects on His Web-Shooters and the Creation of the Spidey Films
'The Moviemaking Magic of Marvel Studios: Spider-Man' arrives November 30!
Get ready to swing into the creation of the films starring everyone's favorite web-slinger—Spider-Man—with this immersive and interactive book!
Abrams Books for Young Readers, in partnership with Marvel Studios, is releasing The Moviemaking Magic of Marvel Studios: Spider-Man, taking you further behind-the-scenes of all of Marvel Studios' Spider-Man films in a brand-new way. This hardcover collection hits shelves on November 30, 2021, everywhere books are sold. Pre-order now!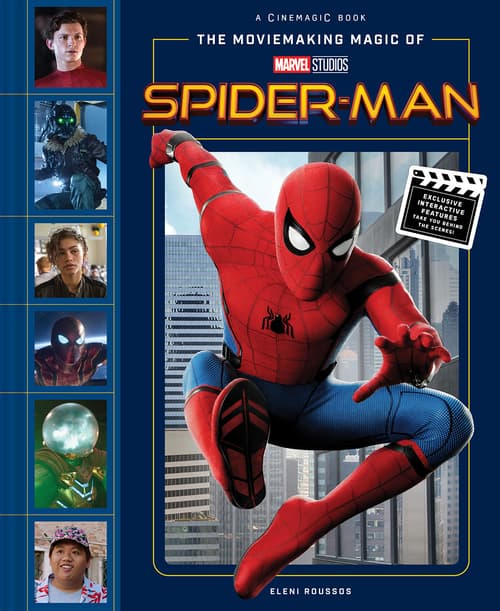 From his first appearance in Captain America: Civil War to the latest installment, Spider-Man: No Way Home, explore the behind-the-scenes magic of how Marvel Studios brought your friendly neighborhood Super Hero to life for the big screen. Pull back the curtains to reveal it all—from Spidey's homemade web-shooters to Mysterio's modified drones and all of the adrenaline-pumping battles in between.
Speaking of his homemade web-shooters, actor Tom Holland says, "The old-school web shooters are so cool. They're really big and chunky, they're really mechanical, and if you press the button, everything moves.... What I love about his original web shooters is they're as real as they could be. I know that's like impossible to make a thing that shoots web out of your hand, but the one thing with [the web shooters in] Andrew [Garfield]'s movie is that they were so small and so compact, it didn't really make much sense to me. But this is a big clunky thing that a kid would make in his room."
This collectible book, The Moviemaking Magic of Marvel Studios: Spider-Man, written by Eleni Russos features diagrams, photographs, concept sketches, and more. Bonus sections reveal the magic of some of the films' most memorable moments, characters, heroes, and villains using special interactive elements. See how filmmakers breathed new life into the humble comic book character and transformed him into the larger-than-life icon and phenomenon fans across the globe adore.
Thanks to our friends at Abrams Books, we have an exclusive preview of the book below!
Want to stay on top of everything in the Marvel Universe? Follow Marvel on social media—Twitter, Facebook, and Instagram—and keep watching Marvel.com for more news! 
The Hype Box
Can't-miss news and updates from across the Marvel Universe!