Gear
Published April 9, 2021
Hasbro Pulse Fan Fest: New Marvel Legends Include Thor, the Eye of Agamotto, and Retro Figures
Available for preorder now!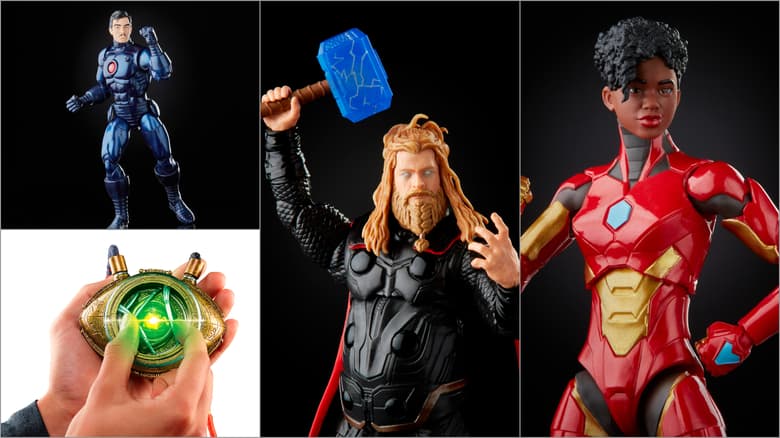 Hasbro is once again rolling out brand new items with the latest Hasbro Pulse Fan Fest drop, diving further into the Marvel Universe for comics, movies, and beyond! Brand new additions to the Marvel Legends line includes an illuminating Eye of Agamotto from the world of Doctor Strange, along with new retro figures featuring throwback looks for Ant-Man, Cyclops, Vision, and more. You can check out the full Hasbro Pulse Fan Fest panel here!
New 6-inch figures rolling out soon include a new batch of Iron Man characters, including Tony Stark Himself. Additionally, find Modular Iron Man, Vault Guardsman, Stealth Iron Man, Hologram Iron Man, Ultron, Ironheart, and Darkstar! Plus, a new 6-inch Quasar, too. 
For the retro wave, pick up some new 3.75-inch figures including Grey Hulk, Invisible Woman, Cyclops, Bullseye, Ant-Man, and Vision featuring classic packaging and images. 
Pulling straight from the Marvel Cinematic Universe, we've got a new Infinity Saga Thor modeled after his look at the end of Marvel Studios' Avengers: Endgame — complete with Stormbreaker and Mjolnir. And no ever-growing collection is complete without the Eye of Agamotto, featuring the glowing green Time Stone at the center, along with both a cord and a stand for however you're channeling the mystic powers. 
Take a peek at all the new Hasbro items in the gallery below! 
Want to stay on top of everything in the Marvel Universe? Follow Marvel on social media—Twitter, Facebook, and Instagram—and keep watching Marvel.com for more news!
The Hype Box
Can't-miss news and updates from across the Marvel Universe!