Gear
Published December 7, 2017
Holiday Headquarters Highlight: The Young Champion
Conquer the holidays with these perfect kids' gifts!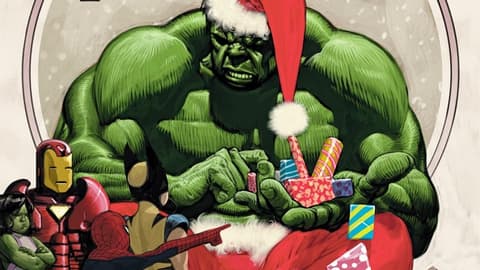 written by Maggie Klimentova
December has arrived! A month of such short days and long to-do lists that even Quicksilver would have trouble getting ready for the holiday season.
But fear not, True Believers! Finding the perfect present may sound like a super power only found in a comic book, but our 2017 Holiday Headquarters and Gift Guide grants you that ability with just a few clicks!
We've put together a few thoughtfully chosen present ideas for all the Marvel fans you know, so check out a few highlights of our children's gifts—for The Young Champion in your life—below. And head to the Holiday Headquarters for even more ideas!
"Thor: Ragnarok" Hulk Smash FX Fists
These Hulk hands promise gigantic fun for the lucky young fan! Smash to activate special sound effects and Jade Giant roars. If running around with these green gauntlets doesn't sound like a good time, we don't know what does!
"Thor: Ragnarok" Rumble Strike Hammer
With this hammer, the worthy Thor in your life can harness the power of the God of Thunder! Wield Mjolnir to hear some epic sound effects—all inspired by the new film, "Thor: Ragnarok"!
Marvel Spider-Man Mega City Playset
Return from Asgard to the home of Spider-Man: New York City! With this giant playset featuring Peter Parker's secret lab, your young scientist—and super hero alike—can study radioactive spiders and fight crime all at once!
Marvel Spider-Man Blue & Red Quilt Sets
Peter Parker may be one of the coolest super heroes around, but the winter season demands bedding that's a little more warm. Have your little hero curl up in this Spidey quilt set, featuring images of the world's greatest web-slinger!
Lockjaw Plush
Give the gift of snuggles with this Lockjaw plush! While this version of the Inhuman's trusty pup doesn't actually teleport, he'll still transport anyone to a land of cuteness and cuddles with a single hug!
Captain America vívofit® jr. 2
Even super heroes need some guidance and inspiration! Help your little Cap track their steps, sleep, and activities with one of these high tech, swim friendly Marvel-themed vívofits!
Keep swinging, Spidey! Become the hero of this holiday season by harnessing the power of Marvel's 2017 Holiday Headquarters!
The Hype Box
Can't-miss news and updates from across the Marvel Universe!