Gear
Published September 28, 2023
Look into the Future with the Marvel Tarot Deck and Guidebook - On-Sale Now!
Featuring original illustrations based on classic tarot iconography with your favorite Marvel characters from Loki and Galactus to Captain Marvel and Moon Knight.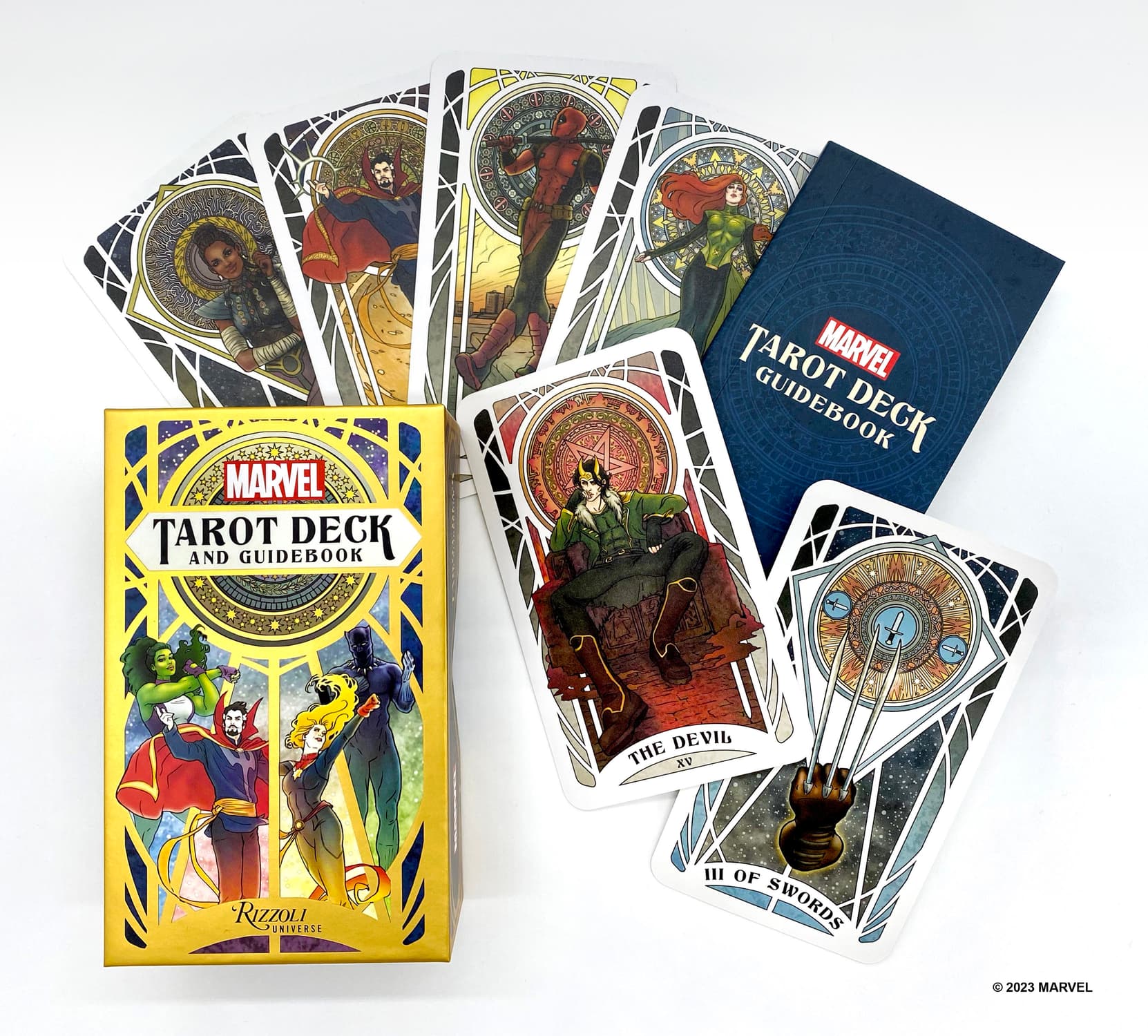 Marvel's most iconic heroes and villains leap from the pages of the comics to the world of tarot in this enchanting take on a traditional 78-card tarot deck. Written by Syndee Barwick, and illustrated by Lily McDonnell, the Marvel Tarot Deck and Guidebook reimagines your favorite Marvel characters as tarot archetypes, with characters ranging from Ms. Marvel to Daredevil to Black Panther and many more. 
Featuring both the Major and Minor Arcana, this stunning deck comes with an instructional book with explanations of each card's meaning and unique tarot spreads. Packaged in a sturdy, gold-foiled decorative gift box, this officially licensed tarot deck makes the perfect gift for any Marvel or tarot fan.
The Marvel Tarot Deck and Guidebook is on-sale now wherever you purchase books!
We had the pleasure of chatting with author Syndee Barwick and illustrator Lily McDonnell about the making of this magnificent tarot deck.
With 78 cards and thousands of characters in the Marvel Universe, how did you decide which characters and objects were included in the deck?
Syndee Barwick: It was a group effort among our editors, Jessica and Elise, at Rizzoli Universe, the team at Marvel, Lily, and me. We had our primary picks and our alternates, and we discussed every character and object.
What was your inspiration behind the artistic style of the Marvel Tarot Deck?
Lily McDonnell: My work is greatly influenced by my love of ornate Art Nouveau illustration and comic book art. Rizzoli Universe approached me to work with them on the Marvel Tarot Deck because they had seen my previous Art Nouveau–inspired comic book character pieces. Their goal was to create a unique-looking set of cards that married the decorative and symbolic qualities of the traditional tarot deck with the current Marvel visuals.
Establishing an overarching design plan was crucial to uniting the massive number of images needed for a fully illustrated deck. The aim was to create a deck that was traditional but timeless, linked through color and layout.
The decorative outer frames of the cards were designed to look more futuristic, using angular sweeping shapes, than the traditionally more organic-shaped Art Nouveau borders. Motifs of space and stars used throughout the deck and guidebook can be seen as classical as well as sci-fi.
The whole deck was designed within a limited color palette to mimic the old method of printing cards. I chose rich but subdued jewel tones inspired by colors used for Art Nouveau posters. Colors bold enough to be eye-catching but would also work harmoniously across the full range of characters and artifacts.
The inspiration for the symbolically patterned circles, which I refer to as "halos," came directly from the work of the famous Art Nouveau artist, Alphonse Mucha. These halos of symbols are unique for every card in this deck.
How did you incorporate traditional tarot into your art style and the Marvel characters?
Lily McDonnell: It was very important to me that the illustrations for the deck be beautiful and functional. I wanted to include as much symbolism and meaning from the traditional Rider-Waite designs as possible.
When designing my cards I made notes of the meaning and visual elements from each of the traditional Rider-Waite cards. Wherever possible I posed the character with the same gestures, including the graphic icons, flowers, creatures, environments, and any visual symbols, including colors, that I could employ as a link back to the original card designs. I then worked to blend those visuals into the Marvel comic universe.
As a comic fan, I also wanted to ensure that I captured every character and item as accurately and appealingly as possible.
What was your introduction to tarot?
Syndee Barwick: I was a teenager when I began exploring alternative spiritual paths away from the mainstream. Useful tools for facilitating insights in the self has always been a high priority for me—with tarot being one of those. I've been using tarot as a divination tool for decades—and I love collecting beautiful and unique decks, as well as pop culture decks. When Jessica approached me about writing the guidebook—and I saw Lily's artwork!—I was sooo excited!
Professionally, I had the great honor of working with the legendary Rachel Pollack (Goddess rest her soul)...Rachel was a tarot expert, reading nuanced meanings into the cards, providing new insights. Tarot packs a lot of wisdom within the cards—you just need a guide to help you sort out the moving parts and dig deep.
Lily McDonnell: When I was very young my grandmother kept a deck of Gypsy Witch Fortune Telling Cards in the box of other playing cards we were allowed to play with as children. I remember them looking like a crude combination of playing cards and a tarot deck with a simple description of the meaning printed on each card. My mother showed us how to lay out the cards but my brother, sister, and I were too young to really understand any of the predictions written on the cards.
Later in life I would rediscover tarot cards through studying art history and have been amazed at the vast number of interpretations by so many talented artists.
Although it has not been a direct influence on my style, people frequently comment that my work reminds them of tarot cards. I believe this might be from my use of symbolism or perhaps using a single image to invoke a story.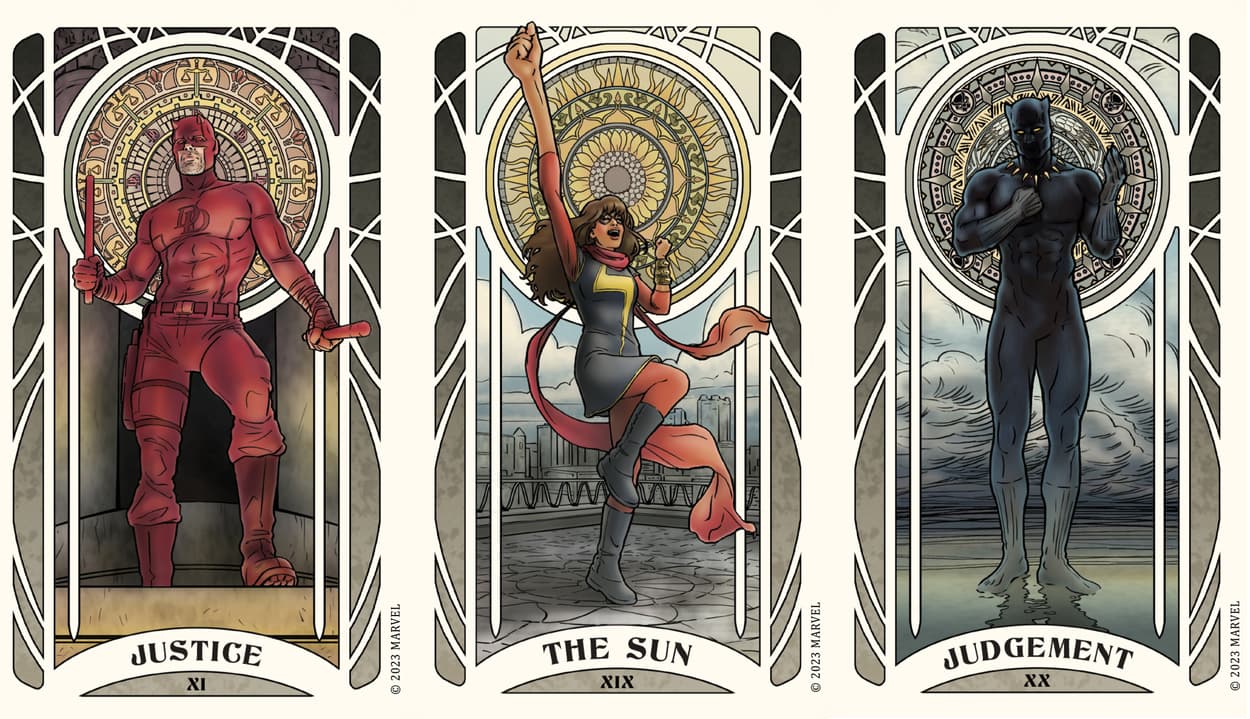 What can fans of traditional tarot look forward to with the Marvel Tarot Deck and Guidebook?
Syndee Barwick: I know that Lily and I both had fun with this! For me, I wanted the Guidebook to contain quotes for each of the Major Arcana cards, as well as the Minor Arcana suits, to augment the experience. Weaving card meanings with each character, telling a story for each card in both the Major and Minor Arcana was so much fun!
Fans/readers/practitioners will find layers of meaning and story within the pages of the guidebook and the art of the cards. Tarot is a journey of the soul, providing insights to who you are (and who you think you are!), situations, relationships, etc.
The Marvel character-centric spreads I created truly felt divinely inspired, once again weaving characters with the essence of a soul journey/soul story. I'm interested to hear what spreads speak to who—and why. I hope that they help guide the Marvel tarot users into a deeper understanding of self or situation.
What tips do you have for new readers of tarot?
Syndee Barwick: Study, study, study. Don't be intimidated. I've heard from people that tarot is "too complicated" to use. Not really. I think perhaps using tarot could be daunting at first. But you need to approach it calmly, with an open mind. Be kind to yourself. We rarely are kind to ourselves, so take the tarot opportunity to do so.
I'd encourage new practitioners to read and study comprehensive books on tarot. Rachel Pollack's Seventy-Eight Degrees of Wisdom is an amazing book. Get that. There are also certain decks you should own: the Rider-Waite Tarot (of course!), Lisa Sterle's The Modern Witch Tarot is one of my absolute favorites, as is Yoshi Yoshitani's Tarot of the Divine.
There are so many beautiful sets with amazing guidebooks right now—there is something for everyone. A deck needs to speak to you—and listening is key. I have dozens of decks/guidebooks. For new practitioners, you also need to pay attention to all the details within the art of each card. Nothing is random. Everything has meaning.
What are some of your favorite cards and why?
Syndee Barwick: Wow. That's really difficult. Usually, for me, with any deck—I'm always excited by the Death card. People might think that's strange, but the Death card is all about transformation and change. Pulling that card in any reading makes me think—and prepare. I always love that Magician card, as well. That is pure empowerment. Within the Marvel deck? I can't pick a favorite child. Just can't. Each one is unique and beautiful. Pick it up. You'll see!
Lily McDonnell: It is impossible for me to pick favorites. I think I do have a favorite element within each of the cards—like some small symbol works so well for both the card and the character or how well a character matches with the traditional card. I think I am the proudest of the subtle layers of iconography that I hope instill meaning into each card.
Is there anything else you want to elaborate on?
Syndee Barwick: I absolutely love everything Mucha, and Lily's Art Nouveau style is so reminiscent of him. I just love this deck! I'm so honored to have written this guidebook for Rizzoli Universe and Marvel. I've worked in comics publishing for thirty (!) years—and nothing about comics ever gets old. It just doesn't. There is always so much room for growth and experimentation. I absolutely love this union of Marvel characters and tarot. Our all-female tarot team packed a whole lot of power into this project!
Lily McDonnell: As a fan of Marvel comics since childhood, it was a dream come true to be asked to professionally illustrate so many beloved characters! I hope fans of the comics and tarot enjoy what we have created!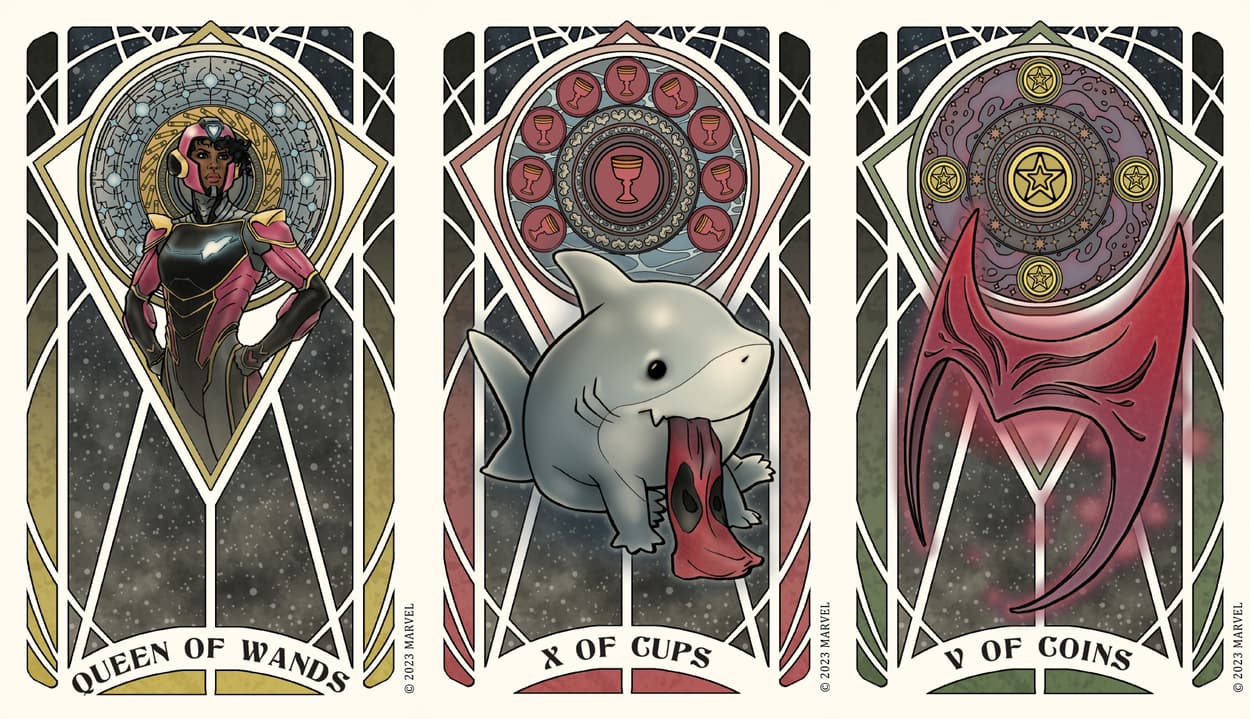 The Hype Box
Can't-miss news and updates from across the Marvel Universe!