Gear
Published April 5, 2021
Shop Marvel Must Haves: 'The Falcon and The Winter Soldier' Episode 3
Welcome to Madripoor.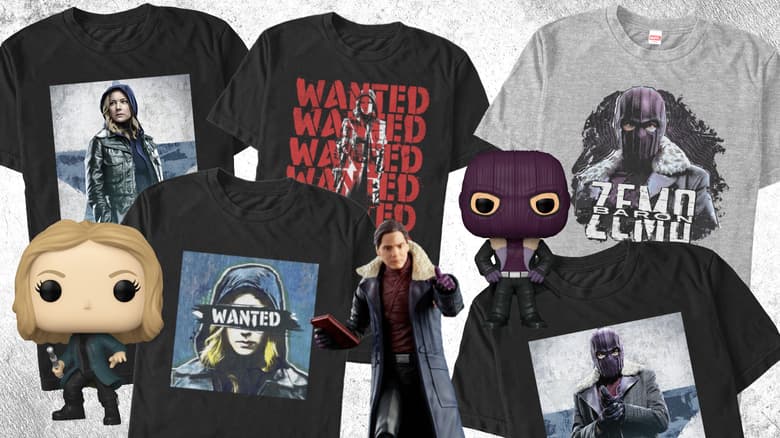 Welcome to Marvel Must Haves, your best destination for all new exciting and epic products out of the Marvel Cinematic Universe! We're taking flight with Marvel Studios' The Falcon and the Winter Soldier and all the explosive action from this globetrotting adventure. Each week through the run of the series we'll be bringing you brand new apparel, accessories, toys and more based on and inspired by the show, and don't forget to share what you must have on social with #MarvelMustHaves!
What's a good souvenir to snag in Madripoor? Unfortunately for Sam Wilson (Falcon) and Bucky Barnes (Winter Soldier), all they got were a lot of bumps, bruises, and close calls. But you can come away from the destination a little but luckier, with a brand new batch of Marvel Must Haves!
Episode 3 of Marvel Studios' The Falcon and the Winter Soldier not only introduces a new location, but the return of two familiar characters. First, Sam and Bucky have to reckon with some lingering feelings about Baron Zemo (who, surprise, is actually rich??) and Sharon Carter who's less than thrilled to see the trio, considering how she stuck her neck out for them last time they were in trouble. 
This week's Marvel Must Haves is all about these two returning characters, who now find themselves part of this globe trotting adventure. If you're searching for Zemo and Sharon t-shirts, you don't have to interrogate or barter with anyone, as you'll find dozens of different styles featuring these fan-favorite characters. Not only that, but two brand new Funko Pops join the ever-growing Falcon and Winter Soldier roster, along with other accessories and houseware, too.
Take a peek the brand new items rolling out this week in the image gallery below. Having trouble viewing the gallery? Click here. 
Stay tuned for more Marvel Must Haves! 
Looking for more Marvel Must Haves? Shop Season 1 of The Falcon and The Winter Soldier here! 
Want more 'The Falcon and The Winter Soldier'? Follow the series on Facebook, Twitter, and Instagram!
Want more exciting information about Phase 4? Find the latest Marvel Cinematic Universe news right here — and stay tuned for more!
This is just the beginning of the Phase 4 news. Stay tuned to Marvel.com for more details! And be sure to follow Marvel on Facebook, Twitter, and Instagram.
The Hype Box
Can't-miss news and updates from across the Marvel Universe!