Gear
Published August 20, 2021
Shop Marvel Must Haves: 'What If...?' Episode 2
T'Challa Star-Lord never flies solo.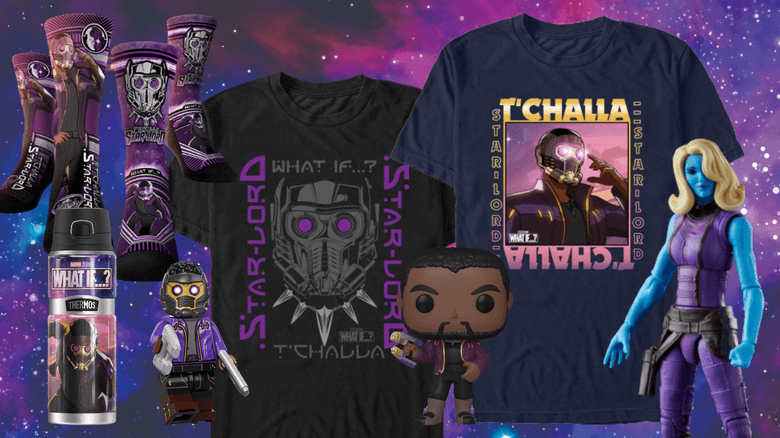 What if...there were more Marvel Must Haves? The latest show from Marvel Studios is here, What If…? and it's asking you to ponder the tough questions. Alongside The Watcher, the animated series explores a multiverse of infinite possibilities and features fan-favorite characters where a single choice can branch out creating alternate worlds from the ones we know. Each week, we'll bring you brand new apparel, accessories, toys, and more based on and inspired by the show, and don't forget to share what you must have on social with #MarvelMustHaves!
What if instead of taking Peter Quill from Earth, the Ravagers accidentally took T'Challa? It's an interesting thought, and exactly what happens in Episode 2 of Marvel Studios' What If…? On a mission to pick up the little midwestern kid, Kraglin and Taserface find themselves on a detour over Wakanda, and seeing a young boy roughly the same age as Peter, grab him instead. Now, it's T'Challa who's growing up among the stars. 
With a new look for the man who would be King of Wakanda, it can only mean one thing: new Marvel Must Haves! The latest batch of items dives into T'Challa Star-Lord, who not only dons his trademark necklace but now Star-Lord's iconic helmet, too. 
Explore all the new products in the gallery below, and be sure to check back for more exciting characters out of the multiverse! 
Want more of The Watcher? Follow What If on Twitter, Facebook, and Instagram! 
Looking for more Marvel Must Haves? Dive into WandaVision, The Falcon and The Winter Soldier, and Loki right here! 
Stay tuned to Marvel.com for more details and sign up for Disney+ and start streaming now! And be sure to follow Disney+ on Facebook, Twitter, and Instagram for more.
The Hype Box
Can't-miss news and updates from across the Marvel Universe!