Movies
Published March 7, 2019
6 Things You Need To Know About Goose the Cat
This furry feline is a purrfessional!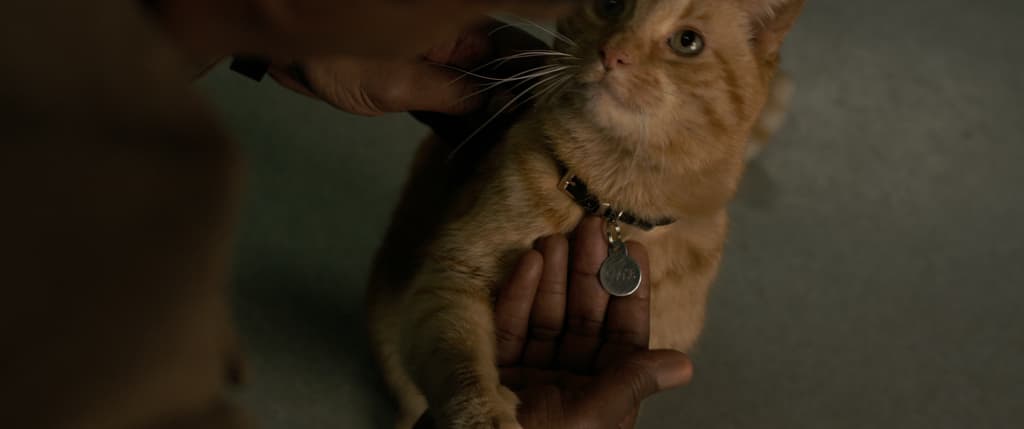 Brie Larson may be the star of Marvel Studios' "Captain Marvel," but one cast member stole the show with their brief on-screen trailer debut—Goose! Goose the Cat has become quite the media darling, even garnering his very own Marvel livestream watched by hundreds of thousands of fans.
Not much is known about the cinematic version of this Marvel super-pal, but the cast and crew were happy to spill the beans at the recent "Captain Marvel" junket. So what did it take to bring the enigmatic feline to life on-screen? Well, we've got the rundown on this curious cat.
1. LOOKING GOOD, FELINE GOOD
Goose was played by Reggie the cat, and while he had the most on-screen time as Captain Marvel's companion, there were three other animal actors who also stood in for the confident kitty. "Just to be clear, the other three cats were more like Reggie's stunt doubles," said Larson. Cat actors Gonzo, Rizzo, and Archie all did their fair share of work on the film.
2. YOU'VE GOT TO BE KITTEN ME, RIGHT MEOW
Samuel L. Jackson is not a big cat lover. To be fair, he's not much into pets of any kind, "No, I am not a cat person," said Jackson. "But I'm also not a dog, bird, or a fish person either. So I just don't…I don't engage pets."
3. STAY PAW-SITIVE
Despite his ambivalence about pets, Jackson knows a professional when he sees one. "Reggie is like most animals that people bring to set that have been trained to do this, that or the other—he's snack-oriented," divulged Jackson. "You give him something to eat, he shows up. You give him something to eat, you talk softly and nice to him, give him something to eat again. They love you. So, it works out."
4. CAT-ASTROPHIC
All in all, Jackson enjoyed his shared screen time with the fabulous feline. "[He] was great to be around. [Larson] had more problems with him than I did, because she has cat allergies," shared Jackson. Larson is severely allergic to cats—which those who suffer can attest—it can be extremely difficult. But ever dedicated, both Larson and Reggie got through it with the utmost professionalism.
5. PURRFECTION
Working with pets on a film set is never easy, sometimes they're almost too well-trained. "There's something about getting a cat to just do what he normally does," recalled Director Anna Boden on what it was like directing an animal actor. "It was part of the struggle actually, of having a very well-trained, very directable cat on-screen....Sometimes we just wanted him to do the random thing that a cat's going to do, like lick his paw or go rub up against somebody. We sometimes had to kind of suggest to the trainer, maybe we should just let him do his thing for a little while, because there's something about the spontaneity of what an animal can do, and I feel like it was worth it."
6. CATITUDE IS EVERYTHING
On set, animals come to do their jobs just like every other actor. "The set got very, very quiet and respectful whenever Reggie came on and actors were like, 'How come we don't get this respect?'" joked Boden.
Larson remembered a particular moment working with Reggie on set. "I got in trouble because I ran screaming, 'Shake Shack!' right next to cat," shared Larson. "And they're like, 'The cat's working right now.' That was my one very unprofessional moment."
See Goose in action when Marvel Studios' "Captain Marvel" hits theaters March 8. Get tickets on Fandango now: http://fandango.com/captainmarvel
Stay tuned to Marvel.com, follow @CaptainMarvel on Twitter, and Like "Captain Marvel" on Facebook for the latest on "Captain Marvel" as it develops!
The Hype Box
Can't-miss news and updates from across the Marvel Universe!