Movies
Published August 9, 2018
All 20 Marvel Studios Marvel Cinematic Universe Films Are Returning to Theaters with the Marvel Studios 10th Anniversary Film Festival
The Avengers are returning to movie theaters exclusively in IMAX across the United States and Canada for a special 10 Year engagement.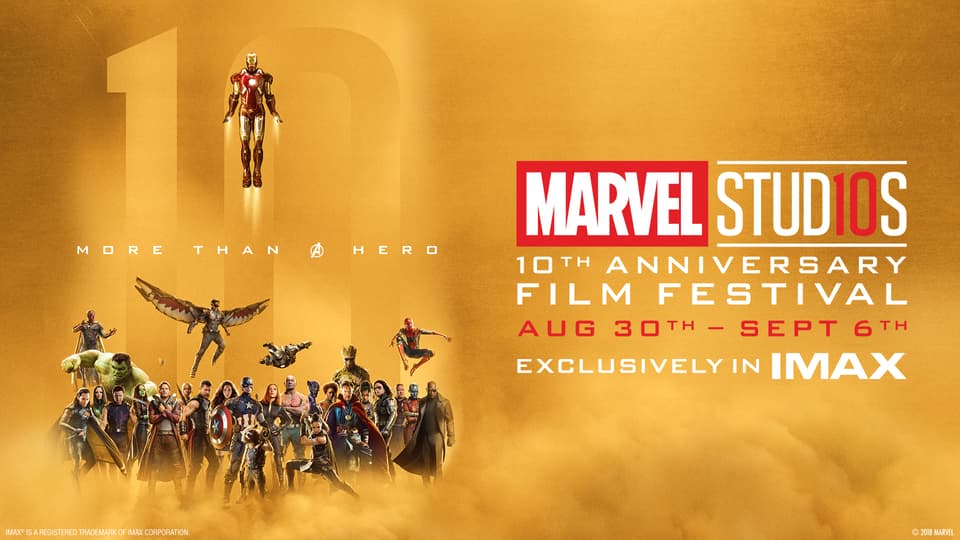 Avengers assemble!
You won't have to wait for Director Fury to show up recruiting you for a special initiative. To honor ten years of filmmaking at Marvel Studios, starting August 30 and running through September 6, all twenty films spanning the entire Marvel Cinematic Universe will be returning to theaters for the Marvel Studios – 10th Anniversary Film Festival. Marvelites can purchase tickets at Fandango.com/MarvelStudios10 now on sale.
Beginning with Marvel Studios' "Iron Man," the first film to kick off the Marvel Cinematic Universe, and all the way through this year's releases of "Black Panther," "Avengers: Infinity War," and "Ant-Man and The Wasp," will playing exclusively in IMAX on select IMAX theatres across the United States and Canada. Three films, "Iron Man," "The Incredible Hulk," and "Captain America: The First Avenger" have never been seen in IMAX.
The first five days of the Marvel Studios – 10th Anniversary Film Festival will show all twenty films in release order, followed by two theme days centering around "Origins" and "Team Ups." The film festival will conclude on the morning of September 6 with two films chosen especially by the fans. Voting is now open and open until August 17. To vote, head over to @IMAX's official Twitter poll here: https://twitter.com/IMAX/status/1027964271181758464.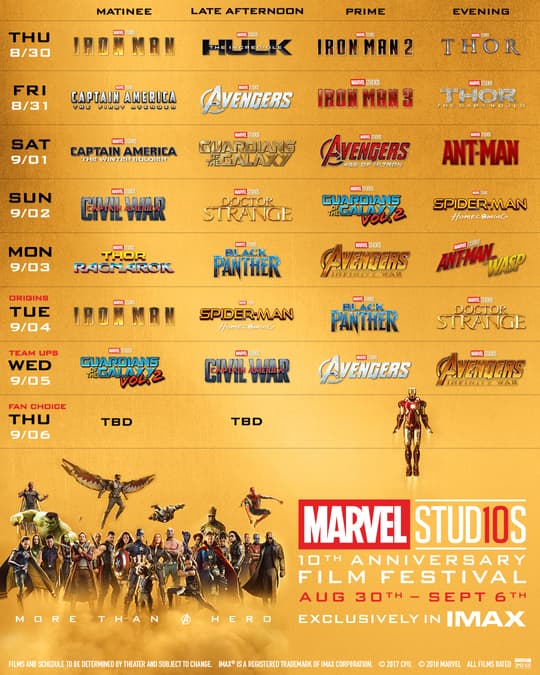 Marvel Studios' 10th anniversary begins with the release of "Avengers: Infinity War" and covers an impressive decade of Marvel Studios' blockbusters released from 2008 through the "Avengers" untitled film in 2019. In celebration of the anniversary, fans can expect exclusive consumer products and collectibles, along with in-theater events and much more in the coming months.
Marvel Studios' unprecedented success over the last ten years is reflected in its cumulative box-office receipts of over $13.5 billion worldwide. Legions of fans—both old and new—have enjoyed the live-action exploits of favorite Marvel Super Heroes in films that express the unique vision and creativity of the filmmakers, and deliver spectacle and thrilling action with relatable characters.
Share your excitement for Marvel Studios – 10th Anniversary Film Festival on Twitter with the hashtag #MarvelStudios10FilmFestival with @IMAX and @MarvelStudios! Celebrate 10 years of the Marvel Cinematic Universe with special content, trivia, and more on www.MarvelStudios10.com.
The Hype Box
Can't-miss news and updates from across the Marvel Universe!