Movies
Published February 25, 2023
'Ant-Man and The Wasp: Quantumania' How Baskin-Robbins Scott Lang Made It into the Quantum Realm
He, sadly, does not have any ice cream.
All this [gestures wildly to the Quantum Realm] happened because Scott Lang — returning hero Paul Rudd — was fired from Baskin Robbins.
It's true! If Baskin-Robbins hadn't found out about Scott's prior transgressions, he wouldn't have been let go, leading to a series of events that propel him to landing in the Quantum Realm and coming face to face with Kang in Marvel Studios' Ant-Man and The Wasp: Quantumania.
"I wanted to remind everybody this guy should not be a Super Hero," writer Jeff Loveness tells Marvel.com. "The reason he is a Super Hero is because he got fired from Baskin-Robbins and was so desperate that he had to rob an old guy's house. That is the beauty of his character, how he just keeps stumbling into things. I wanted to use Baskin-Robbins as almost like a leitmotif or something of like, yeah, this guy's come a long way."
Back in Ant-Man, after being released from prison, Scott lands a job at Baskin-Robbins scooping ice cream. It doesn't last long. He's unceremoniously fired, and those events lead him to meeting Hank Pym — and donning the Ant-Man suit. Flash forward years later, Scott's now saved the universe (and time traveled with Captain America), and Baskin-Robbins is honoring him as "Employee of the Century." Not too shabby.
Looking for a way to bring Scott's Baskin-Robbins saga full circle, Loveness remarks that he was eager to call back the trilogy and to "remind you of small things along the way. This guy, in another world, he should have just still been working at that Baskin-Robbins,"
However, that's not the only time Baskin-Robbins appears in the movie. After Scott finds himself in the Quantum Realm and forced to cooperate with Kang to free his daughter, Cassie, Scott is sent to retrieve a lost quantum core. In doing so, he enters a probability storm. To put it in the simplest of terms: Scott sees all versions of every single choice he could make. And among those choices? He's still scooping ice cream at Baskin-Robbins. Out of a sea of different Scott Langs out pops one version wearing his blue and pink best, wondering what the heck is going on right now??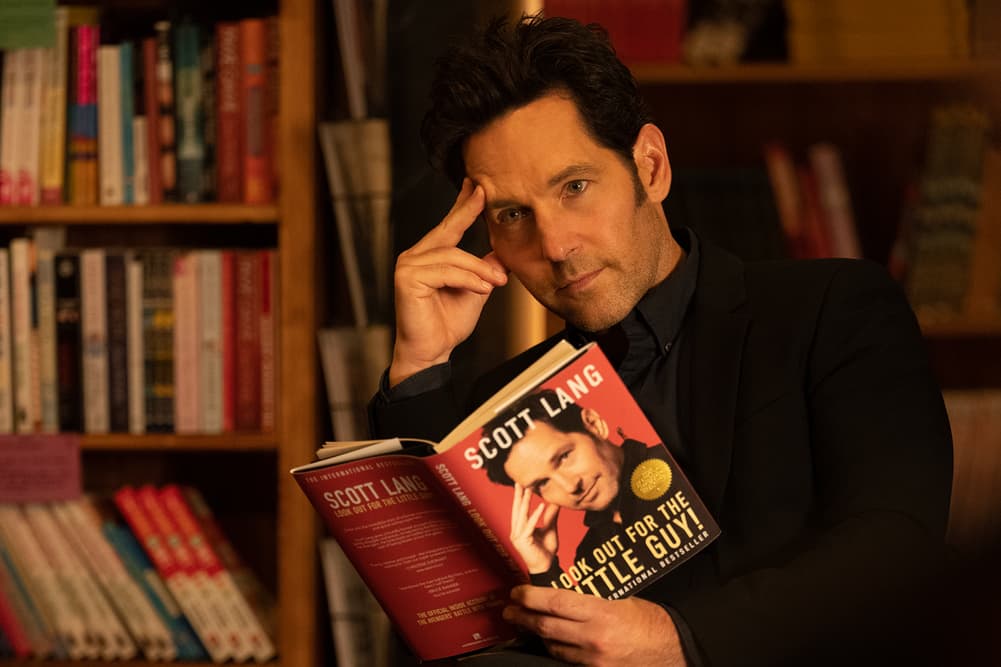 "The whole sequence came about just trying to figure out unique sequences that feel specific to the Quantum Realm and to quantum physics," Producer Stephen Broussard explains. "I should say I am no expert on quantum physics. But my rudimentary understanding of things like Schrodinger's cat and quantum superpositions and the idea that like, things exist in all states until choices are made — again please, please don't submit me to scientific journals for this summation," he laughs.
"With our understanding of that, is there an idea of all possibilities that could be very unique, a very fun opportunity for Paul to run with it?" Broussard continues. "Then Baskin Robbins Scott just feeling like, of course there's a possibility where he would appear and be down there. I love how he's like, well, I'm normal and you guys are all weird — is a very funny joke in the moment."
It's a joke that almost didn't make it into the movie because as Loveness divulges, it truly does not make sense. What is Baskin Robbins Scott Lang doing there?? But "That's the joke! How, in the infinite multiverse, is there a version of you here? That's just one of those infinitude jokes of, yeah, quantum physics."
This whole sequence was one of Rudd's favorites to shoot, though it was one of the most complicated, too, considering just how many Scotts were in in the scene. 
"It was the hardest thing I've ever done," He explains. "It was so time-consuming, and there were so many technical things we had to worry about, that it was just challenging in a completely unique way. I thought, oh, if this thing works and looks like I'm imagining it will, it will be just weird and interesting. It just seemed funny that there are all these different versions of Scott Lang in different parallel universes and all of these versions that can exist at the same time."
And Rudd loves that out of all the different Scotts down in the probability storm, it's Baskin-Robbins Scott who tries to talk some sense into all the others.
"There are lots of Ant-Man Scotts everywhere, but then all of a sudden, Baskin-Robbins Scott comes out and tries to let cooler heads prevail and talk to everybody, going, hey, it's OK. He's in over his head a little bit, but it just seemed silly to have a Baskin-Robbins Scott amongst all of them."
Unfortunately, he does not have any ice cream, much to the displeasure of one lone Scott who yells from off-screen, inquiring about ice cream.
"It's fun when you're piecing those things together, to think, what if one of them just yells, do you have ice cream?" Rudd laughs. "You think of jokes sometimes on the fly, and that's always a blast. And if one of them sneaks in there, it's cool, if it works."
But Baskin Robbins Scott Lang isn't just here to provide comic relief, in the end plays an important role in helping the one, true Ant-Man accomplish his mission. As Scott is climbing the tower of Scotts, it's Baskin-Robbins Scott who gives him a little extra boost and some words of confidence. You've got this, buddy. Go get her.
"The Baskin-Robbins guy is the one who believes in him at the end," Loveness laughs. "That to me is one of my favorite parts of the movie. It's like, oh, he's here for you. He believes, and he pulls him up."
BIG and small things await! Ant-Man and The Wasp: Quantumania is now playing in theaters.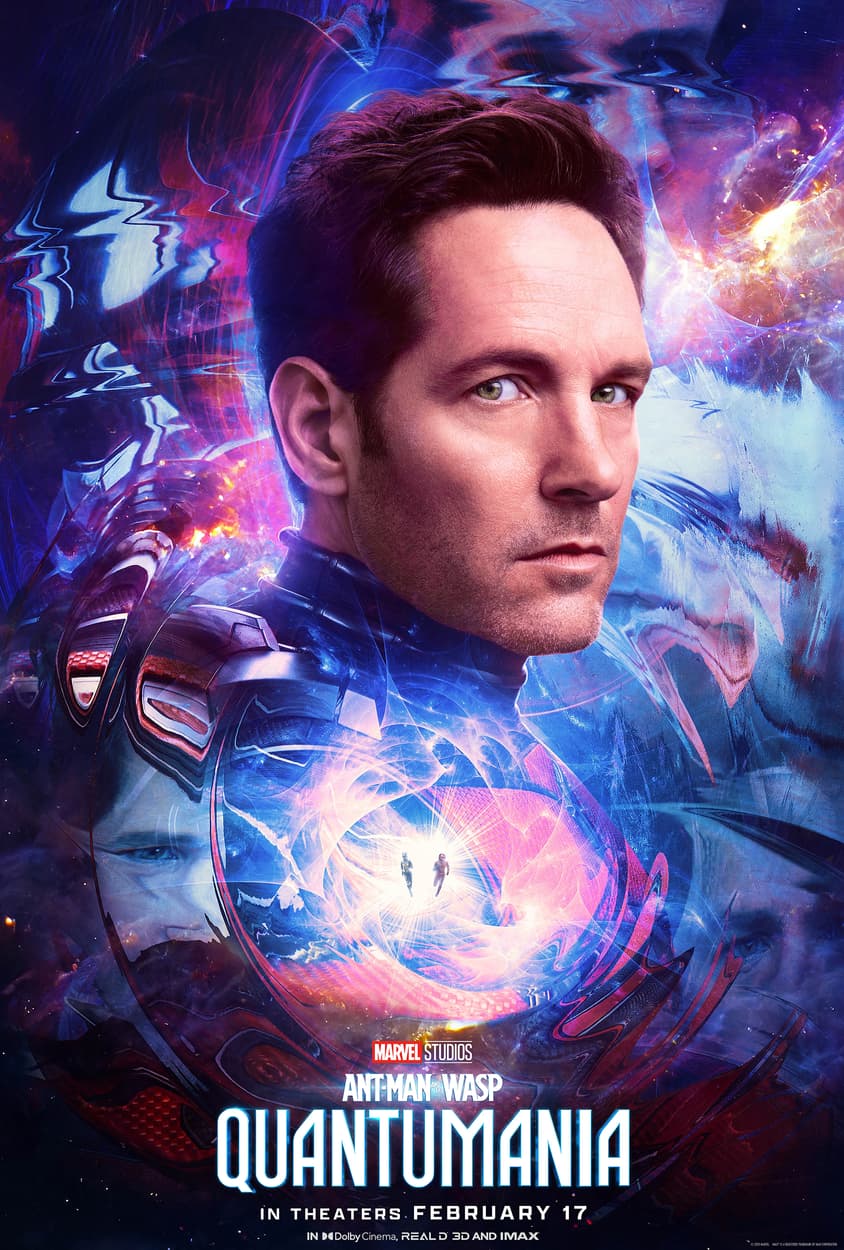 The Hype Box
Can't-miss news and updates from across the Marvel Universe!