Movies
Published November 27, 2017
'Avengers: Infinity War' Cast Assembles for Vanity Fair
Get a glimpse at the cast of the upcoming 'Avengers: Infinity War'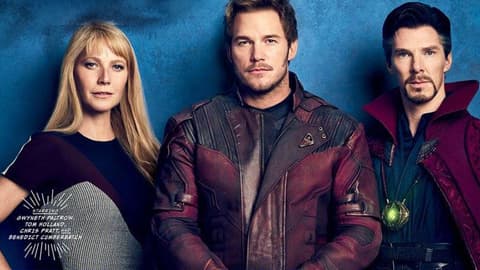 Avengers Assemble! The mighty cast of Marvel Studios' "Avengers: Infinity War" gets the spotlight  on magazine stands around the world with four covers of the latest issue of Vanity Fair.
A whopping 17 members of the cast gather across the four covers bringing together Avengers veterans along with the newcomers to the movie franchise. The first  cover features Robert Downey Jr./Iron Man, Anthony Mackie/Falcon, Chris Hemsworth/Thor and Scarlett Johansson/Black Widow. The second cover gathers Chris Evan/Captain America, Paul Bettany/The Vision, Jeremy Renner/Hawkeye, Don Cheadle/War Machine and Evangeline Lilly/Wasp. The third cover includes Mark Ruffalo/Hulk, Chadwick Boseman/Black Panther, Elizabeth Olsen/Scarlet Witch, and Paul Rudd/Ant-Man. The fourth cover features Gwenyth Paltrow/Pepper Potts, Tom Holland/Spider-Man, Chris Pratt/Star-Lord and Benedict Cumberbatch/Doctor Strange.
See the entire cast across the four Vanity Fair covers in the gallery above and you can read all about the upcoming movie and more in the latest issue.
"Avengers: Infinity War" opens in theaters on May 4, 2018. Stay tuned to Marvel.com for all the latest news!
The Hype Box
Can't-miss news and updates from across the Marvel Universe!