Movies
Published October 12, 2017
Cate Blanchett On The Goddess Of Death's Strength and Motivation In 'Thor: Ragnarok'
Marvel's first cinematic female villain is out to claim her throne.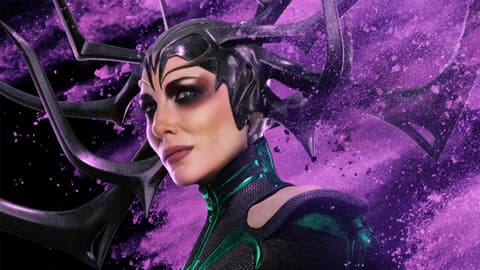 As Marvel's first on-screen female villain, Cate Blanchett exemplifies the Goddess of Death from Hela's headdress, to her villainous heart. Hela is out to take the title of evilest villain away from the Loki, a distinction she seems to easily embody from head to toe. Blanchett talked to Marvel.com about Hela's powerful presence and how her fashionable ensembles even play a part in creating her enigmatic personality.
Blanchett wasn't familiar with the character of Hela before production, but in her mind that only helped her performance, "What I like about playing her is that I really didn't know anything about her and that's really exciting. I mean obviously, the deep, hard core fan base would know a lot about her, but there was kind of a really interesting process of discovery for me."
Hela has a lot of power and conveying her prowess has been a work in progress, "Very early on, I threw a lot of ideas into the ring with Taika—and with the motion capture people, and the Special Effects crew— and they took that and ran with it, so it's been evolving. So it's like what if I shot this out, what would happen if I play with my cape. It really has been an organic thing, it's been quite loose actually, but she's got a lot of power."
Blanchett talked about taking on the mantle of being Marvel's first on-screen female villain, "I think you only feel pressure if you think this is the only shot that women will have—you know, which is ridiculous. I mean, there's a huge female fan base and having a daughter myself, you want them to be able to identify with those that are on that the end of the spectrum as well as the heroes."
"So I didn't feel pressure, I was super excited because but then it's like with any film, whether it's an action film or a small indie drama, it depends on who's looking down the lens and when it's Taika, that for me was a really exciting thing."
Hela's powerful presence is enhanced by her menacing look. Blanchett explained how the Goddess of Death's attire played a part in her role, "I've tried—with the makeup, hair people, and all of the different departments—to give her a kind of a visual journey so that she's got somewhere to go as she becomes increasingly powerful. That look evolves and calcifies a little bit."
"You should see Taika's own illustrations. He's an incredible artist and so he knows how important it is for the actors to have the complete physical look, so they have a sense of what atmosphere they're walking into. That really helps so you're not in a complete blue screen universe with no idea what you're looking at or what you're touching."
As if Hela's style wasn't enough to express the strength of her powers, her desire for chaos is the catalyst for her reign. Having been banished for a long time, Hela is out to make her mark. "I think it's very interesting to bring the concept of Death into a world that's ostensibly immortal. You know, you look at the Western world and in most cultures, Death has been banished from the world in which most Western people live."
"And as a result, I think it's made life rather screwed up. So I think that there's a side of death which can be gentleman-kind and there's a side of death which can be brutal and savage, depending on whose death it is," explained Blanchett about how the Goddess of Death doesn't see anything wrong with her worldview. "But I think that there's a lot of unresolved issues that she has with Asgard, that when she doesn't meet people who are receptive to her—I think she's quite bewildered as to why people are frightened of her—but the more havoc she wreaks the stronger she becomes."
See Hela for yourself when "Thor: Ragnarok" opens in theaters on November 3rd. Get your tickets now for "Thor: Ragnarok." Stay tuned to Marvel.com for the latest on "Thor: Ragnarok," and follow @ThorOfficial on Twitter and like Thor's official Facebook page!
The Hype Box
Can't-miss news and updates from across the Marvel Universe!