Movies
Published March 23, 2018
Don Cheadle Says 'Infinity War' Is Serious Business
War Machine reveals how the stakes have been raised, his road to recovery and suiting up.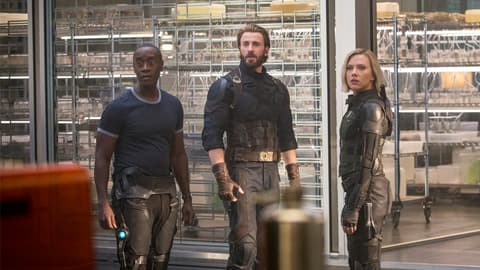 Marvel Studios' "Captain America: Civil War" demonstrated that Marvel's heroes are not infallible or untouchable. That statement rings the most true for James Rupert Rhodes who found the Avengers dismantled and himself paralyzed needing to learn how to walk again. Now Tony Stark's best friend is ready for action in "Avengers: Infinity War"…with some minor hesitation, that is. After the last gathering of heroes, Rhodey's trepidation is understandable.
Don Cheadle, who plays War Machine, opened up with Marvel.com and other members of the press from the set of "Avengers: Infinity War" and talked of Rhodey's apprehension about the Marvel Cinematic Universe culmination—and above all, Rhodey's ultimate loyalty.
Last we saw, Rhodey was caught in the crossfire of "Civil War." Cheadle foreshadowed how this sets the bar for Rhodey's approach to "Infinity War," "The stakes have been raised. And we understand that we're not invincible and super heroes can go down."
"He was always somewhat straddling with having Tony as a friend and trying to support him and do what he needed, being outside of the lines, but still somehow trying to stay within the chain of command and the military man that he is," acknowledged Cheadle. "That's become more fraught and probably more frayed as the storylines go forward."
At the end of "Civil War," Rhodey's injuries were severe. "Clearly there was a pretty significant moment…where he was accidentally shot out of the air by Vision…who is now my mortal enemy," shared Cheadle. The mishap during battle is something that is always in the back of Rhodey's mind, "There's innuendo. There's shots taken. There's things said. Don't want certain people behind me. I'm gonna keep an eye on everybody, I wanna keep that jewel in front of me, not behind me," recounted Cheadle about Vision. "He's negotiating this reunion and his rejoining this team."
Thanks to Stark technology we will most likely see War Machine in action again. On his new rig, Cheadle jested, "Of course he had to put his name on [it]. So Tony! Like I'm gonna not know who made them." Getting himself battle ready, however, is a state of mind, Cheadle explained, "You might see him suit back up again. Although that's gonna be a thing for him to put that suit back on. Last time he was in it, it didn't go so well. It's something that he's fighting to put behind him but absolutely, it creeps up."
Teammates aren't the only concern going into "Infinity War." Cheadle stressed how alien beings and cosmic unknowns aren't exactly War Machine's cup of tea, "Rhodey would prefer to deal with real world things and that's kind of what he understands. When we start leaving the planet and talking about things coming from outer space, he's like, 'Dude, I don't even know what that…what is that? I know how to fight guys and in tanks and weapons—that's something that's beyond my pay grade.' But he's been thrown into the deep end, so they are all way in [with] this one. So everybody's gonna have to figure it out on their feet."
Keeping the secrecy of the "Infinity War" script is difficult and was something the actors had to get used to. "It's very interesting on set obviously when you don't know the entirety of everything and things are changing real time. It keeps you on your toes, that's for sure. But it's ultimately exciting and it's as fun for us sometimes discovering it as it is for the audience," teased Cheadle. "Cause we're like oh, we had no idea how that was gonna turn and the story is really intricate and pretty, it's very different I think from what I've seen, what I have read."
Aside from the multitude of characters, Cheadle believes "Infinity War" separates itself by its own determination, "It has a little bit of a different feel than the last movies have. There's a little more gravitas. And it kind of has to be that way. I don't think you can keep doing the same kind of thing in this franchise over and over. You have to try to bring in some more serious elements. Rhodey being injured was a part of it, starting the 'oh wait, people can really get hurt.' Things can really go south for these characters."
As big as the "Infinity War" cast is, when they get together it's like a family reunion. "Whenever you have all of us back together again and we haven't seen each other for awhile, there feels like there's a period of like [a] kind of giddiness." Cheadle described the vibe on set, "Everyone's kind of catching up and we're performing for each other a lot of times. Trying to crack each other up and be there in those kinds of ways for each other. So it's always fun coming back."
See the gang all together again when "Avengers: Infinity War" opens in theaters on April 27. Get tickets on Fandango now! Stay tuned to Marvel.com, follow @Avengers on Twitter, and Like "The Avengers" on Facebook for the latest on the Avengers as it develops!
The Hype Box
Can't-miss news and updates from across the Marvel Universe!