Movies
Published September 2, 2021
Everything You Need to Know Going into 'Shang-Chi and The Legend of The Ten Rings'
Witness the rise of a new Marvel Hero!
It all happens tonight!
Marvel Studios' Shang-Chi and The Legend of The Ten Rings arrives in theaters, and with its release, we see the origin story of a brand-new Marvel hero.
Shang-Chi and the Legend of the Ten Rings follows Shang-Chi (Simu Liu) who must confront the past he thought he left behind when he is drawn into the web of the mysterious Ten Rings organization. The film also stars Tony Leung as Wenwu, Awkwafina as Shang-Chi's friend Katy, Michelle Yeoh as Ying Nan, Meng'er Zhang as Shang-Chi's estranged sister Xialing, as well as Fala Chen, Sir Ben Kingsley, Florian Munteanu, and Ronny Chieng. The film is directed by Destin Daniel Cretton and produced by Kevin Feige and Jonathan Schwartz, with Louis D'Esposito, Victoria Alonso and Charles Newirth serving as executive producers. David Callaham & Destin Daniel Cretton & Andrew Lanham wrote the screenplay for the film.
To get you ready to experience the film in theaters, the creatives and talent behind the series held a press conference ahead of its release. Moderated by comedian Ronny Chieng, who stars in the film as Jon-Jon, the panel of guests included Simu Liu (Shang-Chi), Awkwafina (Katy), Meng'er Zhang (Xialing), Sir Ben Kingsley (Trevor Slattery), director Destin Daniel Cretton, and Marvel Studios president Kevin Feige.
Here's everything you need to know about the latest Marvel Studios blockbuster!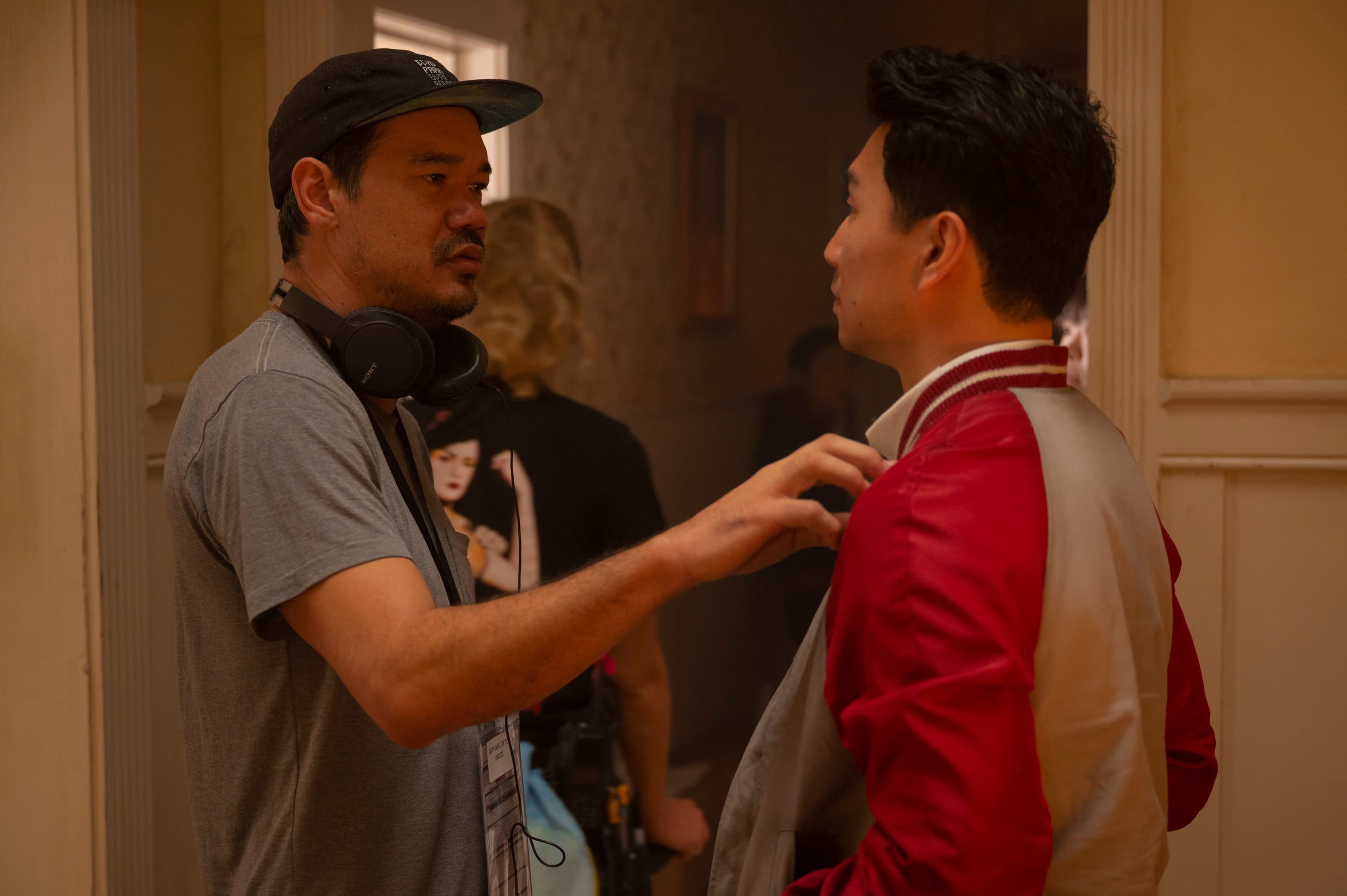 Director Destin Daniel Cretton Pulled From His Life Experiences
Chieng noted that prior to the film, the director was a childcare worker at a group home for at-risk teenagers for a few years before going to film school. On how the experience shaped him, Cretton noted, "That job affected my entire life, my world view. The stories that I am drawn to are a combination of humor and optimism, but also not shying away from the very real darkness and pain that we all experience as humans. This movie really does encapsulate a lot of the things that I really believe in."
Cretton later on added, "I personally connect with Shang-Chi's journey. I love that this is a Super Hero that doesn't get splashed with chemicals to get his superpower. That it is a journey of self-discovery, of growing up, of learning how to finally deal with pain that he's been running away from his entire life.  And that when he is finally able to look inside into his past and embrace good, bad, the joy, the pain, and accept it all as a part of himself, that's when he finally steps into his big boy shoes, and that's kind of what we're all doing as humans in some way or another. I really connect with that."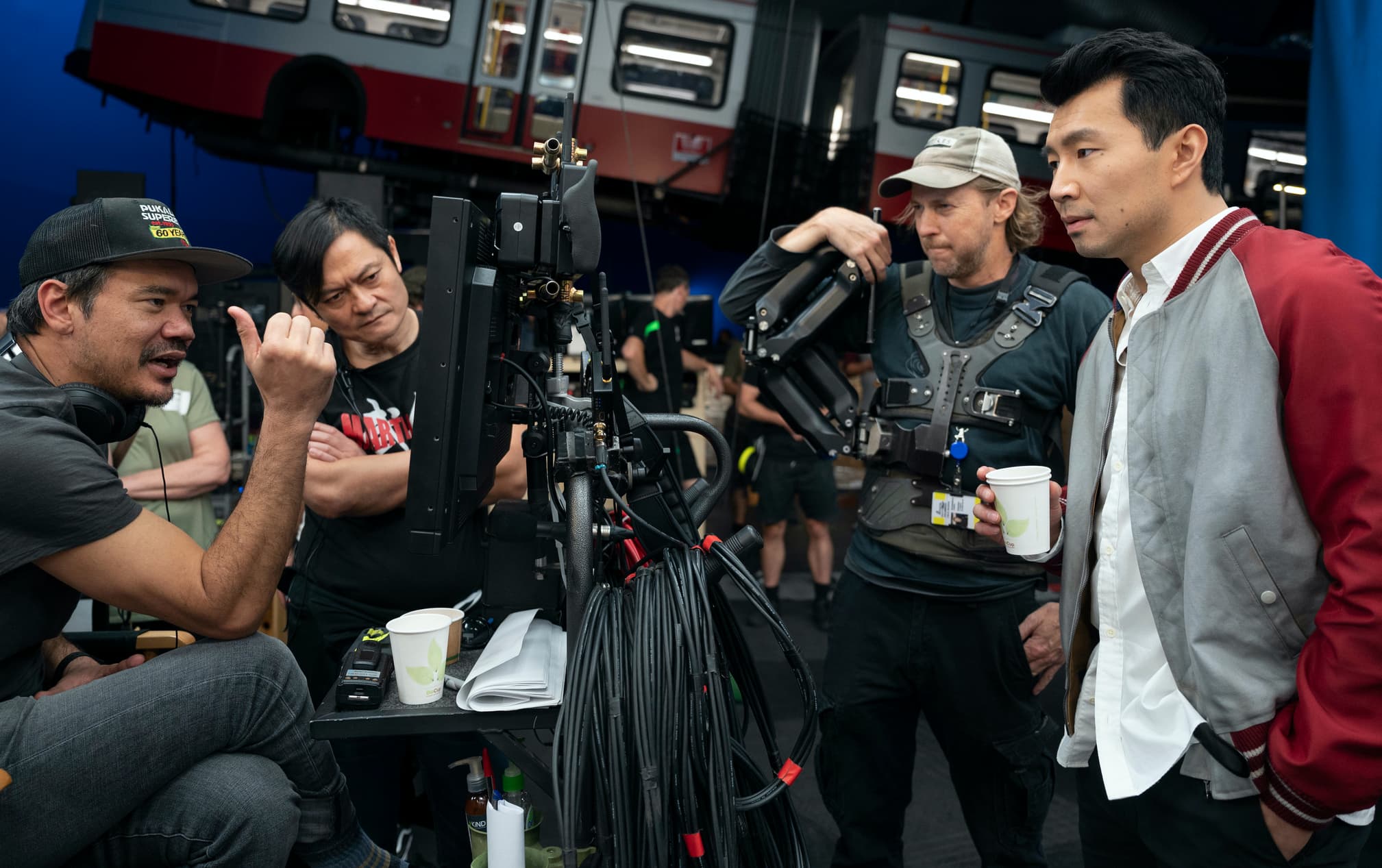 Cretton Received Advice from Another Marvel Studios Director
However, it wasn't easy for the director to take on a large project such as this. In fact, he noted that he had "a giant personal fear of stepping into a movie like this." So much so, he told the executives at Marvel Studios that very fact.
During a pitch with Kevin Feige, Louis D'Esposito, Victoria Alonso, and Jonathan Schwartz, when they asked him if he had always wanted to do a big Marvel movie, he recalled a recent conversation he had at the time. "I was like, 'Should I tell them,'" remembers Cretton. "The truth was it was a few weeks before they announced that they were looking for directors for this movie, and I made a very real decision and called my manager or my agent, and said, 'Don't ever let me do a Marvel movie.'"
However, something switched in him when he heard the announcement of the Shang-Chi film. "In the pitch, I explained to them, when they made the announcement for Shang-Chi, something sparked in me that made me have to go in and take a meeting, and that turned into this," shared Cretton. He instantly wondered if he made the wrong call telling them all then.
It was then another Marvel Studios director stepped in. "I did have a conversation with Ryan Coogler," confirmed Cretton. "I was scared of stepping into a big studio movie like this and scared of what it might do to me. I had a lot of fears. The thing that Ryan said to me, which really eased my mind, was, 'The pressure is hard. It'll be the hardest thing potentially that you have done up to this point, but none of that pressure, or none of those complications, come from the people that you're working with, or for.' And that's what I found; this is a very special place to work where, not to toot Kevin's horn, but there is an environment of curiosity, of exploration, that comes from the top down."
Cretton credited the advice of Coogler and the environment Marvel Studios had fostered for the success of the film, "This is no fear-based mentality at this studio, which has really allowed us to take risks and chances, and be able to instill that same fearless exploration with everybody in this film. That's a huge reason that the movie turned out the way it did.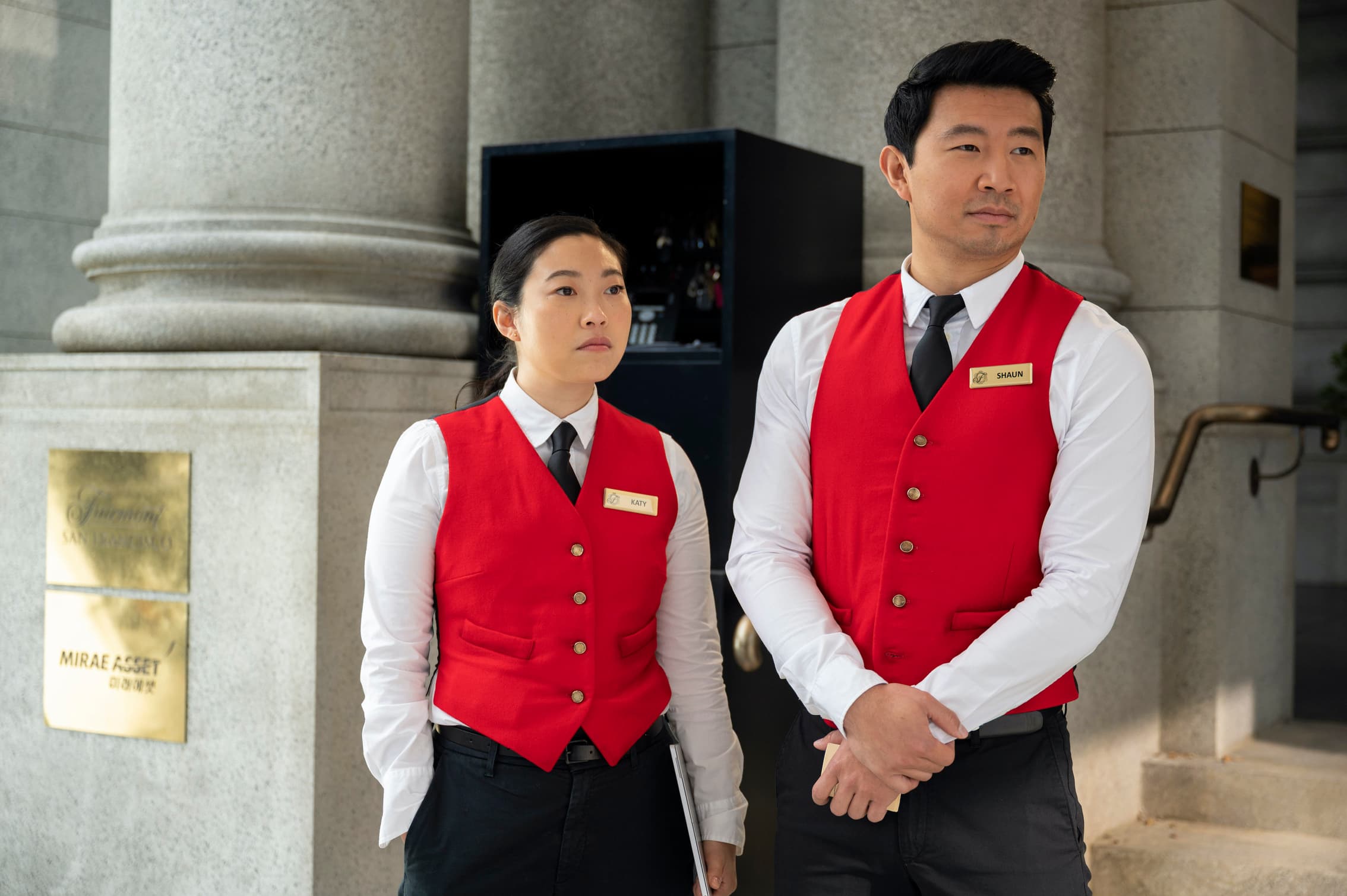 The Cultural Significance of Portraying Minorities On-screen
During the press conference, Feige gave a special shout-out to his producing partner on the film, Jonathan Schwartz, "We wanted to do [this film] for both of those reasons — to bring this specific character into the MCU, but just as importantly, to bring representation of another kind [of hero] to this film. That was really what Destin brought into his pitch, which was really the story of this father and son."
Cretton added, "What is extra relevant to the culture is that this is a Marvel film. If we were not putting Shang-Chi shoulder-to-shoulder with all the amazing other Marvel Super Heroes that we've come to love in the past, that would be, to me, a big disservice to the culture and the character. Both are equally important."
Kingsley included what he observed, "When you hear Destin, you know the motives behind telling this story are pure [with] crystal clear, lucid, pure motives."
They are motives that are life enhancing and they're not patronizing because they do introduce in a beautiful way...memory, ancestry, loss, and families torn apart and reunited and reconfigured. All this is from Destin's heart and Kevin's heart and the writers' hearts. And if your motives are pure as a storyteller, the angels will come to assist you with that story. And, to quote a great author whom I admire greatly, 'To tell a story is to heal.'"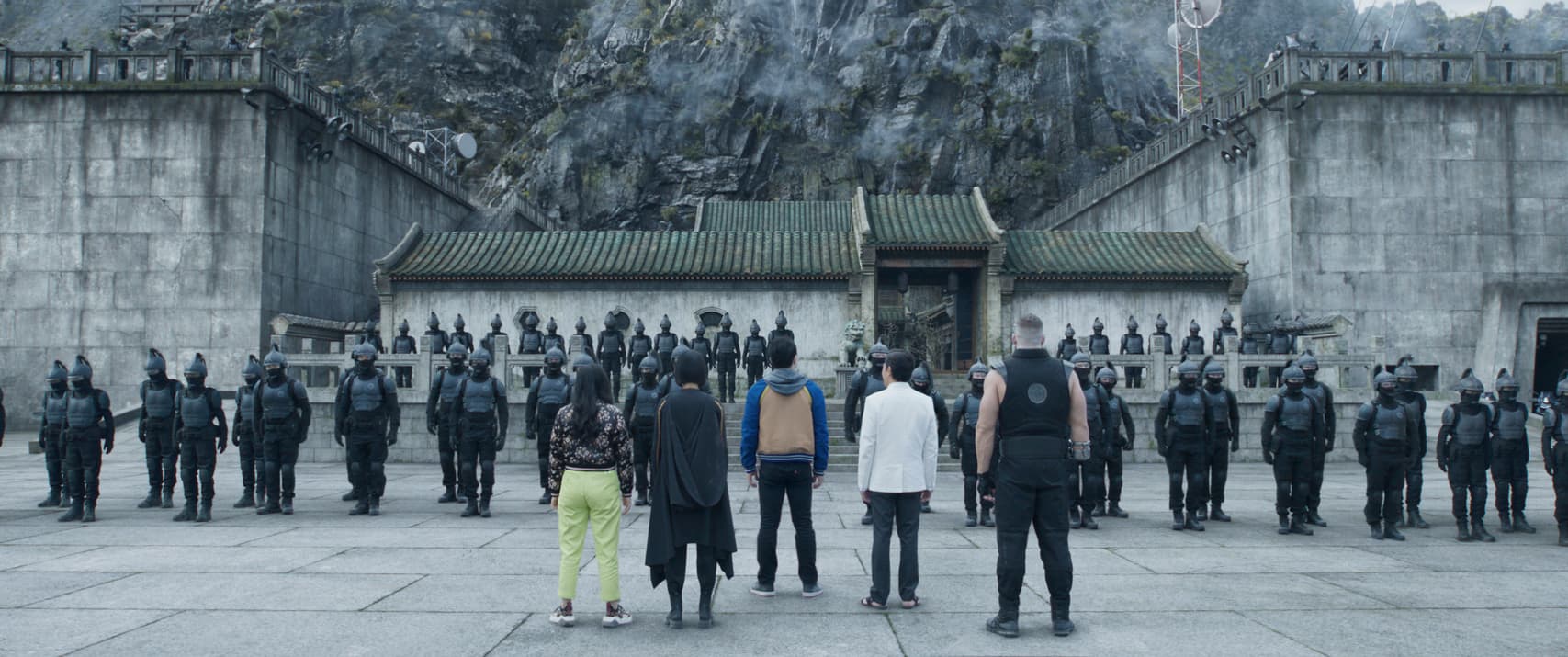 The Inclusion of the Mandarin Language
Reflecting on the inclusion of conversational Mandarin in western cinema, specifically a Marvel blockbuster film, Cretton shared his belief, "The conversation behind which language should be spoken was always rooted in just the logic of the characters, and who would naturally be speaking what language."
"That conversation started in the writers' room, and then once our actors came in, it was always a dialogue, that these are all bilingual, trilingual, quadrilingual characters who could speak whatever they want, whatever made sense at the time. We were constantly having the discussion of what made sense for the scene."
Simu recalled a scene between Chieng's Jon-Jon and Awkwafina's Katy, "What I really loved is that moment where, I don't think it's a spoiler, but where your character is talking to Awkwafina's character and she's like, 'Oh, my Chinese isn't good.' And you're like, 'No worries, I speak ABC.'"
Awkwafina also really resonated with that scene noting, "That was really a big moment; culturally, you never see that. You never see that referred to."
Simu concluded, "They called it out, and ABC of course means 'American-born Chinese,' but it's just this is the first time you really see in a movie someone just calling out a lived experience."
Chieng shared, "What I really like was that we actually have different Chinese accents," comparing it to the different German accents in Inglorious Bastards, and highlighting Zhang's "Beijing accent," Simu's "Whatever the heck that is" accent, and Kingsley's "Liverpool Chinese accent." Both Chieng and Kingsley joked they spoke a lot of Mandarin throughout the film but audiences won't see it because it was cut.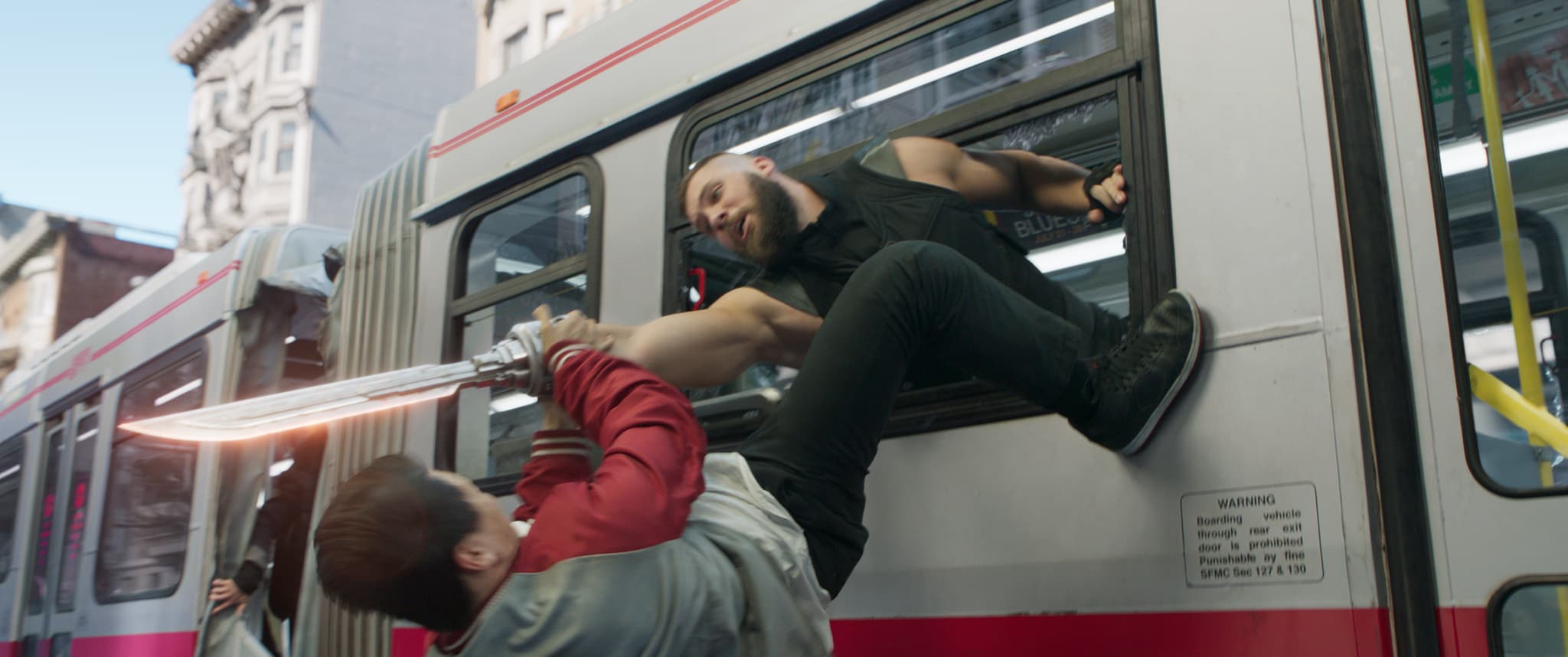 World Class Action
Another big component of Shang-Chi and The Legend of The Ten Rings was its action and fight sequences, which pushed the stars to do things they had never attempted before.
Awkwafina remarked, "I actually went to a race track and learned how to drift, which is probably not practical in any scenario in traffic," in addition to "learning how to shoot a bow and arrow," and "working as a team with gravity" for all her performed falls.
Chieng joked how he was blown away by her performance because he "had never seen you...," "be physical," concluded Awkwafina.
Liu revealed, "Ronny would sneak into the gym with me," to which Chieng retorted, "Got to get that free Marvel workout. I literally was like, you know what, I'm gonna use this pandemic to get super ripped, and then I ended up doing like 10% of the weights [Simu] was doing, and I was vomiting every day."
Liu shared the secret to his and Zhang's physical success, "It's all about the V-sit," crediting it to "giving you the range of motion to do the high kicks; it loosens up everything," which Awkwafina noted it was essential to allowing them to "move freely without pulling something."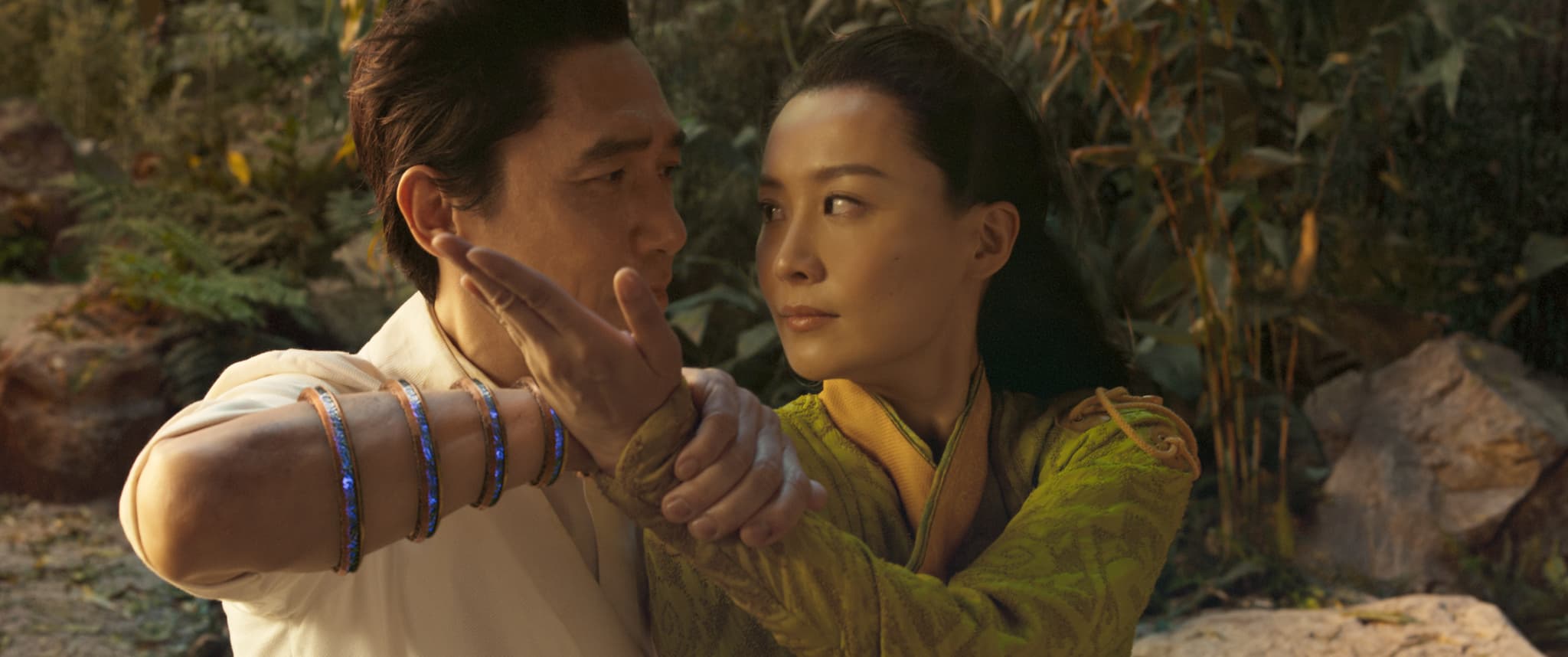 Cinematic Legends
Another strong point of the film was uniting the younger talent like Liu, Awkwafina, and Zhang, with cinematic legends such as Tony Leung, Michelle Yeoh, and Sir Ben Kingsley.
"It was like imposter syndrome every single-every single day," shared Liu. "No truly, it was such a treat, and it was all I could do just to not mess it up." He thankfully shared how his co-star Awkwafina helped him overcome those feelings, "When I was first cast, I did my final screen test with Nora, and she did such a wonderful job putting me at ease. My nerves were sky high; I was an actor from Toronto, and I really had never allowed myself to imagine being a part of the MCU. It's the craziest dream that someone can possibly dream. The more members of the cast like Tony and Michelle and Sir Ben, every day it was like waking up to another dream."
Zhang, on the other hand, instantly had a commonality with Sir Ben Kingsley, both of who are theater-trained actors. With Shang-Chi as her very first film experience, she made sure to take advantage of learning from Kingsley, remembering, "I'm so lucky to work with all of them, and Sir Ben, I asked him a lot of questions on set. I literally took notes every time when I talked to Sir Ben," to which Kingsley also recalled, joking, "I remember you were taking notes; I thought you were correcting my spelling."
The piece of insight that she remembers most, Zhang commented on a "beautiful" description Kingsley shared with her, "He said, 'When we are on-stage, we are landscape artists. And when we are in front of a camera, we are portrait artists.' That just gave me a very clear image; I just learned so much."
As for what attracted Kingsley to the role of Trevor Slattery in the first place, and to reprise the role a decade later, the Academy Award-winning actor noted, "Kevin came to my house in Oxfordshire...to introduce me to the idea that I was playing two entirely different personalities. An actor portraying a master villain, and he put it to me so delicately, I was intrigued by that that I joined the team."
Kingsley remarked growing "very fond" of his character Trevor, along with Trevor's vulnerabilities and history. "He has his issues, and he found in himself perhaps moments of empathy and kindness, and I think that shows in our lovely scenes with Nora and I," stated Kingsley, "Also, there's a wisdom that he doesn't believe he has that he does have. He's beginning to grow into a silhouette that's larger than the one he thought he had. I enjoyed working in this film, and Iron Man 3, because it is all about potential and it is about finding the original self that we were born with, that gets distorted and tarnished, and then you do this amazing journey and you get back to your original self."
Cretton shared his delight in Kingsley's performance. "I love that about your performance," said Cretton. "Every once in a while, there would be a scene that Sir Ben would be playing, and he would say, 'Would you mind if I said just a little line?' You could see that it was paying homage to someone who was really close to him in his past."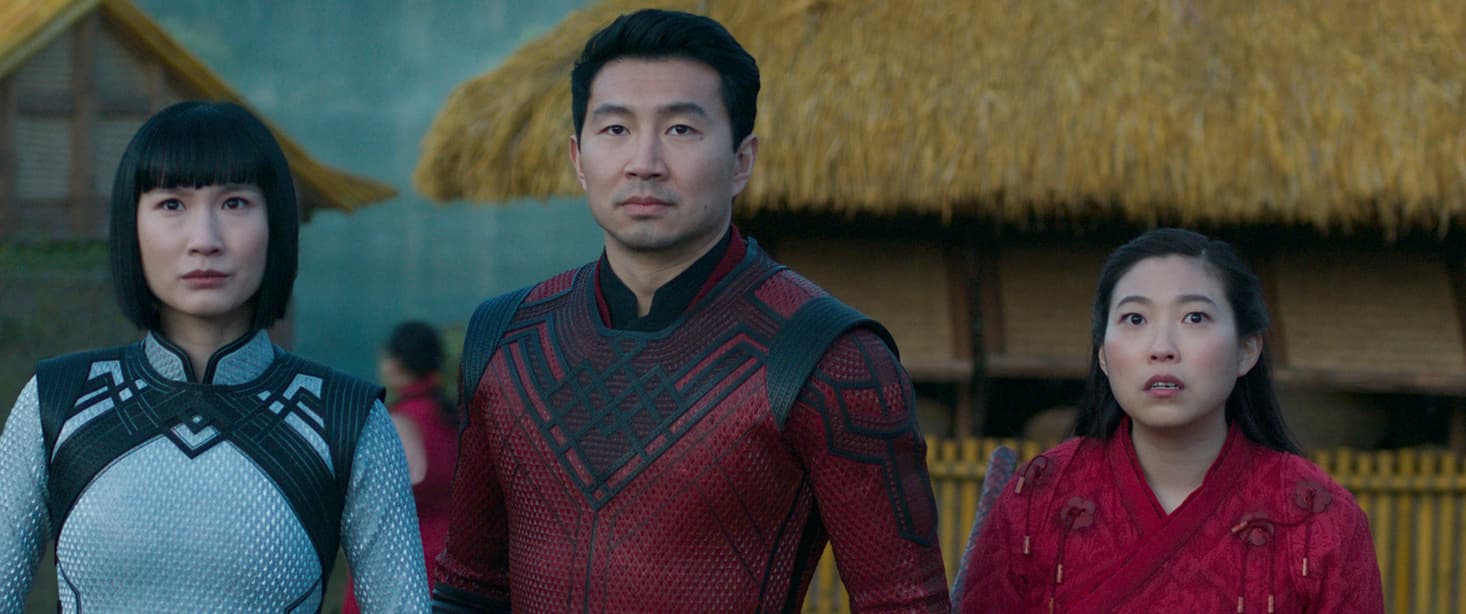 The Chemistry Between the Cast
The production of the film, as well as the months-long shutdown during the pandemic, allowed the cast ample time to bond. However, some relationships were forged rather seamlessly. Speaking about the friendship between Shang-Chi and Katy, Liu noted they had "this bickery old couple chemistry right from the get-go," which Awkwafina echoed, "We slip into that very quickly."
On his vision for the two heroes' friendship, Cretton shared, "When one of our co-writers, Dave Callahan, and I were creating this relationship, we actually have a lot of friends who are not the same gender as us, and it is strictly platonic, but also very intimate, caring, and we haven't seen a lot of that on-screen, and we were really excited to create that relationship between Shang-Chi and Katy. It also just naturally felt like the only way to go with this movie because Shang-Chi is so deep in his own inner struggle. I don't think there's emotional space for anything else."
The Tweet (or Super Hero Pose) that Started It All
During the press conference, Feige, as Chieng puts it, "literally just killed the narrative," of Liu landing the titular role of Shang-Chi when he stated, "Unfortunately, Simu, it was not your tweeting. It was your acting ability, your constant professionalism, and the multiple reads and meetings that you did that got you the job."
However, Cretton does believe greater forces were at play, interjecting, "I do think the universe saw that," even if the Marvel Studios president didn't, with Liu adding, "Speak it into the universe and it will find a way."
The trio did recall another thing Liu did that may have helped him cinch the role instead. Cretton revealed, "He did do a back-flip; the exact back-flip that is that pose that's made fun of in Black Widow. He did a back-flip into the Black Widow-kneel pose, hair flip, straight-looking into the camera as the closer to his first audition."
Awkwafina concurred that Liu does a great Super Hero pose, which Liu stated, "I thought it was like a good signature; it was like a nice little calling card that you could put at the end of your resume. I thought it couldn't hurt. I was auditioning for a Marvel movie, which was a Super Hero franchise." Awkwafina then revealed, "I did a really slow somersault at the end of mine."
And with that, you're all set to go experience Shang-Chi and The Legend of The Ten Rings!
Experience Shang-Chi and The Legend of The Ten Rings in theaters. Tickets are now available! 
Looking for more Shang-Chi? Follow the movie on Facebook at @officialshangchi, on Twitter at @shangchi, and on Instagram at @shangchi.
The Hype Box
Can't-miss news and updates from across the Marvel Universe!