Movies
Published April 25, 2018
Five Books to Get Your Kids Ready for Marvel Studios' 'Avengers: Infinity War'
Prepare your little ones for the journey ahead!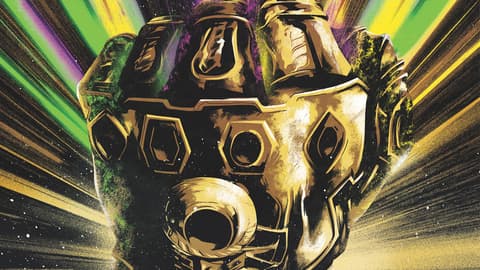 This weekend, Earth's Mightiest Heroes will finally come together on April 27 in Marvel Studios' "Avengers: Infinity War!" If your little ones are ready to see their favorite super heroes on the big screen but want to know more about their stories first, this list will help you get them up to speed faster than you can say "Infinity Stones."
Marvel Studios 101: All Your Questions Answered
Dorling Kindersley and Adam Bray
The Marvel Cinematic Universe began in 2008 with Marvel Studios' "Iron Man," and it's been 10 hero-filled years ever since. For some younger fans who weren't even born when the MCU began, this book is a great way to take look back at all the films leading up to the big event. This book will take you down the MCU rabbit hole, breaking down characters and plots—film by film—linking them all together so you'll be ready to assemble for "Avengers: Infinity War."
Marvel's Avengers: Infinity War: The Heroes' Journey (Road to Avengers: Infinity War)
Steve Behling


There are so many heroes in "Infinity War," it stands to reason that each has their own story to tell. This book will break down Thor, Captain America, Doctor Strange, and the Guardians of the Galaxy's own journeys in the most unexpected of ways.
The heroes are seen through the eyes of friends, mentors, and even dreaded enemies. Thor's journey is told through the eyes of Heimdall; Captain America's journey through the eyes of Black Widow; Doctor Strange's story told through Wong's POV and Guardians of the Galaxy's story through the eyes of Nebula. On the road to the final battle, find out what it takes for them to converge on the path that has lead them to the end as they come together to fight the Mad Titan, Thanos.
Marvel's Avengers: Infinity War: The Cosmic Quest Vol. 1: Beginning
Brandon T. Snider
After the "Guardians of the Galaxy," the Collector needs to reconstruct his collection; while after "Ragnarok"—his brother, the Grandmaster—is also in dire straits. Together, the two Elders of the Universe speculate on the power and possibility of the Infinity Stones in Cosmic Quest.
For fans who want a more in depth look at the coveted keepsakes that Thanos will stop at nothing to acquire, these stories focus on three of the six powerful stones: Power, Time, and Mind, and is the perfect setup for "Infinity War."
Avengers Giant Coloring Book
Coloring books are fun, but giant coloring books are amazing! What better way for little ones to get to know their heroes than by creating some of the story themselves. By using their own imaginations, kids can come up with their own costume colors, visual imagery, and tones to make each page their own. Let them color up their favorite heroes and watch as they enjoy comparing their costume designs to the ones on screen.
Avengers Storybook Collection
If your kids want to get up to speed on their favorite Marvel heroes, the Storybook Collection is a great place to find out everything you need to know about Iron Man, Captain America, Thor, Hulk, Hawkeye, Black Widow, Nick Fury and more.
The adventures on screen continue as the Avengers' tales are broken down into seven incredible super stories perfect for engaging kids with their favorite heroes.
Don't get locked out of opening weekend; grab your tickets now on Fandango to see "Avengers: Infinity War" when it opens on April 27!
Stay tuned to Marvel.com, follow @Avengers on Twitter, and Like "The Avengers" on Facebook for the latest on the Avengers as it develops!
The Hype Box
Can't-miss news and updates from across the Marvel Universe!