Movies
Published September 5, 2018
Get Your First Look at Marvel Studios' 'Captain Marvel'
Pick up your copy of Entertainment Weekly on newsstands this Friday!
As teased by the Marvel Studios' "Captain Marvel" star Brie Larson last night, Entertainment Weekly has your exclusive first look at the badass hero. Take a look down below! Don't forget to pick up the new issue of Entertainment Weekly when it hits stands Friday!
Update: Get a look at a special first look gallery from EW here featuring Brie Larson as a member of Starforce and in her civilian wear as well as her Air Force pilot look; Jude Law as the commander of Starforce Ben Mendelsohn as Talos, leader of the Skrulls and undercover as a human working within S.H.I.E.L.D.; Samuel L. Jackson as S.H.I.E.L.D. agent Nick Fury; Djimon Hounsou as Korath, Lee Pace as Ronan the Accuser;  Lashana Lynch as Maria Rambeau, one of Carol's oldest friends.
In addition to the first look gallery, Brie Larson shares with EW what it was like to suit up as the "flawed by empowering" hero.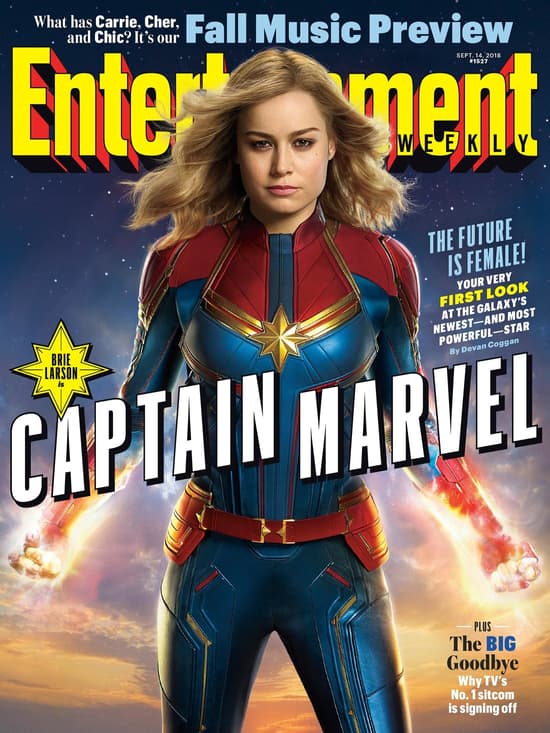 On the character she plays, Larson tells EW, "She can't help but be herself. She can be aggressive, and she can have a temper, and she can be a little invasive and in your face. She's also quick to jump to things, which makes her amazing in battle because she's the first one out there and doesn't always wait for orders. But the [not] waiting for orders is, to some, a character flaw."
Larson continued, "You have this Kree part of her that's unemotional, that is an amazing fighter and competitive. Then there's this human part of her that is flawed but is also the thing that she ends up leading by. It's the thing that gets her in trouble, but it's also the thing that makes her great. And those two sides warring against each other is what makes her her."
Set for release in the United States on March 8, 2019, Marvel Studios' "Captain Marvel" is directed by the writing/directing team of Anna Boden and Ryan Fleck. An all-star collective of accomplished writers penned the screenplay, including Meg LeFauve,  Nicole Perlman, Geneva Robertson-Dworet, Liz Flahive & Carly Mensch, and Anna Boden & Ryan Fleck.
EW's cover finds Carol somewhere between the Earth and the sky — a fitting place for a hero who's trying to figure out how to reconcile her alien abilities with her more human flaws. Directed by Anna Boden and Ryan Fleck, Captain Marvel sidesteps the traditional origin-story template, and when it begins, Carol already has her powers. She's left her earthly life behind to join an elite Kree military team called Starforce, led by Jude Law's enigmatic commander.

 

But before long, Carol finds herself back on Earth with new questions about her past. And she's got a formidable enemy in the form of the Skrulls — the notorious Marvel baddies made all the more dangerous by their shape-shifting abilities. Ben Mendelsohn plays their leader Talos, who spearheads a Skrull invasion of Earth.
The film stars Academy Award® winner Brie Larson, Samuel L. Jackson, Ben Mendelsohn, Djimon Hounsou, Lee Pace, Lashana Lynch, Gemma Chan, Algenis Perez Soto, Rune Temte, McKenna Grace, with Clark Gregg, and Jude Law.
Kevin Feige is the producer of Marvel Studios' "Captain Marvel." Louis D'Esposito, Victoria Alonso, Jonathan Schwartz, Patty Whitcher and Stan Lee are executive producers, with Lars Winther serving as co-producer/first assistant director and David Grant serving as co-producer.
Directors Anna Boden and Ryan Fleck's creative team includes director of photography Ben Davis, Oscar®- nominated production designer Andy Nicholson, costume designer Sanja Hays, editors Elliot Graham and Debbie Berman, two-time Oscar nominee, visual effects supervisor Christopher Townsend, stunt coordinator Jim Churchman and six-time Oscar nominee, special effects supervisor Dan Sudick.
With the release of "Black Panther" in February, Marvel Studios continued its unprecedented success. At the time of release, the film recorded the second biggest opening weekend of all time with $202 million and is on track to the become the highest grossing superhero film at the domestic box office. The film has grossed over $1.1 billion worldwide to date. "Black Panther" propelled the Marvel brand's #1 domestic box-office opening streak to a record-breaking 19 consecutive films.
Marvel Studios' "Captain Marvel" joins the Marvel Cinematic Universe on March 8, 2019! Stay tuned to Marvel.com, follow @CaptainMarvel on Twitter, and Like "Captain Marvel" on Facebook for the latest on "Captain Marvel" as it develops!
The Hype Box
Can't-miss news and updates from across the Marvel Universe!