Movies
Published May 19, 2023
Chukwudi Iwuji, Miriam Shor, and Nico Santos on The High Evolutionary and His Recorders
"I had a great time playing such a jerk."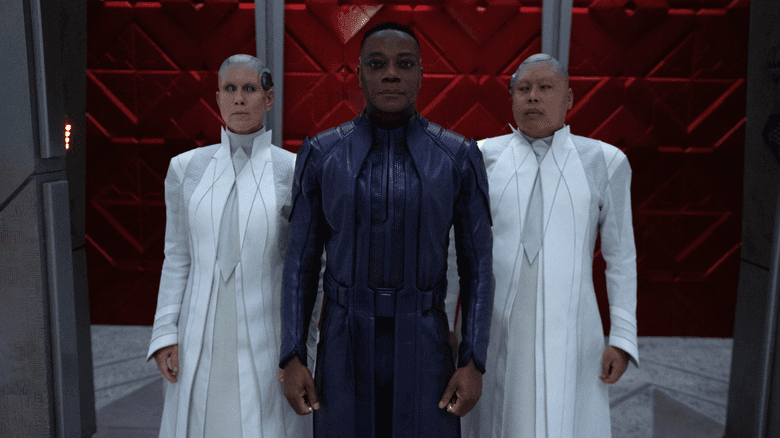 The Guardians of the Galaxy have battled a Kree warlord, Star-Lord's dad, Gamora's adoptive father, and a handful of other villains throughout their travels, but none have been as scary as The High Evolutionary, played by Chukwudi Iwuji. In Marvel Studios' Guardians of the Galaxy Vol. 3, he's on a quest to create the perfect world, even if that means destroying entire worlds on the way to this perfection. And even more terrifying, he's got a grudge against Rocket — who he created — and will stop at nothing to get him (and his brain) back.
"I had a great time playing such a jerk," Iwuji laughs. "But I did sit there watching it and going, oh my god, I'm so horrible. They're going to hate me. They're going to hate me so much."
But hating him is the point, as writer and director James Gunn points out. "The High Evolutionary works well because Chuk is so good in the role. He's so charismatic. You love hearing him talk but at the same time you hate his guts."
For the third outing with the Guardians, Gunn was looking for a complex villain bent on a different kind of destruction. "You don't want to just have mustache-twirling, evil villain doing evil for no reason— 'I wanna take over the world, I wanna destroy the universe,' all these things that don't really make sense right, you don't want to have that. But also, once you really get to know a villain and you start to feel they've got a good reason for something, you stop hating them, you got to hate them and so Chuk really brings both of those things."
"What he represents is terrifying," Iwuji continues. "I mean, that's very terrifying. A single-mindedness. A sort of narcissism. And the fact that he, for a big chunk of the movie, as we see, he's focusing that power he has on very defenseless creatures. He's terrifying on that level."
The High Evolutionary is determined to recapture Rocket and isn't alone in his quest as he's accompanied by his goons Recorder Theel and Recorder Vim, played by Nico Santos and Miriam Shor, respectively. They are at The High Evolutionary's beck and call, doing his bidding throughout the galaxy in hopes of stopping the Guardians from getting too close — and eventually turning on their maker. 
Iwuji loved working with the two actors, who brought bursts of comic relief both on and off-screen. "They are so funny, Miriam can do a joke a minute. It's like, I don't know where Miriam's joke has ended, and an actual serious conversation has started. And then Nico, I can just laugh looking at his expressions. He's just got such perfect comedic timing. James latched on to that straight away. It was hard sometimes being the straight man in the group, keeping a straight face, or being angry at them because I just wanted to crack up so much."
Both Shor and Santos were thrilled to be joining the MCU, with Shor noting that her kids were finally impressed with her work. Nico's mom, meanwhile, had just finished creating a vision board for him and on it wrote MARVEL MOVIE when he landed the role.
"My mom was like, 'I'm envisioning for you, I want you to be in a Marvel movie. Put that on the vision board, Marvel movie.' I had to be like, yeah, that sounds great, mom. That sounds great. I had just told her I was in Atlanta for a completely different project. I told her I was filming an indie movie in Atlanta. She just saw the movie, and she's like an indie movie?"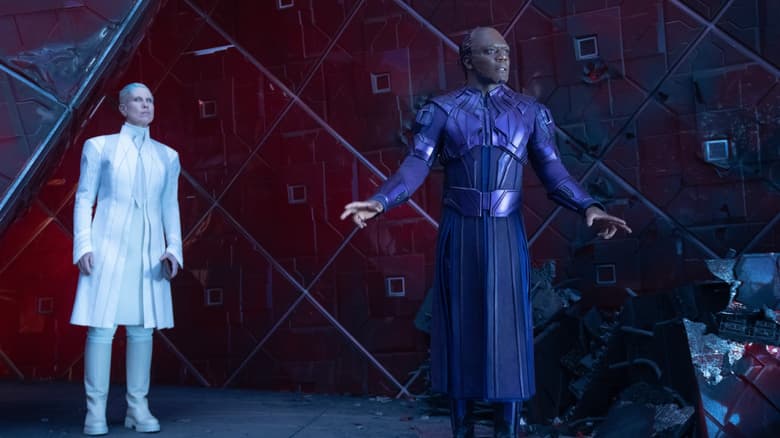 The three of them together make up a little trio fighting to stop the Guardians, as both Theel and Vim regard The High Evolutionary as a higher power…to an extent. Shor loves that Vim has an arc of coming to reckon with her maker.
"When that conflict happens where she has to question that…Look at, this woman, this person, this character, she's a zealot," Shor explains. "I talked about this with James. She believes this is her God. This is her creator. She believes in this. But she also believes herself to be with hubris, a scientist in this endeavor, and someone who is not emotionally involved, who is above that for a higher purpose."
Shor and Santos also love that their characters really jumped off the page the second they stepped onto set alongside Iwuji.
"You can portray and visualize the character in your head as much as you want, but once you're on set working with James and also doing the scene with Chuck it sort of colors your performance at that moment," Santos explains. "You're able to recalibrate because you're working. The three of us finally being able to play the dynamic between the three of our characters in person, then it gives you a chance to add more things to your portrayal and the performance that you just couldn't do reading off the page."
Another thing all three of them shared? The makeup process. Iwuji, Santos, and Shor all found themselves in the hair and makeup chair receiving intense makeovers.  
"That was the fun part for me, was finally seeing yourself in the makeup, being on set, and witnessing the performances that you're playing with," Shor adds, joking that she's game to do makeup tutorials for anyone else wanting to become a Recorder.
"I think there's also something about getting into character in this way where you are just, piece by piece, literally putting all the character on your face and your body," Santos explains. "A lot of times, when you're playing a character that's not an alien or whatever, that's just like whatever TV show that we've done before, it's a lot of looking internally. There was a lot of that work, as well, for this movie. But the whole thing about sitting there for two hours and then opening your eyes. You're like, huh, there's Theel. And then it's a faster reset to who this person is. 
Though it was an endeavor, Iwuji loved the whole makeup process. "It was so fun. It's two pieces of prosthetic and they kept refining it throughout the filming process to be more comfortable for me. To the point that I could wear that mask and it felt like I was just wearing a clay mask or something like that. It was wonderful." However, it became so comfortable sometimes Iwuji would forget he was even wearing it…
"I sometimes forgot about it till I would make some poor child scream on set," he laughs.
So, while everyone associated with The High Evolutionary is no match for the Guardians, Iwuji is still pinching himself over being a small part of the group's lasting legacy.
"People have been asking me for a while, how does it feel? That question falls into the same realm of saying, I can't wrap my head around it. I mean, I met [the Guardians] in a theater in Times Square in 2014. Then the idea that down the road, you would be playing [a part]. I can't wrap my head around it still. It's very exciting. I can't think of a better role for me, and my skill set to have joined the MCU playing."
Save the galaxy, again. Guardians of the Galaxy Vol. 3 is now playing exclusively in theaters. Get your tickets today!
The Hype Box
Can't-miss news and updates from across the Marvel Universe!