Movies
Published January 24, 2018
Marvel's Avengers: Infinity War Prelude Sets the Stage for the Epic Marvel Studios Film
Will Corona Pilgrim on picking up from "Captain America: Civil War" and "Doctor Strange."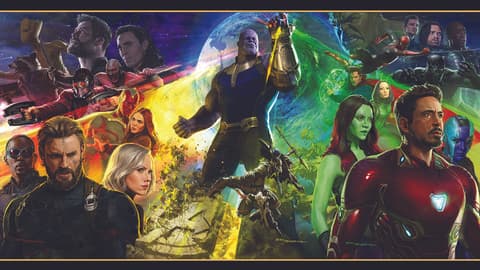 Thanos is on his way to Earth, as Marvel Studios' "Avengers: Infinity War" opens in theaters on May 4. However, the Marvel Cinematic Universe is still in for many changes and developments before that momentous day arrives.
In the two-part MARVEL'S AVENGERS: INFINITY WAR PRELUDE comic book, which kicks off on Wednesday, January 24, writer Will Corona Pilgrim (Marvel Studios' Development & Franchise Executive) and artist Tigh Walker (EDGE OF THE VENOMVERSE) catch up with characters like Tony Stark, Captain America, T'Challa, and Stephen Strange after the events of "Captain America: Civil War" and "Doctor Strange."
Before the entire MCU bands together to fight a common enemy, Marvel.com spoke with Pilgrim about the PRELUDE books and how they'll set the stage for the Russos' epic movie.
Marvel.com: So, how far in advance does this story take place before "Infinity War?"
Will Corona Pilgrim: Well, for AVENGERS: INFINITY WAR PRELUDE #1, since the SPIDER-MAN: HOMECOMING PRELUDE adapted a majority of the "Captain America: Civil War" film (from Spidey's point-of-view), but had to cut out before the climactic hero battle (since Spidey was absent for that), Mark Basso and I felt it would be a great opportunity to showcase that Cap and Winter Soldier vs. Iron Man bunker fight as an action-packed kickoff into our INFINITY WAR PRELUDE.
For PRELUDE #2, it's mostly led by Doctor Strange and Wong so it's taking place shortly after the events of his film, which was extra fun since I got to reunite with Jorge Fornés, my DOCTOR STRANGE PRELUDE artist on that one.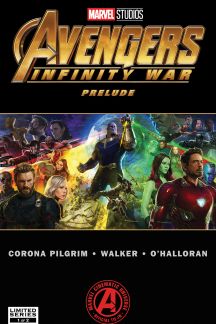 Marvel's Avengers: Infinity War Prelude (2018) #1
Marvel.com: Last we saw Tony and Cap in the MCU, they were butting heads over the Sokovia Accords. What's the tension like between them in PRELUDE?
Will Corona Pilgrim: Those wounds are definitely still pretty fresh. As I mentioned, in #1 we get to relive that particular butting of heads in truly dynamic pages by Tigh Walker and masterfully colored by Chris O'Halloran—and that tension is most definitely prevalent in how it informs how Steve and Tony's decisions moving forward.
Marvel.com: How do you balance helping set up the movie without giving away too much about the events of the film itself?
Will Corona Pilgrim: A lot of the times it breaks down to what's an in-world question we'd like to address. For "Avengers: Age of Ultron," that was "How did Strucker get a hold of Loki's scepter?" For "Doctor Strange," we wanted to explore "What turned Kaecilius into a Zealot of Dormammu?" For AVENGERS: INFINITY WAR PRELUDE #1, we wanted to take a closer look at the "Captain America: Civil War" end tag scene where Bucky's made the decision to go back into cryo-sleep. What was T'Challa's involvement in that decision and how does his sister Shuri factor in? For INFINITY WAR PRELUDE #2, it was seeing Stephen Strange advance in his role as Master of the New York Sanctum as he learned more about the Infinity Stones. All [have] really fun details that help connect the dots for fans across the varied films.
Marvel.com: How will Thanos and the Infinity Stones have a sway over the plot?
Will Corona Pilgrim: The psychological impact from Tony's encounter with the Chitauri mothership during the Battle of New York has been an undercurrent in the stories of the MCU since "Avengers" 1. We saw him suffer from panic attacks in "Iron Man 3." It provoked him to create Ultron in "Avengers: Age of Ultron." So, Thanos has continued to have sway over the MCU as a whole for the past two Phases.
The same can be said of the Infinity Stones themselves, for that matter, to an even greater degree. They've been driving factors since "Captain America: The First Avenger" all the way through "Guardians of the Galaxy" and even as recently as The Tesseract's appearance in "Thor: Ragnarok."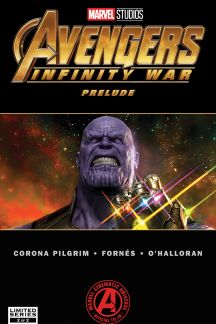 Marvel's Avengers: Infinity War Prelude (2018) #2
Marvel.com: What's the most exciting thing about writing this prelude in the run-up to the film?
Will Corona Pilgrim: It's always a joy to get to work with the filmmakers and Studios execs while we explore the hidden corners of the MCU, but it's also extra fun to see how different artists re-interpret the drama, comedy, and action of the films when they lay it all out on the page. I'm a splash page fan, so anytime I can sneak one (or two) of those in a book it gives me something awesome to print out and hang above my desk as soon as those pencils come in– instant posters!
MARVEL'S AVENGERS: INFINITY WAR PRELUDE #1 is available now, while #2 arrives on February 28.
The Hype Box
Can't-miss news and updates from across the Marvel Universe!