Movies
Published September 9, 2021
'Shang-Chi and The Legend of The Ten Rings': Meet Morris, the Creature from Ta Lo
"It was actually fairly easy to imagine Morris because of Sir Ben."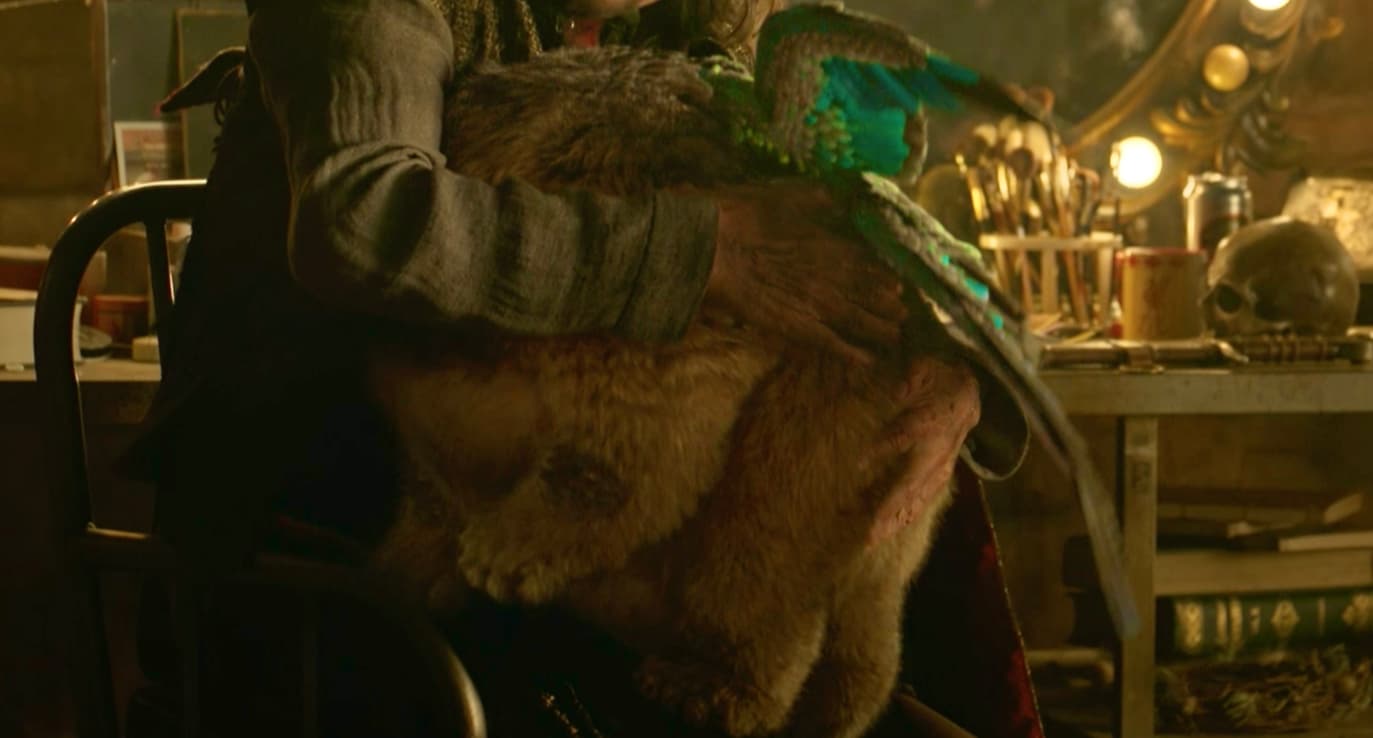 Who's round, cuddly, has four wings, no visible eyes, and steals every scene he's in? Why, it's Morris, the creature along for the ride in Marvel Studios' Shang-Chi and The Legend of The Ten Rings. Introduced as the only companion to the imprisoned Trevor Slattery (Sir Ben Kingsley), Shang-Chi (Simu Liu) and Katy (Awkwafina) are absolutely aghast to see the creature — meanwhile Trevor is just happy to know he hasn't been imagining the little guy all these years.
"Whenever we are in the development days on a movie, we put together a little war room, and this particular war room was covered with concept art, and comic pages, and inspiration for what a Shang-Chi movie could be," producer Jonathan Schwarz tells Marvel.com. "We were still in the early days and somehow a drawing of the Chinese deity called a Hundun, a God of Chaos, ended up on the wall. One day [director] Destin [Daniel Cretton] pointed and said, 'That thing is cool, it should be in the movie.' And that was the birth of Morris."
Shang-Chi, Katy, and Xialing (Meng'er Zhang) meet Morris halfway through the movie, after they, too, are thrown into the dungeon at Wenwu's (Tony Leung) compound. Once down there, they come across Trevor and Morris, and learn that the creature actually hails from the secret, village Ta Lo— that's why Wenwu has kept him alive for so long. And while he might have a fantastical backstory in the world of the movie, Cretton pulled from his real-life to flesh out the little round, furry being. Telling Marvel.com, Cretton reveals Morris is based on, and shares a namesake, with his own family dog, a 15-year-old dachshund.
"The spirit of Morris is definitely inspired by my Morris, who I love very much," Cretton explains. "[Movie] Morris moves a lot like Morris and sounds a lot like Morris. Morris [the dog] is black and brown, kind of a classic dachshund."
Bringing him to life on-screen took the work of Cretton, the VFX team, and the cast and crew on-set to visualize the creature, who looked more like a green blob than anything else while filming. However, it wasn't hard to imagine Morris there considering that Kingsley took such a liking to the character. As Cretton continues, "Sir Ben became a master of Morris and knew Morris better than anybody. To see that relationship blossom over the course of this movie was a joy to watch." The returning MCU actor quickly became the go-to Morris person on set.
"It was actually fairly easy to imagine Morris because of Sir Ben," Cretton states. "Sir Ben became very attached to the green blob that was Morris on-set, and he just wouldn't let go of green blob Morris. He would actually just breathe life into him naturally while Morris was sitting on his lap, or when he was conversing with him. And Sir Ben, admittedly, really, really felt very comfortable with green blob Morris."
"We had a Morris handler [on-set]," Kingsley recalls, remembering his days with the faceless creature. "Morris is sometimes on the end of a very long pole. And I did build a rapport with the handler and helped him time certain gestures and movements, to which I could respond. And very soon, it was like having a real little animal with me and a pet rather than a green blob on the end of a pole. Morris was very sensitive, and it was a pleasure to build that rapport."
But Sir Ben isn't the only one to get up close and personal with Morris. For the first time in her career, Awkwafina also found herself interacting with a green-screen creature, though it took some getting used to at first.
"It's one thing to work in a green environment, but when you're interacting with something that in itself is acting, I mean there were scenes where we had to make sure that Morris could see, and that he was propped up on the steering wheel," notes Awkwafina. "I remember there's one scene where Simu was petting him and it's the first time we see him. And I just remember Chris [Townsend], our VFX supervisor, had to remind us that his wings are there-- that's where his feathers are. If you're going to pet him, mind his wings. That's crazy but it was really cool like all the things that you can do and that you see how it's made."
Acting with a green blob is one thing, but what would the finished version be? "I have to say I really genuinely did not know what Morris would look like until I saw the movie," Awkwafina laughs. "And when I did, I was like, wow, because you wouldn't expect it."
The version of Morris viewers see on screen is a furry, cuddly, round creature with six legs and four wings and no visible eyes whatsoever.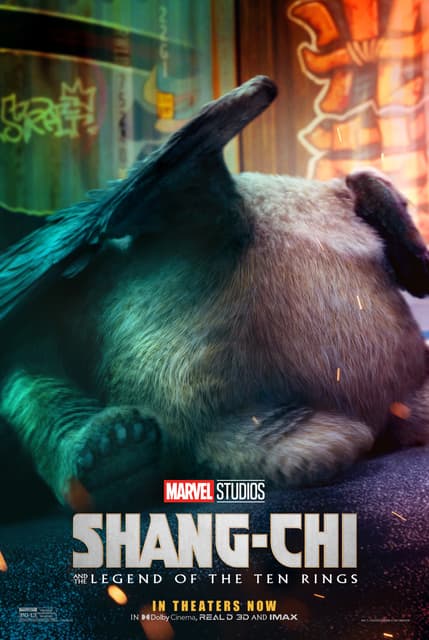 "We definitely wanted Morris to not have a face, [but] have wings — that's job one," Schwartz continues. "Then knowing that, how do we make him look cute? Which is a bigger challenge; eyes and face are a big indicator of emotion as it turns out. So that's where things like fur, and feathers, and the voice of Morris came from. How do we then make this creature, who is very weird, look and feel a little bit more human?"
The creative team went through a variety of different looks for the creature, with Cretton adding that they all knew, "Morris could easily dip into just weird, bad weird, like gross weird, and we didn't want that."
"We wanted cute-weird," the director continues. "All of the development stages of Morris were, 'How do we make him huggable and something that you would actually want to pet and love?' And he wasn't always like that. There were certain renditions where he looked a little bit more like a plucked chicken, which didn't feel very good, or went through different sounds. We went through a version where he sounded like an intestine. He sounded very intestinal, which was not a good sound for Morris."
Thankfully, on-screen Morris does not look like a featherless bird and sounds cute and cuddly. "There was a moment, both visually and audibly, when everything clicked, and we all just fell in love with him," Cretton adds. "That's the Morris that we know now."
And just how much does Cretton love the creature now? "Morris is the real hero of the story when I watch this movie, for sure."
Experience Shang-Chi and The Legend of The Ten Rings in theaters now. Get tickets!

Discover more Shang-Chi on Facebook, Twitter, and Instagram! 
The Hype Box
Can't-miss news and updates from across the Marvel Universe!