Movies
Published December 19, 2018
Spider-Gwen's Co-Creator Jason Latour Explains Her Ballet Shoes in 'Spider-Man: Into the Spider-Verse'
Gwen's twinkle toes don't just help her dancing skils!
When Marvel.com spoke with writer Jason Latour, who co-created Spider-Gwen with Robbi Rodriguez, about his hero's triumphant appearance in "Spider-Man: Into the Spider-Verse," a very specific topic came up: Gwen's ballet slippers. Fans of Gwen Stacy know that in the comics, she regularly wore black sneakers as part of her costume. So, what gives?
Latour was very insistent on discussing this on the record ("Put this in there!"), so we not only did just that, we decided to spotlight this part of the conversation. And his explanation – and adamant approval – sheds a fun, new light on Spider-Gwen in "Spider-Man: Into the Spider-Verse." 
In the movie, Gwen highlights her abilities and strength as a dancer. Latour said "I like the Chucks more," but that " but for the purposes of the movie," he was very pro-ballet slippers.
"I get so many questions about this. Which is funny to me because I spent too much time trying to get people to relax about the sneakers. ... I'm always more in favor of what works best on the page first."
He continued: "Are ballet slippers what I would have done? Probably not. But what I like about it is that by making Gwen a ballet dancer, it gives the opportunity to make her move differently than the other Spider heroes. More gracefully and controlled. You get just enough information to set up her character  just from how she moves – plus I like the juxtaposition with her ballet dancing and the punk band. It instantly conjures up a story that exists around the corner, and lives in the imagination."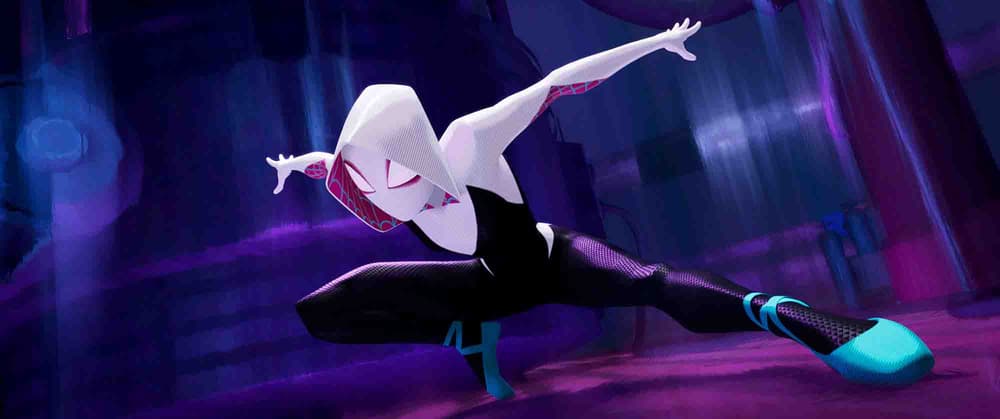 "In the comics, Gwen is always wrestling with expectations. And I think dance would very much fall in line with something her dad, being a Police Captain and a more traditional guy in someways, would push Gwen towards once he discovered her love of music. It just seems organic that from there she ends up in the band, trying to find a way into music that is her own. A double life before her double life? A triple life? Or maybe her mom Helen was a dancer? I like the questions it gets you to ask." 
One question on everyone's minds after the movie's success: Will there be more Spider-Verse in the future? Latour was coy, but said he hoped the sneakers would sneak back into the picture. "As for the Chucks? Everyone changes costumes for sequels right? Fingers crossed that we see them in some form one day."
"Spider-Man: Into the Spider-Verse" is now playing in theaters!
The Hype Box
Can't-miss news and updates from across the Marvel Universe!