Movies
Published March 21, 2018
Thanos Isn't Wrong in Marvel Studios' 'Avengers: Infinity War'
Marvel screenwriters on creating the Mad Titan's emotional story in 'Avengers: Infinity War.'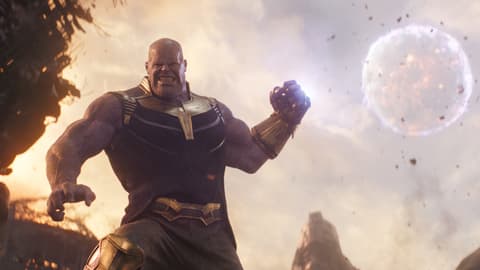 There is no denying the epic scale and insane ambition of the Marvel Cinematic Universe that has everyone celebrating Marvel Studios' 10th anniversary. Everything Earth's mightiest heroes have fought for in the previous 18 films has led up to this moment — protecting the fate of the world and its existence from Thanos in Marvel Studios' "Avengers: Infinity War."
The antagonist of "Infinity War" has been pulling the strings throughout the MCU since "The Avengers." Besides shopping around the galaxy for Infinity Stones, not much is known about Thanos outside of the glimpses we've seen here and there. Marvel screenwriters Christopher Markus and Stephen McFeely rose to the challenge of balancing the ensemble and bringing this "epic level of storytelling" required to "surprise the hell out of people." Make no mistake, according to McFeely, this is "Thanos' movie."
Last summer, Marvel.com made the trek out to Pinewood Studios to visit the set of "Avengers: Infinity War." We've talked to Mark Ruffalo, Chadwick Boseman, Scarlett Johansson and Chris Evans, the Russo Brothers, and Danai Gurira. Markus and McFeely teamed up with directors Anthony Russo and Joe Russo on "Captain America: The Winter Soldier" and "Captain America: Civil War." The team has assembled again to take on the Mad Titan in "Avengers: Infinity War" and the fourth untitled "Avengers" film. During the set visit, the screenwriters shared how they made Thanos, an "amoral philosopher" in their eyes, the emotional center of the film, the "strange alchemy" of "Infinity War," and more.
Thanos does not see himself as the Big Bad of his story. "Villain is a derogatory term that Thanos wouldn't agree with," said Markus. In fact, Markus hopes you come away from "Infinity War" the same way you do with the publishing source material, "where you go, 'I can't say he was wrong.'" He stands in a category all his own. Adding, "Weirdly, he's the most understandable guy in the movie sometimes."
The writers borrowed from Jim Starlin in portraying Thanos as an "amoral philosopher." They wanted an antagonist that doesn't just "want to kill somebody" or "take over the world because it seems like a fun thing to do" because "that guy isn't very interesting; he's pathetic." That approach doesn't marry well with character who knows what he wants and carries emotional weight that can go toe-to-toe with any of the Avengers.
"He's not the Devil – although he does sometimes have the Devil standing next to him. We wanted that all the way through," revealed Markus. "To have a villain with understandable motivations and emotions. Thanos has family. Thanos has two daughters that we know of. Thanos has 8 million back stories in the comics, but they're all kind of sad."
The writers placed a lot of care in developing Thanos, a man worthy of driving "Infinity War" and bringing all of the Avengers and their allies together. One can compare Thanos to two other Marvel antagonists – Loki and Kilgrave. Yes, they are "creepy and awful," but they "really care in a strange way." Everyone has weird family relationships. McFeely drove the point home that Thanos does not see himself as the villain because he believes what he's doing is right, "[Thanos'] got daughters that he clearly has to deal with."
"The bad guy tends to be a foil for the development of the hero, and that's not the case here," added McFeely. "If anything, it's the opposite. Our heroes are the foils for the villain, whose story we need to tell at large."
We learned that the Mad Titan isn't driven by the Infinity Stones alone. Anthony Russo previously commented how everything in "Infinity War" had to be character-based, an approach that extends to Markus and McFeely. "Every time you collect one, it can't just be a check mark," stressed McFeely. "It has to do something characterful. It's got to move the plot forward, but it also has to have stakes and costs…so that it's not just a shopping spree. We're going to wrench some emotion out of each and every one of those moments that we can."
A big focus of "Avengers: Infinity War" Markus shared, "All the way along the line we wanted to give people choices and make them continue to have to sacrifice this decision for this decision." What motivates Thanos' hunger to collect these stones and at what costs to get what he wants, we'll have to wait until April 27 to find out.
"Avengers: Infinity War" opens in theaters on April 27. Get tickets on Fandango now! Stay tuned to Marvel.com, follow @Avengers on Twitter, and Like "The Avengers" on Facebook for the latest on the Avengers as it develops!
The Hype Box
Can't-miss news and updates from across the Marvel Universe!