Movies
Published April 27, 2018
The Essential Marvel Cinematic Universe Guide: Phase Three
See Marvel Studios' 'Avengers: Infinity War' in theaters now!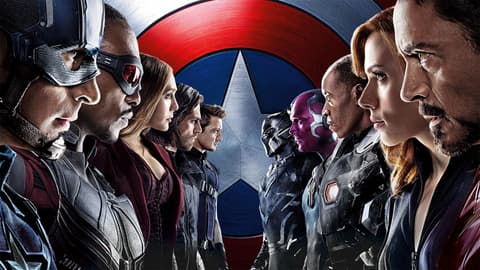 "Fun isn't something one considers when balancing the universe," said Thanos.
But it's sure been a great ride for Marvel Studios' fans! After 10 years and 19 movies, Earth's Mightiest Heroes will gather for a final battle against their greatest threat yet in Marvel Studios' Avengers: Infinity War. 
In terms of scope and players, the Marvel Cinematic Universe may seem like a daunting undertaking. As Thanos' shadows looms large, Marvel.com revisited Phase 1 and Phase 2 of the MCU. Like our heroes, we've come to our final battle to get you ready for when you walk into Avengers: Infinity War this weekend! Marvel Cinematic Universe (MCU) Phase 3 movies include:
1. Captain America: Civil War (2016)
3. Guardians of the Galaxy Vol. 2 (2017)
4. Spider-Man: Homecoming (2017)
7. Avengers: Infinity War (2018)
8. Ant-Man and the Wasp (2018)
It's been one exciting adventure after another, so before the big finale, it's time to assemble and navigate the Marvel Phase 3 Movies!
In 1991 Siberia, using trigger words, HYDRA revive a cryogenically frozen Bucky Barnes

Present day, the newly assembled Avengers—Captain America, Black Widow, Falcon, and Scarlet Witch—are in Lagos to stop Brock Rumlow from stealing a biological weapon

Rumlow blows himself up attempting to take Rogers with him—instead, Scarlet Witch contains the explosion but loses control and destroys a building

At MIT, Tony Stark demos a piece of tech that triggers a childhood conversion with his parents, after the speech he is confronted by a grieving mother whose son was killed in Sokovia as a result of the Avengers' battle with Ultron

The Avengers are visited by Stark and Secretary of State Thaddeus Ross, who explains that due to the events in Lagos, the U.N. has decided that the Avengers will sign the Sokovia Accords, which will oversee the team, a measure that Rogers opposes.

Helmut Zemo tracks down the HYDRA agent who controlled Barnes and seals his book containing the trigger words that activate the Winter Soldier

In Vienna, at conference discussing the Accords, security footage shows Barnes setting off a bomb attack that kills King T'Chaka of Wakanda, setting the king's son T'Challa on a course for vengeance

Zemo recites the trigger word, activating the Winter Soldier who goes on a rampage, after coming to, Barnes explains that Zemo is the real Vienna bomber and was using Barnes to find out the location of the secret Siberian HYDRA base, where other brainwashed Winter Soldiers are resting in a cryogenic state

Rogers and Wilson recruit Scarlet Witch, Hawkeye, and Ant-Man, who face off against Stark's assembled team of War Machine, Black Widow, Vision, T'Challa as Black Panther,

and Peter Parker—a high school student who fights crime as Spider-Man

At Leipzig/Halle Airport, the two teams battle, ending with Rhodey being paralyzed after being shot down by Vision in battle

After discovering that Zemo killed the other Winter Soldiers as revenge for the death of his Sokovian family, Zemo shows Stark old footage of Barnes murdering Stark's parents, Howard and Maria Stark

Stark turns on Barnes, causing Rogers to defend his friend as the three battle it out, ending with the Iron Man armor disabled, Captain America leaving his shield behind, Zemo attempting suicide only to be stopped and apprehended by T'Challa 

While Rogers frees his team from prison, Stark builds an exo-skeletal frame for Rhodey to help with his battle injuries and receives a phone and an apology letter from Rogers, once again repudiating the Accords but acknowledging that one day the team will reassemble again

MID CREDIT: On Wakanda, Rogers watches as Barnes is placed into a cryogenic sleep until a cure for his mental conditioning can be found

POST CREDIT: Parker checks out his Stark tech, which radiate a Spider-Man shaped symbol
In Nepal, marauders enter the secret compound Kamar-Taj, beheading its librarian, as the sorcerer Kecilius steals pages from the mystical book of his mentor, the Ancient One

In New York City, a reknown surgeon, Dr. Stephen Strange gets injured in a car accident, leaving him unable to perform surgery, and tries to recover with the aid of co-worker and former lover Christine Palmer

Through research, Strange discovers former-paraplegic Jonathan Pangborn, who directs Strange to Kamar-Taj, where he meets Mordo, a disciple of the Ancient One

While training with the Ancient One, Strange studies ancient books in the library guarded by the master Wong, where Strange learns that the sorcerer's task is to protect the three Earthly Sanctums, in New York City, London, and Hong Kong, which are connected and accessed through Kamar-Taj

Strange secretly reads the text from the stolen pages, learning to bend time with the use of the Eye of Agamotto

Kaecilius summons Dormammu of the Dark Dimension, destroys the London and New York Sanctums, as Strange defends the New York Sanctum with the help of the Cloak of Levitation

Kaecilius mortally injures the Ancient One and reveals to the sorcerers that she has been drawing power from the Dark Dimension

Arriving in Hong Kong to find Wong dead and the Sanctum destroyed, Strange uses the Eye of Agamotto to reverse time and save Wong, creating an infinite time loop, which traps Domammu and himself inside the Dark Dimension forever

In exchange for Strange breaking the time loop, Dormammu surrenders and agrees to leave Earth with Kaecilius, leaving Mordo distraught over the Ancient One's betrayal

Strange returns the Eye to Kamar-Taj, which Wong calls an Infinity Stone, and takes up residence in the New York Sanctum to continue his sorcery studies

MID CREDIT: Doctor Strange decides to help Thor who brought his Loki to Earth searching for Odin

POST CREDIT: Mordo confronts Pangborn stripping him of his magic because there are "too many sorcerers"
GUARDIANS OF THE GALAXY VOL. 2
As the now established Guardians of the Galaxy, Peter Quill/Star-Lord, Gamora, Drax, Rocket, and baby Groot exchange batteries for Nebula's freedom from Ayesha, leader of the Sovereigns

The Guardians manage to escape with the help of a mysterious follower, who turns out to be Quill's father Ego, after Rocket steals some of the batteries forcing the Sovereign to retaliate

Ego invites Quill, Gamora, and Drax to his home planet while Rocket and Groot stay behind to repair the ship and watch over Nebula

Upon landing on Ego's planet, the team learns that he is a Celestial and the planet is an extension of his body—they also meet Mantis, an empath and assistant to Ego.

Ayesha hires Yondu and his crew who have been exiled from the Ravager community for

child trafficking, to recapture the Guardians

Taserface, leading a mutiny among the Ravagers, imprisons Rocket and Yondu for his reluctance to turn in Quill

Ego hired Yondu to collect his child from Earth after Quill's mother Meredith's death, but Yondu kept Quill for himself while Ego has been searching for him ever since

Nebula arrives at Ego's planet to kill Gamora, but they come to a truce

Ego reveals to Quill that he has travelled the galaxy, planting seedlings which terraform into extensions of himself, but needs Quill's inherent Celestial power to activate the process

Impregnating women all over the galaxy, Ego hired Yondu to collect the children so he could kill them, as their Celestial power wasn't present

Ego mind controls Quill to activate the seedlings, but the spell is broken when Ego reveals that he killed Meredith because she was a distraction from his greater agenda

With knowledge of Ego's plan and under attack, the group finds Ego's brain at the planet's core

Rocket makes a bomb that Groot plants in the core while Quill fights Ego

The bomb explodes killing Ego, with Yondu ultimately sacrificing himself to save Quill, who he always thought of as his son

The sisters Gamora and Nebula reconcile as Nebula leaves on a quest to kill Thanos

The Guardians hold a funeral for Yondu when Ravager ships arrive to acknowledge Yondu's sacrifice and accept him in death

MID CREDIT 1: Kraglin attempt to summon Yondu's arrow only to stab Drax in the shoulder

MID CREDIT 2: Ravager Stakar reassembles his old team

MID CREDIT 3: Ayesha create a new being to destroy the Guardians of the Galaxy, naming it Adam

MID CREDIT 4: Peter Quill confronts Groot who is now a troublesome adolescent

POST CREDIT: The Watchers walk away from their informant as he tries to regale them with tales of his adventures
Following the Battle of New York, Stark and the government form the Department of Damage Control (D.O.D.C.) which drives independent contractor Adrian Toomes and his salvage company out of business, an enraged Toomes keeps some of the scavenged Chitauri tech to create and sell weapons

Eight years later and after the airport battle, Peter Parker returns to his regular life as a high school student in New York, quitting his school's academic decathlon team under the guise of focusing on his Stark Industries Internship, which is a cover for his late night crime-fighting activities as Spider-Man

Parker comes across Toomes' underlings, Jackson Brice / Shocker and Herman Schultz who are selling Chitauri weaponry to small time criminal, Aaron Davis

Parker is caught by Toomes and dropped in a lake where he is rescued by Stark, who is monitoring Parker via the Spider-Man suit

Toomes accidentally kills Brice with one of their weapons, and promoting Schultz to become the new Shocker

Parker and Ned remove the power core from a weapon left behind by Brice, and add a tracking device to Schultz, which leads to Maryland, so Parker rejoins the decathlon team and accompanies them to Washington, D.C.

Parker discovers the power core is unstable and races to the Washington Monument where the core explodes, traps Ned and the decathlon team including his crush, Liz, in an elevator, where Peter saves them just in time

Parker gets Davis to reveal Toomes' whereabouts—aboard the Staten Island Ferry, Parker captures new buyer Mac Gargan, but Toomes escapes after a malfunctioning weapon tears the Ferry in half, as Stark appears and helps Parker save the passengers, taking back the custom the suit as punishment

When picking up Liz for the homecoming dance, Parker finds out that Toomes is Liz's father, who deduces Parker's secret identity and threatens retaliation if he interferes with his plans

During the dance, Parker realizes Toomes is planning to hijack a cargo plane transporting weapons from

Avengers Tower

to the team's new headquarters, donning his old Spider-Man suit he races to confront Toomes

At the lair, Toomes destroys the building's support beams and leaves Parker to die, Parker manages to escape,  intercept the plane, steering it to crash on the beach where he and Toomes continue fighting, ending with Parker saving Toomes' life and leaving him for the police

Parker declines an invitation from Stark to join the Avengers, and at home, he puts on his returned Stark upgraded suit just as Aunt May walks in

MID CREDIT: Toomes confronts Gargan in prison with a rumor of Spider-man's identity, which Toomes denies

POST CREDIT:

Captain America

films a public service announcement on the importance of patience 
After a two-year unsuccessful search for Infinity Stones, Thor has been captured by the fire demon Surtur, who reveals Thor's father Odin is no longer on Asgard and that it will soon be destroyed by Ragnarok once Surtur unifies his crown with the Eternal Flame in Odin's vault

Thor secures Surtur's crown in Odin's vault and finds Loki impersonating their father, forces his brother to Earth to seek him out, only to find the retirement home destroyed where Odin was last seen

Loki and Thor encounter Doctor Stephen Strange who reveals Odin's location in Norway, once there Odin explains that he is dying, which will allow his firstborn child, Hela the Goddess of Death to be released from her prison

As the leader of Asgard's armies, Hela conquered the Nine Realms alongside Odin, but her history had been erased after Odin feared that she had grown too ambitious, with her powers expected to compound once she returns to Asgard

Odin dies, releasing Hela, who easily destroys Mjolnir, Thor and Loki flee using the Bifröst, with Hela in pursuit Loki and Thor are thrown out of the portal as she makes her way to Asgard

Beginning her reign in Asgard, Hela kills the Warriors Three, resurrects her undead army and giant wolf Fenris, and appoints Skurge as her executioner, as Heimdall hides the Asgardians away 

Thor crashes onto the planet of Sakaar where he is taken captive by Scrapper 142, who he learns is one of the legendary Asgardian Valkyrie warriors who previously defended Asgard against Hela, and sold to the ruler of Sakaar, the Grandmaster

The captive Thor discovers that the reigning champion is Hulk, the Grandmaster's Content of Champions battle between the two ends in a draw and Thor fails to convince Hulk and Valkyrie to help him save Asgard

Thor escapes to find the Quinjet that brought Hulk to Sakaar, Hulk arrives to find a recording from Black Widow which transforms him back into Banner for the first time since Sokovia

Thor, Banner, and Valkyrie escape to Asgard, where they fight Hela, Hulk fights Fenris, and Skurge sacrifices himself to allow the Asgardian people to safely board onto a waiting ship

During the final battle with Hela, Thor loses his right eye, has a vision of Ragnarok, and gets Loki to locates Surtur's crown and place it in the Eternal Flame, giving way to Surtur's rebirth

As Surtur destroys Asgard, Hela is killed prompting Thor to abandon his home and rebuild Asgard elsewhere

Thor is crowned king by the remaining Asgardians, and decides to head for Earth

MID CREDIT: Loki and Thor look out into space as a large spaceship appears

POST CREDIT: Appearing from a crashed ship, the Grandmaster comes face to face with the Sakaaran rebels
Centuries ago in Africa, five tribes warred over a meteorite containing the cosmic metal Vibranium and a warrior ingested a heart-shape herb that has grown out of the soil exposed to the element, giving him superhuman abilities

The warrior, the first Black Panther, united the tribes—with the exception of Jabari—to form the secretive nation of Wakanda, who use the Vibranium to develop highly-advanced technology while keeping their innovations a secret from the rest of the world

In 1992, King T'Chaka while visiting his brother N'Jobu, who was working undercover in Oakland, California, accuses N'Jobu of assisting notorious arms dealer Ulysses Klaue in stealing Vibranium from Wakanda as N'Jobu's partner reveals he is Wakandan as well, and confirms T'Chaka's suspicions about N'Jobu's dealings

Following T'Chaka's death at the U.N., his son T'Challa returns to Wakanda to assume the throne as the new king

As part of the ceremony, the Jabari Tribe's leader M'Baku engages T'Challa in ritual combat, with T'Challa defeating M'Baku and sparing his life, becoming the new King of Wakanda

T'Challa's friend W'Kabi urges him to bring Klaue to justice; however, T'Challa reluctantly releases him to CIA agent Everett Ross' custody

T'Challa discovers that N'Jobu wanted to share Wakanda's technology with the world, and as T'Chaka arrested N'Jobu, N'Jobu attacked Zuri, thus forcing T'Chaka to kill him, resulting in T'Chaka ordering Zuri to lie that N'Jobu had disappeared, but he left behind an American son, Erik Stevens, who became a U.S. black ops soldier, known as Killmonger

Killmonger kills Klaue and returns to Wakanda, revealing his identity and challenges T'Challa as the rightful heir to the throne, where he kills Zuri, defeats T'Challa and hurls him over a waterfall to his death

Killmonger ingests the heart-shaped herb, orders the rest to be destroyed, which Nakia manages to save one before the destruction.

Killmonger prepares to distribute shipments of Wakandan weapons to operatives around the world, while Nakia, Shuri, Queen Ramonda and Ross ask the Jabari Tribe for aid, there they find a comatose T'Challa, who was rescued by the Jabari tribe in repayment for sparing M'Baku's life during the comb at ceremony

Healed thanks to Nakia's herb, T'Challa returns to fight Killmonger, now wearing his own suit

Using Wakandan tech, Ross remotely pilots a jet and shoots down the planes carrying the vibranium weapons, while M'Baku and the Jabari arrive as reinforcements

T'Challa stabs Killmonger who chooses death over incarceration.

In Oakland, T'Challa purchases the building where his uncle N'Jobu was murdered, and establishes an outreach center to be run by Nakia and Shuri

MID CREDIT: T'Challa tells the United Nations that, for the first time, Wakanda will open its borders to help the rest of the world

POST CREDIT: Shuri visits Bucky Barnes, referred to the Wakandans as 'White Wolf,' who is recuperating after being awakened from his cryogenic state
Now that you're all caught up with Phase One, Phase Two, and Phase Three of the Marvel Cinematic Universe.  Run out and see Marvel Studios' "Avengers: Infinity War" now! Get tickets on Fandango!
The Hype Box
Can't-miss news and updates from across the Marvel Universe!