Movies
Published April 10, 2020
'Thor: Ragnarok' Watch-A-Long: Taika Waititi Spills Behind-the-Scenes Secrets of the Movie
Also featuring 'friends from work' Tessa Thompson and Mark Ruffalo!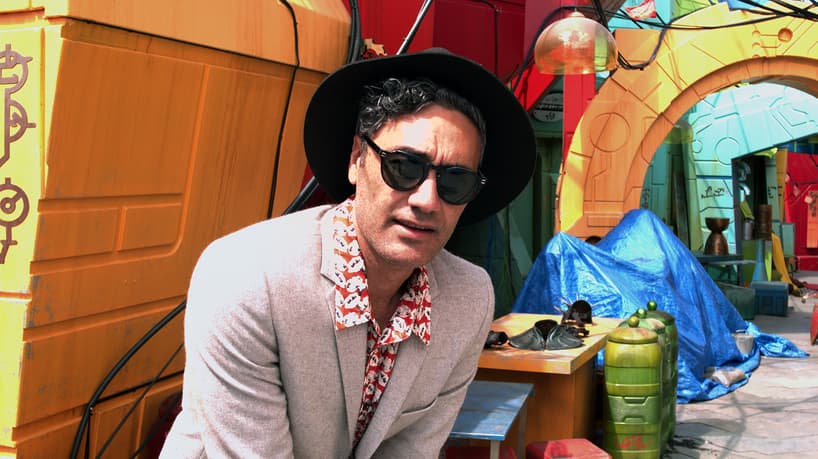 If you've ever wanted to watch Marvel Studios' Thor: Ragnarok with Taika Waititi well… hopefully, you brought some potatoes. The director jumped onto his Instagram Instagram Live on Thursday night to do a watch-along of his entry into the Marvel Cinematic Universe, but first, he needed to prep dinner for his family — which involved picking rosemary and lemons from his garden, marinating a lamb, and checking on roasting potatoes every few minutes. Typical Taika.
When it was time to get down to the movie, he invited some friends from work along to help him out. Tessa Thompson and Mark Ruffalo, who played Valkyrie and Bruce Banner aka the Hulk in Ragnarok, joined the Instagram Live during some of their pivotal scenes offering commentary and behind-the-scenes tidbits.
Between a lot of jokes (like Waititi calling Surtur, the fire demon at the beginning of the movie, "Derek"), here's what we learned during Waititi's time streaming.
Waititi doesn't own a copy of Thor: Ragnarok! Instead, he pulled the movie up on Disney+, where it is currently available. He's also never watched the movie all alone before, making this his first solo viewing. 
Not only did Waititi direct Ragnarok, but he also voiced Korg and did the motion capture performance for the character. While all of Korg's lines are our favorite lines, Waititi confessed his favorite Korg line is the simple, "hey guys." For Korg's first scene in the movie, Waititi could still remember all his lines and performed them live for viewers.
The last scene that Thomspon shot was actually her first one — when we first meet Valkyrie on Sakaar. When she was done shooting her scenes and it was time to go home, she was very sad to leave Waititi and the rest of the crew. 
When it came to talking about the script, Waititi explained that the line "he's a friend from work" was actually thought up by a Make-A-Wish recipient, who suggested the joke to Chris Hemsworth in-between takes. 
Want to know one of Waititi and Ruffalo's favorite deleted scenes? "Travel to Asgard," in which Thor and Bruce talk while eating a bowl of noodles. You can find this scene on DIsney+ under EXTRAS for Thor: Ragnarok. 
Ruffalo had another food-related incident on set, and this one involved kiwis. The idea was that after Hulk transforms back into Bruce, he was starving, so let's get him something to eat! Ruffalo was given kiwis to snack on, in character, and ended up having a reaction to them where his lips swelled up. 
Ruffalo also confessed to having a "nervous breakdown" when he learned he was going to be shirtless in front of Hemsworth. 
When talking about how the MCU is interconnected, Waititi explained that at one point he floated the idea of Loki dying in Ragnarok. But, that idea was shot down because Loki needed to survive the movie… so he could then die in Marvel Studios' Avengers: Infinity War.
Thor: Ragnarok is now streaming anytime on Disney+.
Sign up for Disney+ and start streaming now! And be sure to follow Disney+ on Facebook, Twitter, and Instagram for more.
The Hype Box
Can't-miss news and updates from across the Marvel Universe!